The winter Las Vegas Market has been called the show for mattresses, and that point is driven home with the number of product intros on tap.
Here's a sampling of some of the latest products that will be on display. And don't forget to click the links at the end of the descriptions to learn more information about many of these fresh introductions.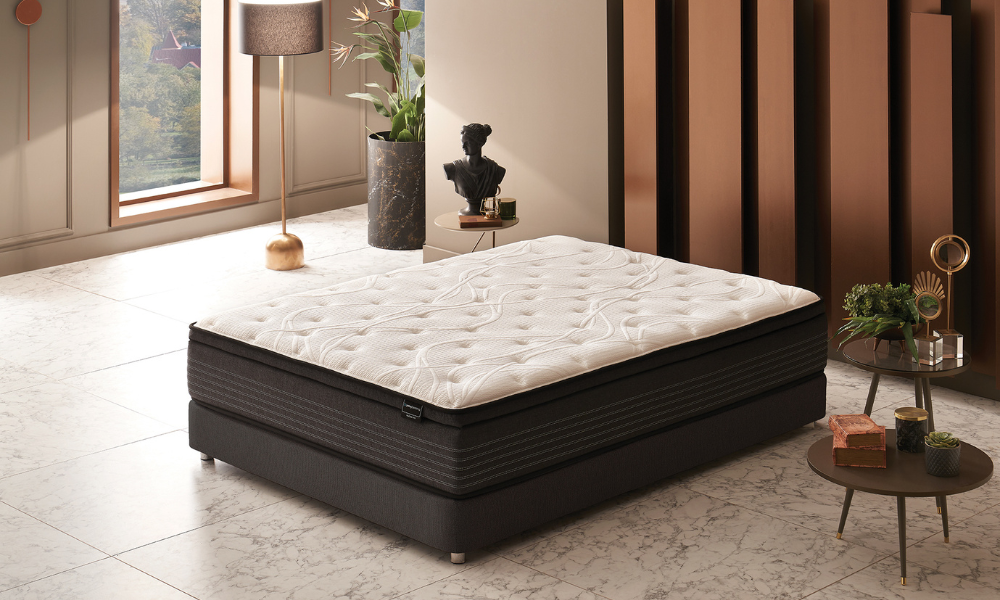 Yatas Bedding's Hybrid Pro mattress absorbs the body's pressure to reduce the turning movements during sleep while providing a cooling sense thanks to its natural latex comfort layer and cooling fabric. Building C, space 1507
Pure Comfort, Shifman Mattresses' all-natural latex line of luxury mattresses, includes four new models. The collection features all-natural content by only utilizing latex layers in various combinations and plush New Zealand wool (a hypoallergenic, temperature-regulating comfort layer), improved seating edge, and Shifman's signature two-sided construction. Also, read about Shifman's growth plans for 2023. Building C, Space 1554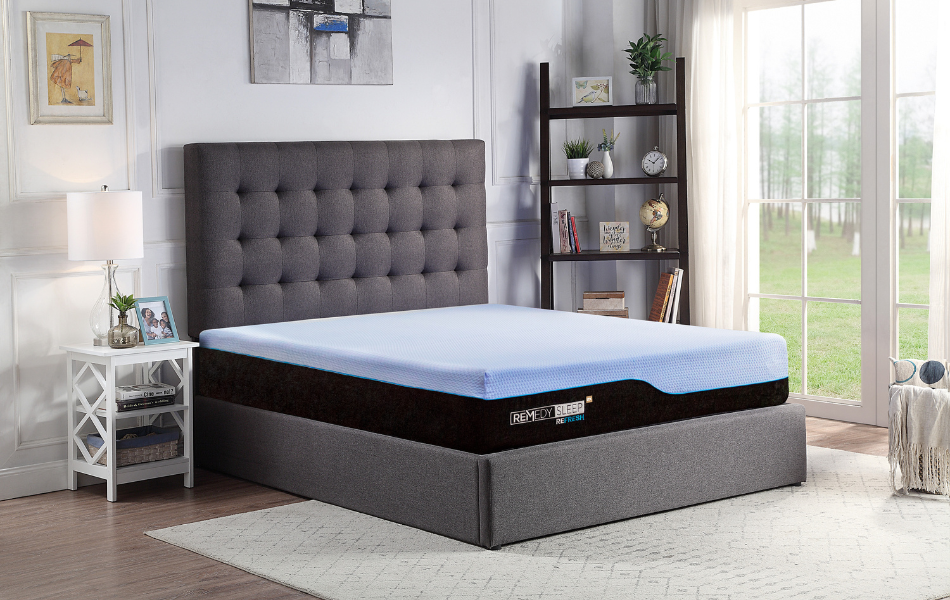 Legends Furniture is launching a brand new 6-mattress program that features copper-infused mattresses in memory foam, hybrid and Talalay latex models. Coming in at good, better and best prices point, respectively, retailers can mix and match them to best fit their customers needs and be more competitive in their areas. Building A, spaces 614, 646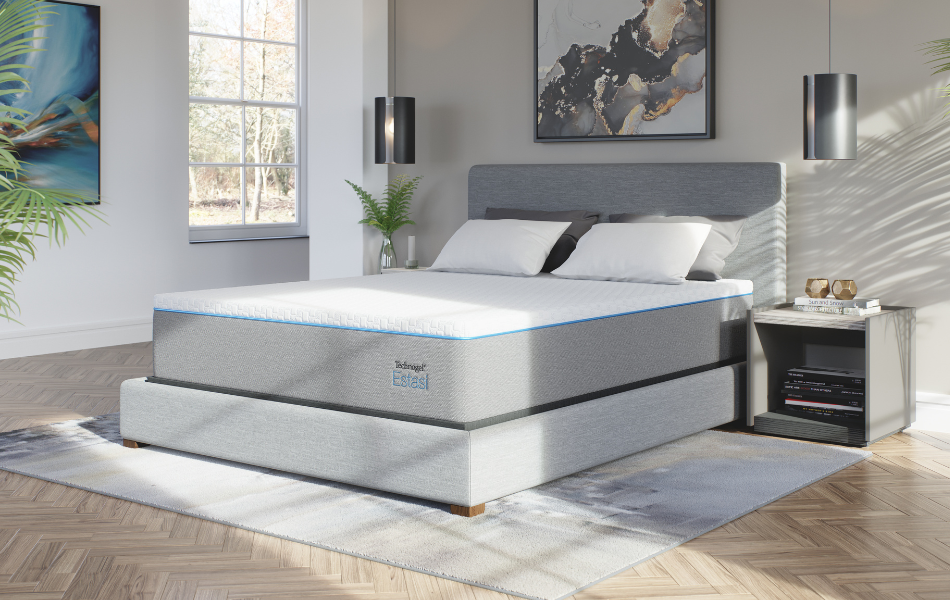 Diamond Mattress will introduce two new boxed bed versions of the original Technogel mattress program, which includes four models that offer distinct soft, medium and firm feels with conforming support and comfort through a combination of adaptive gel technology. They feature zoned cushioning, specialty memory foams and Talalay latex. Two models are offered in 10-inch profiles and the other two in 12-inch profiles. Read more about the Technogel mattress. Building B, spaces 965,975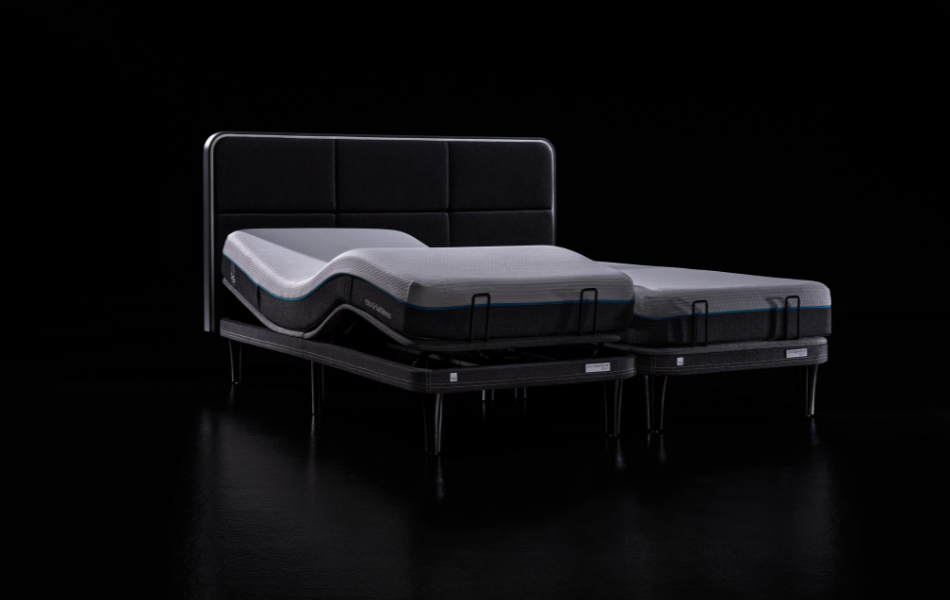 ErgoSportive, a wellness division of California-based smart bed company Ergomotion has released a first-of-its-kind sleep and recovery system integrated with Garmin smartwatches to support the health and well-being of athletes and fitness-focused individuals. Read more about Ergospotive. Read more about Ergospotive. Building B, space 1380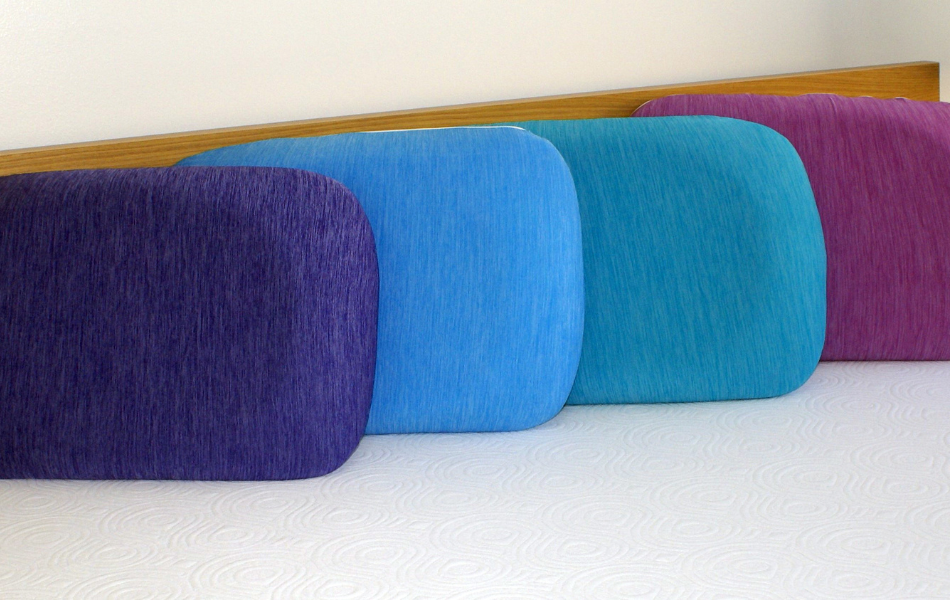 I Love Pillow's CoolFit cover is similar to the best quality athleisure fabric and offers premium cooling and moisture-wicking technology. Building B, space 1565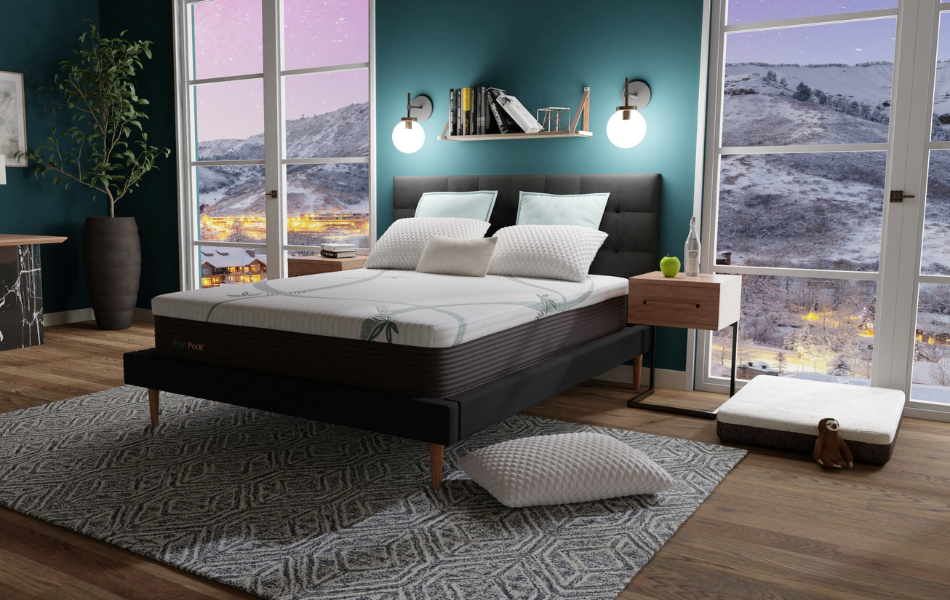 Ergo-pedic's Woobiebed collection includes the CBDreamRX, a hemp-isolate-infused mattress that comes in a 12″ memory foam model, as well as the copper-infused Copper-PedicRX 12″ Hybrid model. Building A, spaces 536, 540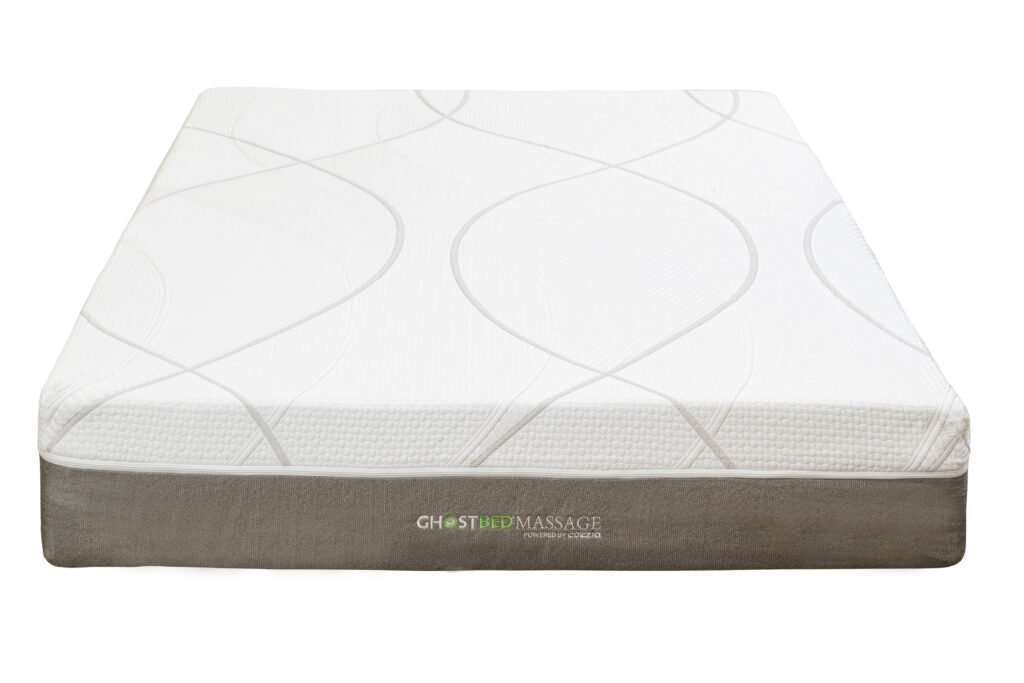 Ghostbed's Ghost Massage Bed Powered by Cozzia is built with unique air-cell mechanisms that offer a therapeutic massage targeting major pressure points, similar to the features in Cozzia's industry-acclaimed massage chairs. The mattress has two individual massage pads that are independently remote-controlled, allowing each person the ability to enjoy their own customizable massages. The two massage units feature six zones for the neck, shoulders, upper and lower back, glutes, and legs. Read more about the Ghost Massage Bed. Building B, space 980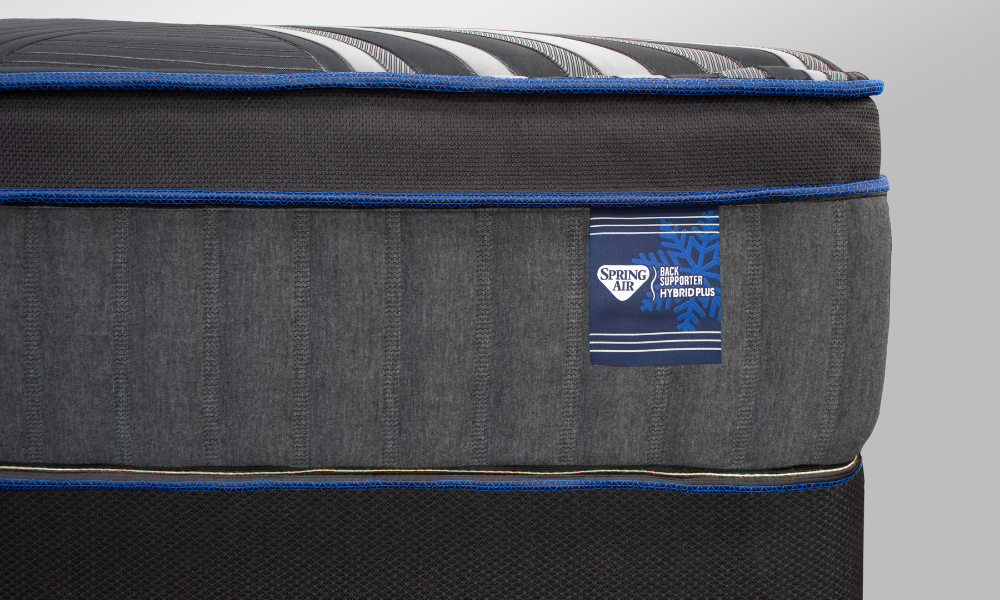 Spring Air International is building on its best-selling Back Supporter line with the introduction of Back Supporter Hybrid Plus. The mattresses offer expanded temperature regulation and enhanced comfort options at price points from $999 to $1,599 in queen at retail.  The collection consists of eight new quilted, smooth and Euro Top models that are infused with a variety of foams and gels, offering different comfort levels and utilizing cool-to-the-touch fabrics designed to stand out on retail floors in stylish grey and black color schemes. Read more about Spring Air's introductions. Building A, space 701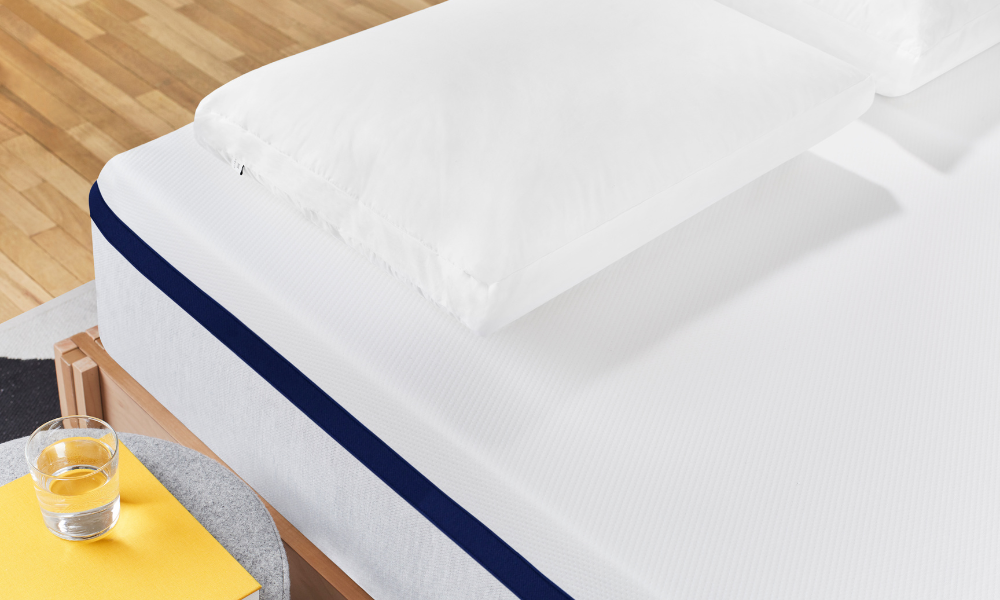 Because sleeping position and body type matter when it comes to good sleep, the Helix Midnight uses layers designed to cushion the pressure points of a person's shoulders and hips. This model is best for side sleepers or those who toss and turn at night, as the middle layers of the mattress are designed to support body contours. Choose between our breathable Soft Touch cover or upgrade to the GlacioTex Cooling Cover for cooling tech that pulls heat away from your body. Building B, space 1380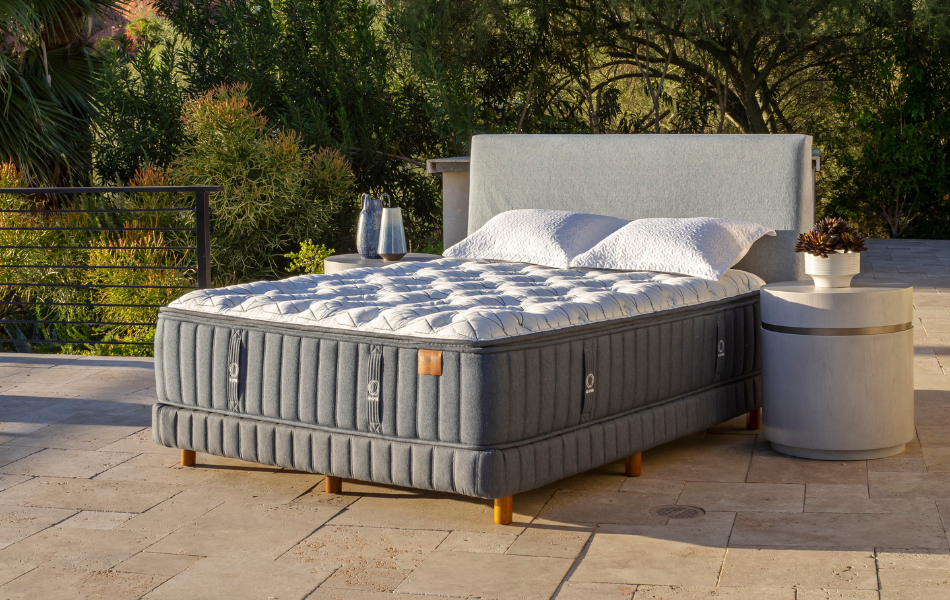 King Koil's​ new Re-Spun mattress uses recycled denim to help create durable elasticity, as well as New Zealand Joma Wool to ensure temperature regulation, and glue-free QuadCoil and FlexEcore coil systems to maintain pressure-relieving support. Read more about Re-Spun. Building B, space 1200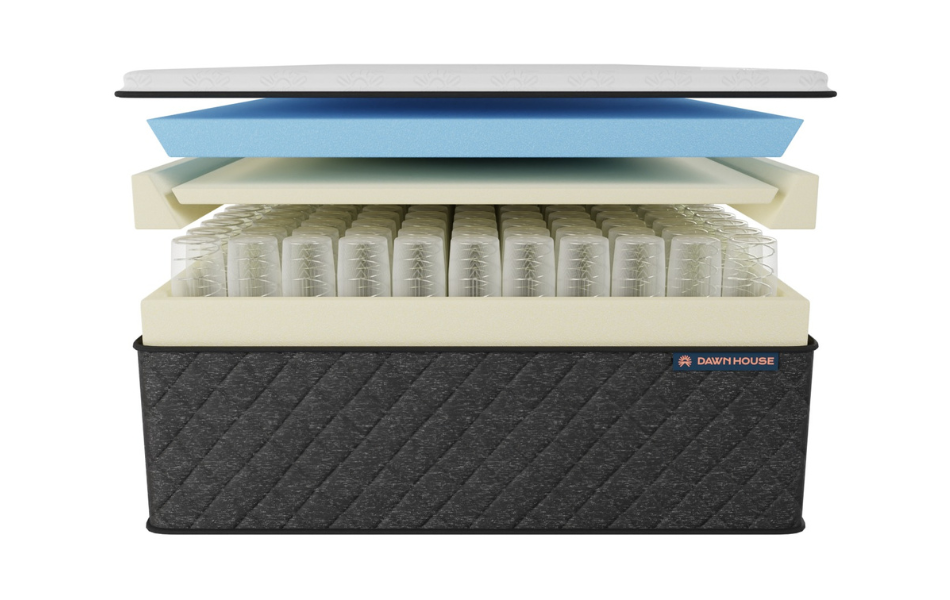 The Dawn House Living hybrid mattress, available in all sizes, pairs the comfort of contouring foam layers with the added benefit of a coil system to provide consistent temperature regulation, pressure relief and edge support. Its spring-like feel of a traditional mattress combines with gel-infused modern foam to create optimal durability and relaxation for any sleeper. Pricing ranges from$1,099.99 to $1,999.99. Read more about Dawn House Living. Building B, space 1380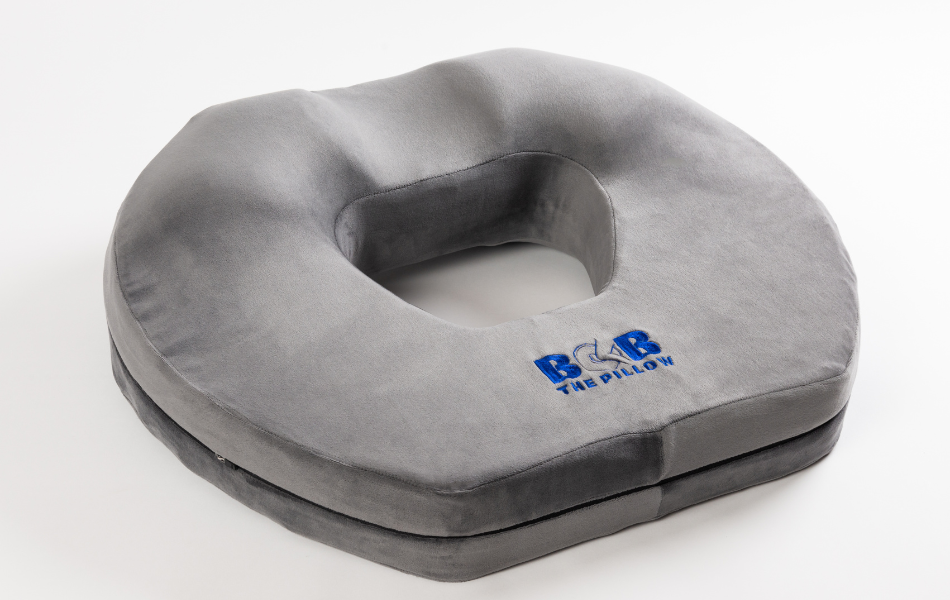 Bob the Pillow was developed and designed in an effort to create a more versatile leg pillow than anything on the market. Extensive research by its creators couldn't find a leg pillow to help with hip, knee, and back pain while also providing comfort and promoting a body to stay in the proper side sleep position. Building C, space 1565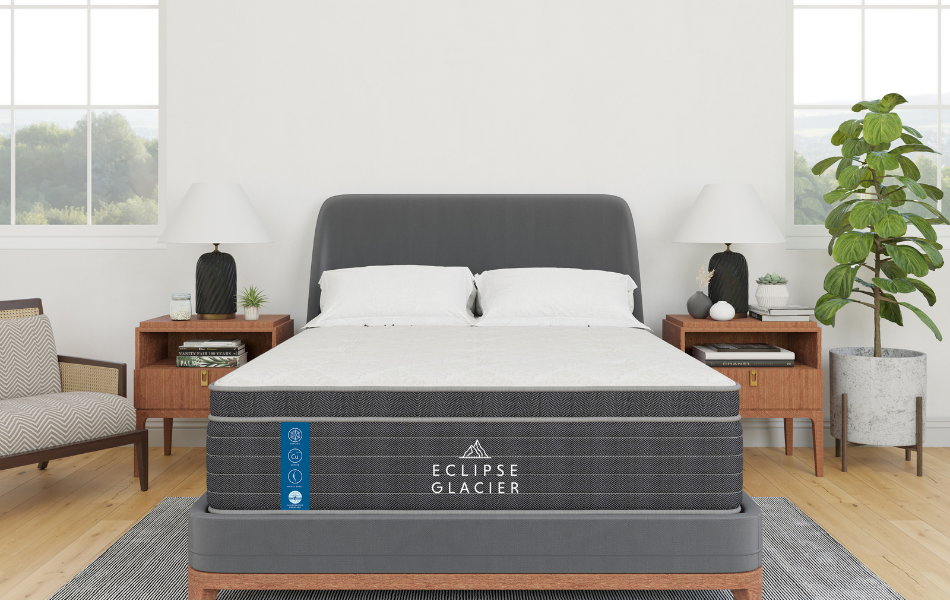 Bedding Industries of America's Eclipse Glacier premium mattresses feature the latest sleep technologies — pairing luxury with innovation for spinal support. ICE-Cool™ fabric with glacierTECH™ technology uses rapid-cooling fibers that transport moisture and heat away from the body for a cooler sleep. Read more about BIA's introductions. Building B, space 1118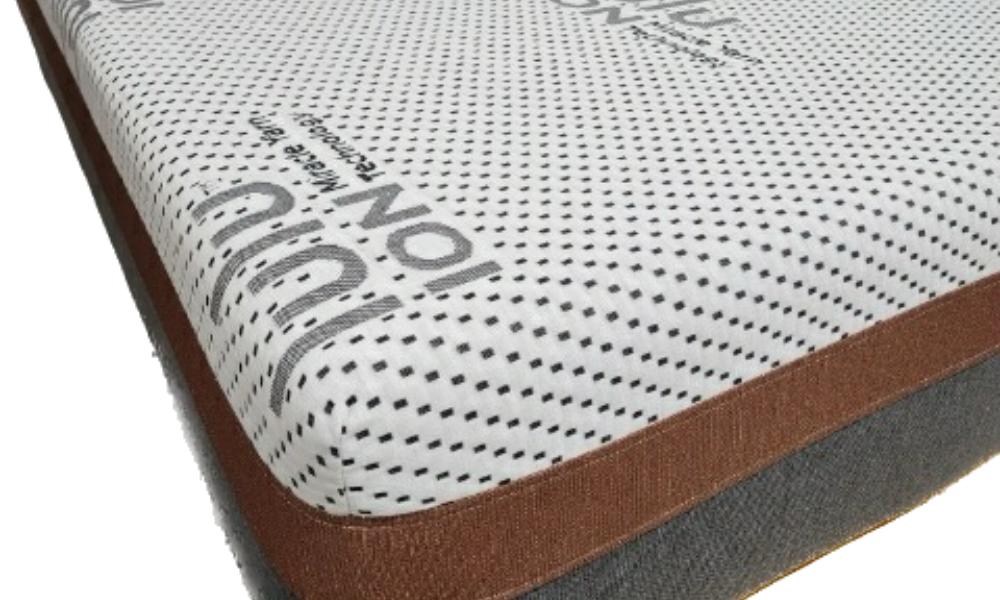 Lulu Mattress is the industry's first to incorporate therapeutic Far Infrared Rays [FIR] technology to increase localized circulation that stimulates the microcirculatory system, improves circulation and helps with muscle recovery. The technology has been reviewed by the U.S. Food and Drug Administration (FDA) and determined a medical device and general wellness product. All its products are made in the U.S. Its suggested retail price in queen size is $999. Read more about Lulu Mattress. Building C, space 1621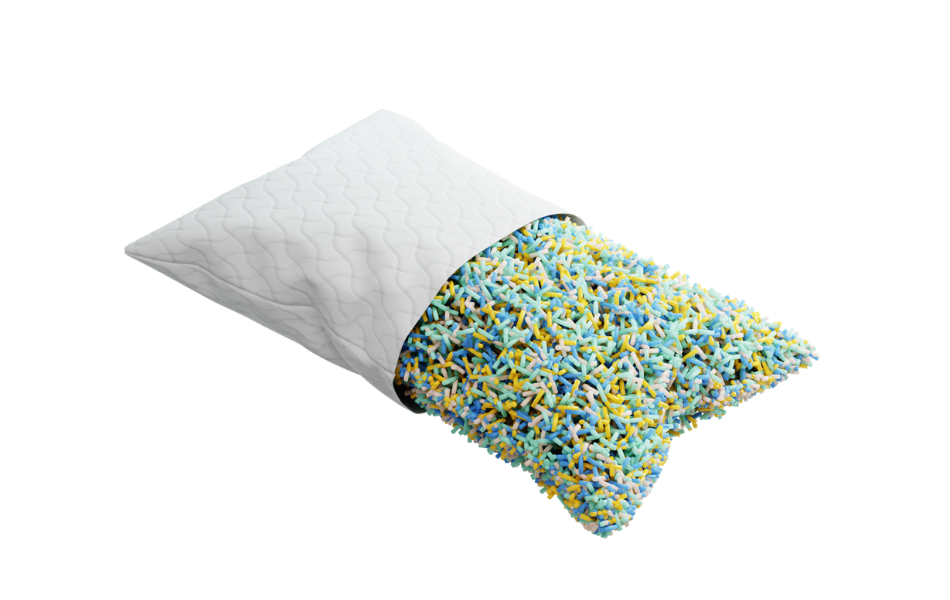 Blu Sleep is expanding its pillow offerings with the introduction of the Ghetti Pillow, a new concept with elongated cut foam of different lengths helping the foam to stay in place. The SUPPORTLOCK™ system allows users to fluff the pillow to their desired comfort and shape. Building B, space 960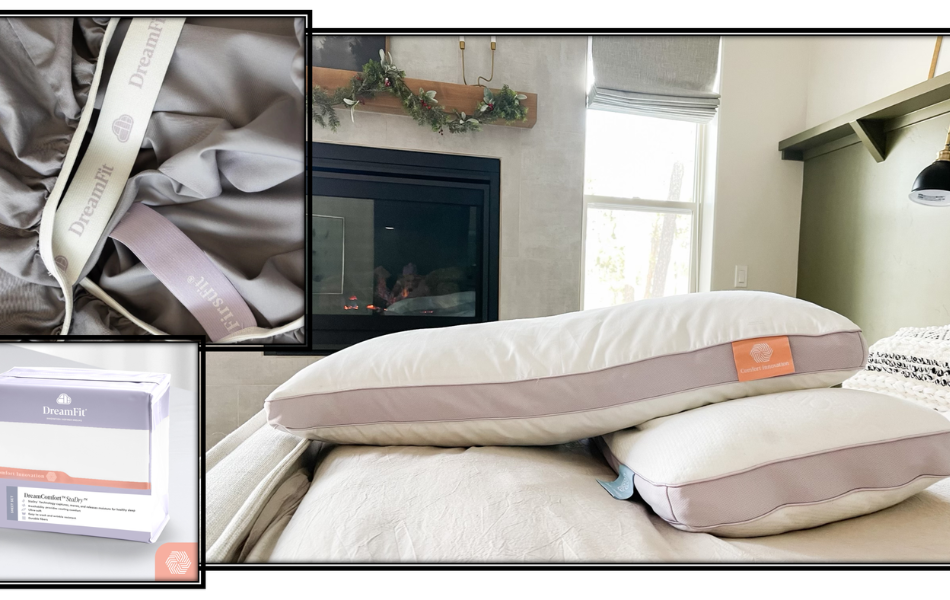 DreamFit's simple yet comprehensive pillow program is now available in King size, bringing their collection to 30. Featuring sleep enhancement benefits ranging from profile and feel adjustability (key for adjustable bases), and advanced cooling, to StaDry's moisture movement capabilities, DreamFit's pillow program provides optimum comfort, support, and versatility well after the sale is complete. Building C, space 1544.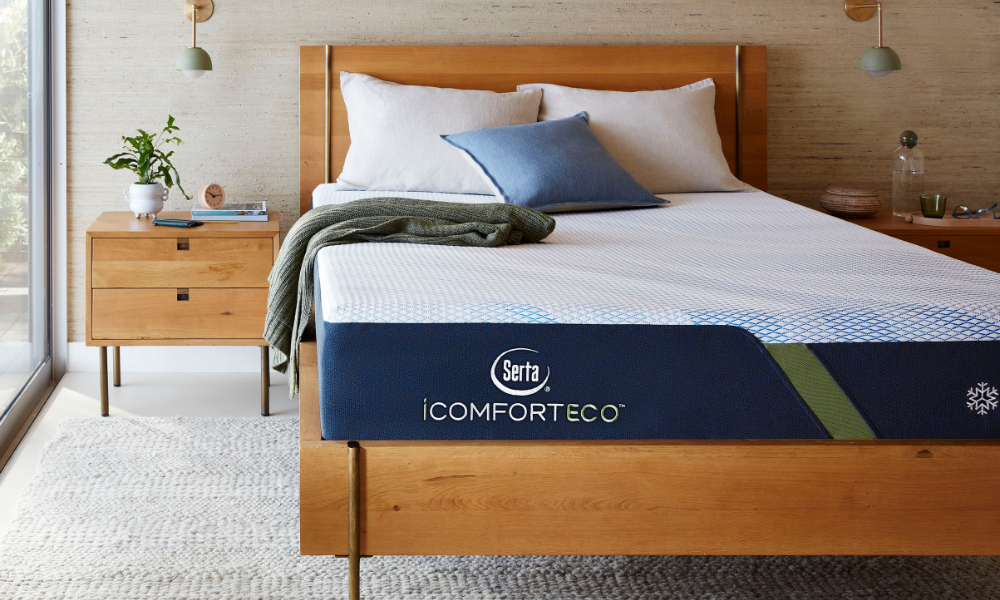 The Serta iComfortECO mattress cover is made in part from Repreve's recycled performance fiber made from plastic bottles, while we have also integrated recycled plastics in a bottom layer of the mattress. In total, each queen mattress represents more than 120 plastic water bottles that were upcycled into sustainable fabrics and utilized during the manufacturing process. The new coil leverages a glue-less design and is made from 85% recycled steel. The Terra Fusion Memory Foam which can be found towards the top of the mattress is made of 30% plant-based content that has USDA BioPreferred Certification. Read more about Serta's introductions. Building B, space 1265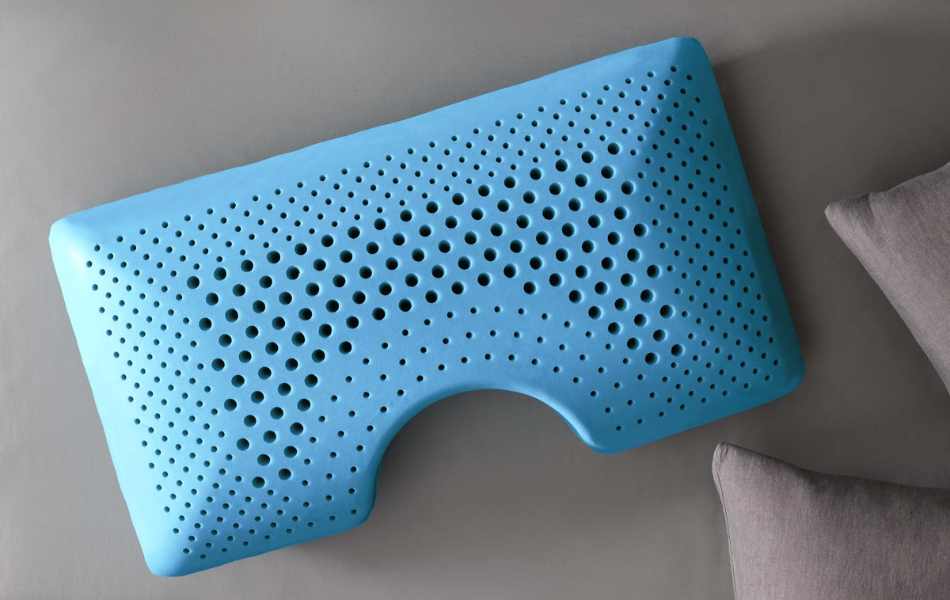 Proper head and neck alignment are vital for a good night's sleep, which is Malouf created the Shoulder Zoned Gel ActiveDough Pillow. The unique shoulder cutout offers side sleepers the comfort and support they need while the responsive memory foam blend and cool gel infusions keep you cool and comfortable while they sleep. Designed with a soft center region to cradle your head and firmer edges to cushion your neck, this pillow helps align your spine for pain-free sleep. Building B, spaces 1345, 1350 and 1365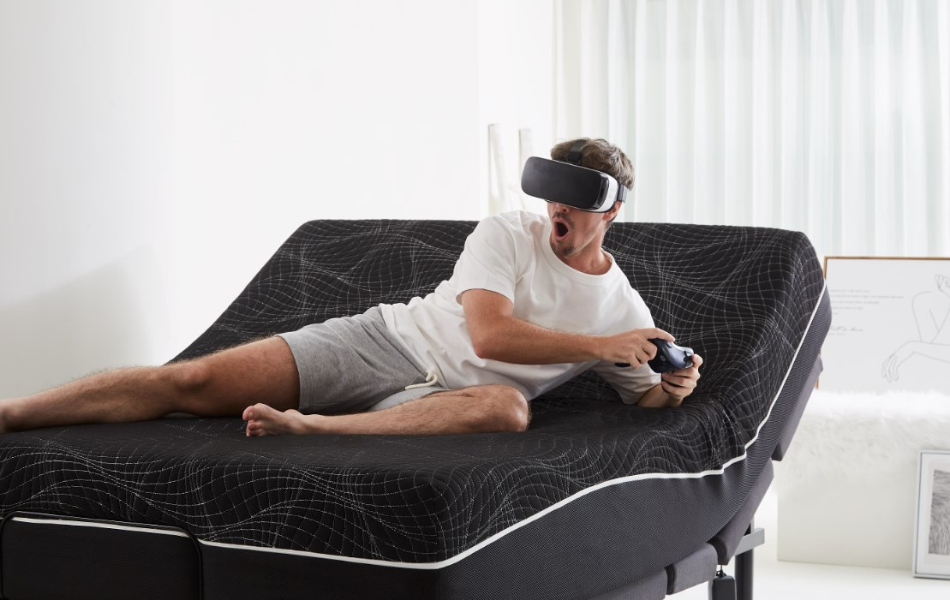 Star Seeds Co.'s patented VibraSonic technology is an immersive experience that is integrated into our mattress and adjustable base products. The Performance Mattress is a 12″ Memory Foam product with a 1.5″ Air Memory Foam, on top of a 2.5″ HD Memory foam with a 1″ supportive base stacked on a 7″ poly base foam. The actual subwoofers are embedded in the 7″ supportive base foam layer and integrate the low frequency sounds from our control box. There are also 2 external speakers for making a true immersive audio experience. Building B, spaces 200-01, 200-03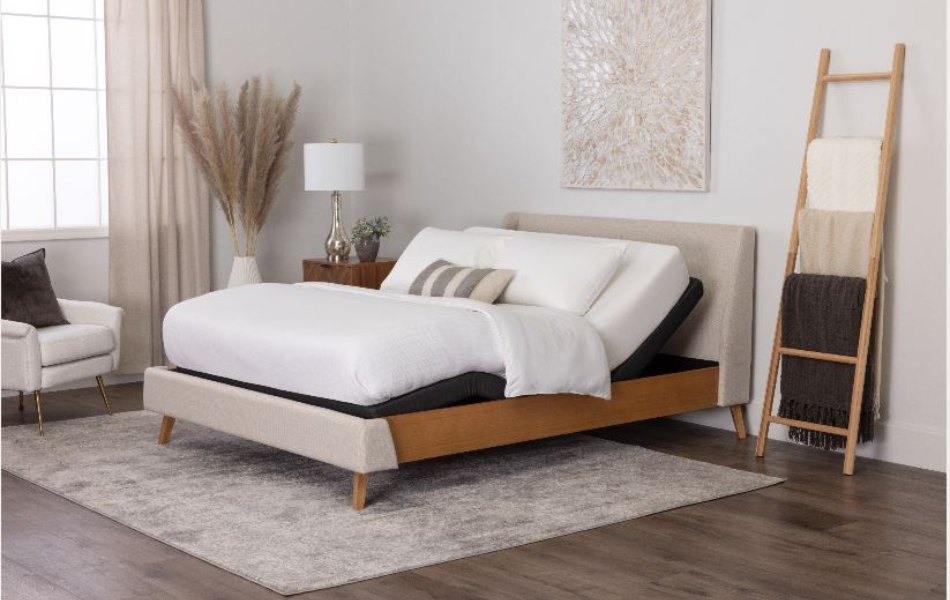 Leggett and Platt Flight P is a high-value, feature-rich adjustable base that is foldable and parcel carrier-friendly. It is a zero-
clearance base that pairs well with most case goods and includes personalized comfort features such as head and foot articulation with independent pillow tilt, dual wave massage, under-bed light, dual USB ports, and wireless remote or app control with programmable positions. Building B, space 1326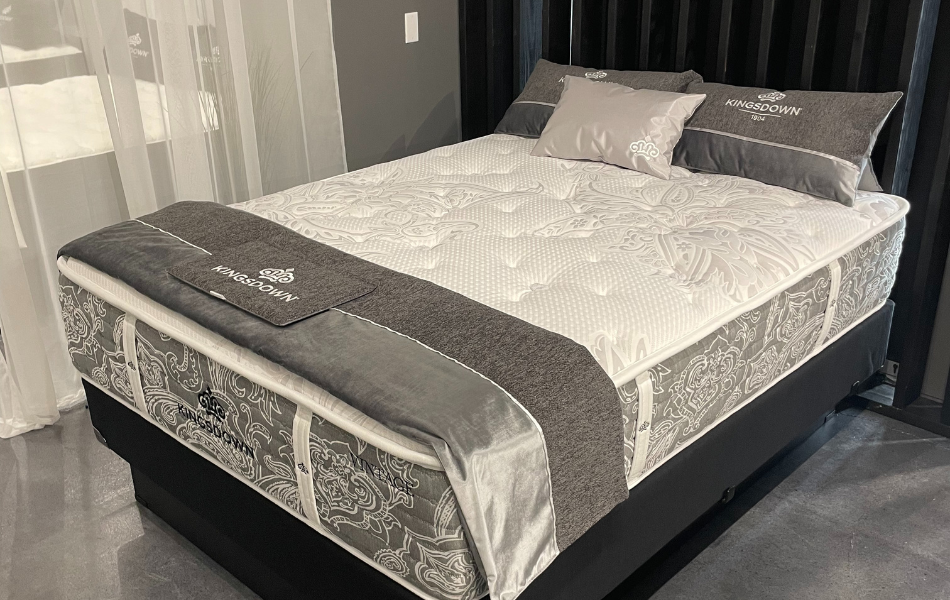 Classically styled and exquisitely handcrafted, the Kingdown Vintage Collection embodies the finest qualities of nature and luxury to create the ultimate sleeping environment for deep restorative sleep. This collection retails up to $10,000 and is hand crafted in the company's U.S. and Canadian manufacturing facilities. Read more about Kingdown's introductions. Building C, space 1401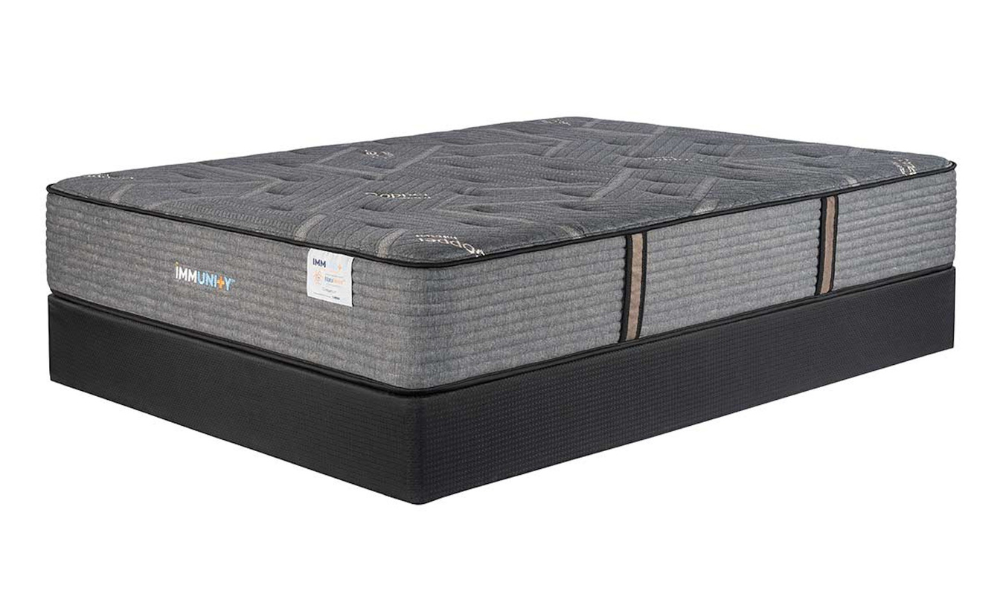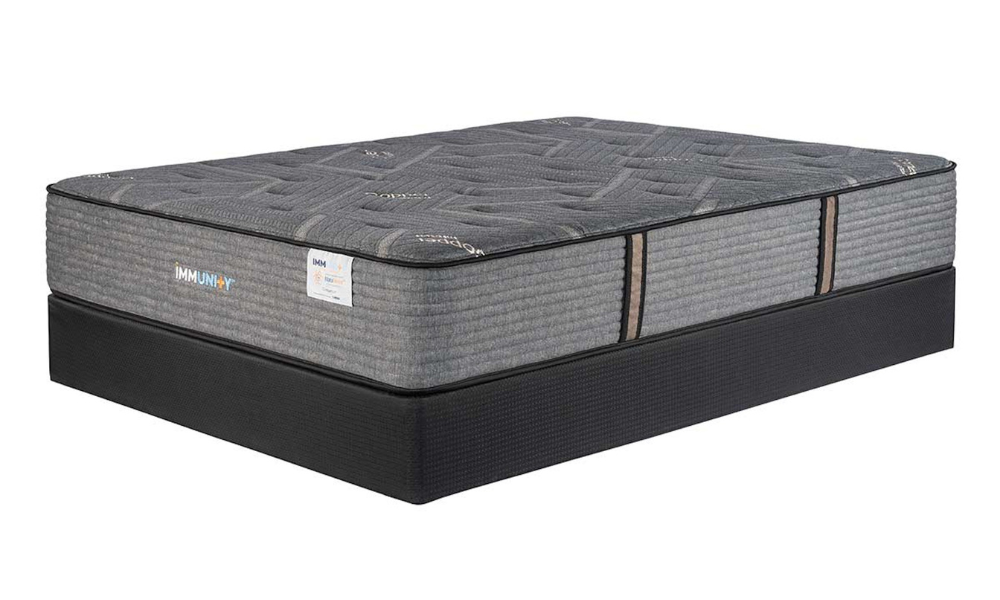 Therapedic's Immunity collection has copper woven into the fabric cover using a patented copper yarn technology, and copper is also infused in the mattress foam. Additionally, Immunity's fabric cover by NatuVerex is made with a minimum 30% of the patented copper yarn, shown in tests to be transferrable through bedding and absorbable by the skin. Read more about Therapedic's introductions. Building B, space 946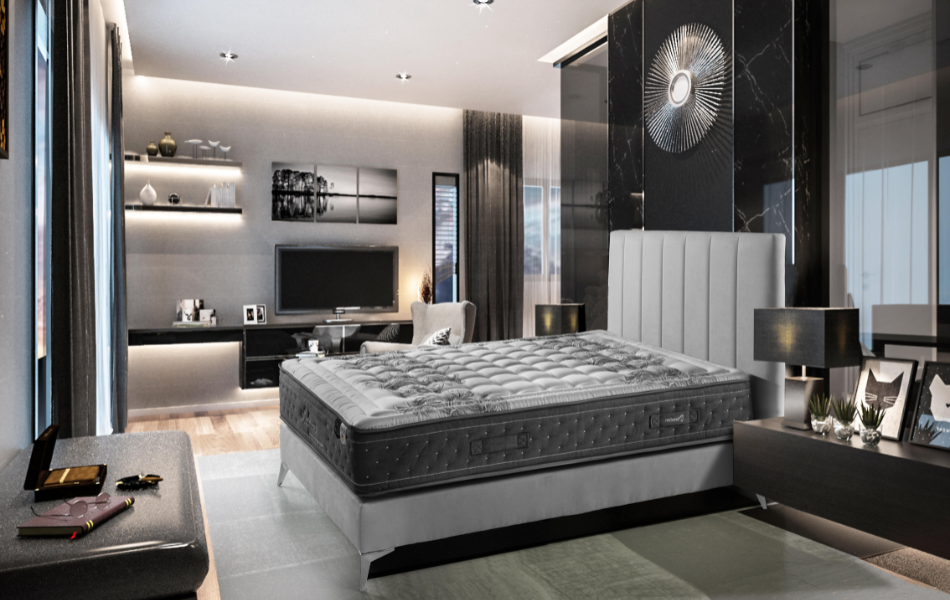 Eurolux Living's Multisens mattress combines Italian ticking and foams, with German pocketed micro-coils and coils as well as Swiss Thermoregulating technology and Swiss Aromatherapy. Building C, space 1565