GhostBed, an online mattress retailer and manufacturer of boxed beds, has partnered with massage chair manufacturer Cozzia on The Ghost Massage Bed, which is built with unique air-cell mechanisms that offer a therapeutic massage targeting major pressure points, similar to the features in Cozzia's industry-acclaimed massage chairs.
Cozzia decided a few years ago to build a components division to scale its health and wellness technology into other segments of the home furnishings business, but they never thought mattresses would be a good fit.
However, when GhostBed Executive Vice President Alan Hirschhorn visited their High Point showroom in 2021, a discussion started with Cozzia's CEO, Mark Holmes to create what would become the first mattress to be built with true massage capability.
The Ghost Massage Bed Powered by Cozzia is built with unique air-cell technology that offers a therapeutic massage targeting major pressure points, similar to the features in Cozzia's industry-acclaimed massage chairs. The mattress will be featured in the GhostBed showroom in B-980 at the forthcoming Las Vegas Market.
The mattress has two individual massage pads that are independently remote-controlled, allowing each person the ability to enjoy their own customizable massages. The two massage units feature five zones for the neck, shoulders, upper and lower back, glutes and legs. Each unit has multiple pre-programmed modes for various therapeutic benefits, such as full body massage and stretching, in addition to a range of massage intensity. The separate massaging units allow individual sleepers the ability to experience a targeted or whole-body massage without any motion transfer, allowing each person an undisturbed sleep.
"We have been embedded in the furniture channel since 2010. We have strong relationships with most of the Top 100 retailers already, so we knew we needed to continue to find new channels to grow our business," said Holmes. "GhostBed was the right partner for us because they shared many of our common values. Health and wellness was important to them, and we also saw how well they merchandised and marketed the Venus Williams Collection. That gave us great confidence they would be the experts we needed in the mattress space to succeed."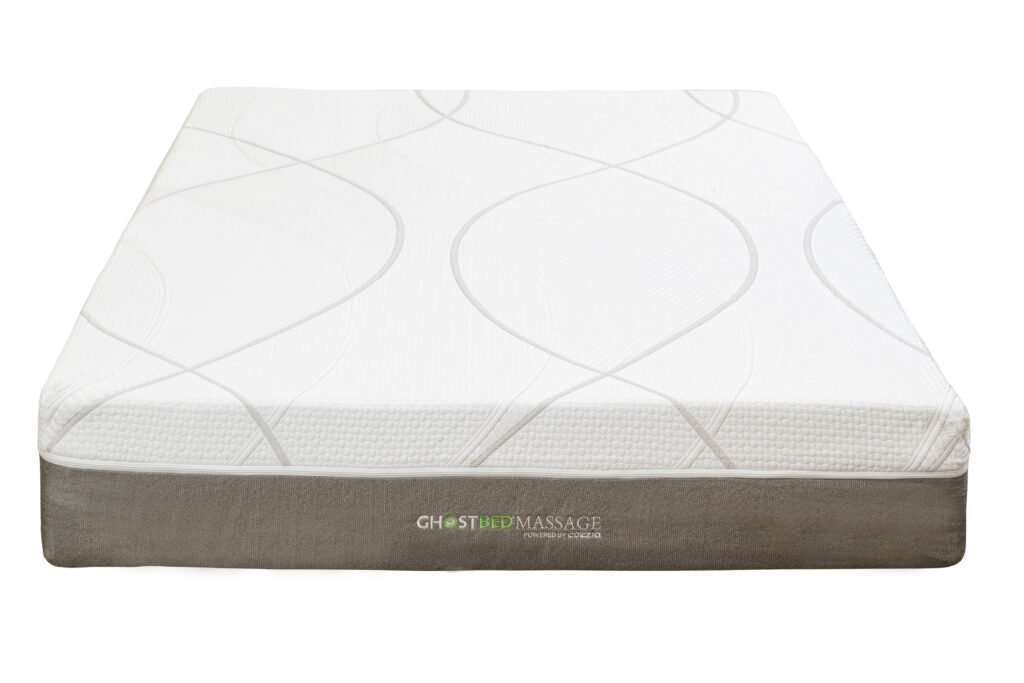 Hirschhorn was keen on getting the product development process with Cozzia underway. In addition to the market opportunity, he was aware that GhostBed Founder & CEO Marc Werner had suffered through three neck surgeries and back pain, is a huge advocate of massage therapy and wanted to offer a true GhostBed massage mattress.
"We quickly saw that Cozzia's new air cell technology would allow us the opportunity to build something really unique and special for the mattress industry. This isn't a mattress that vibrates or a pad you put on top of a mattress. This was the real thing –a real therapeutic massage built right into the mattress that moves and actually massages you. It's like having a masseuse inside your mattress," Hirschhorn said.
For Cozzia President Bob Bruns, this is a return to the mattress business since his days at Bassett and Serta in the 1970s and 1980s.
"We knew in order to be successful in mattresses, we needed a strong partner, which we found in GhostBed. Their strong presence in the D-T-C and wholesale channels will get the maximum exposure for our product," he added.
The Ghost Massage Bed Powered by Cozzia offers a 10-, 20- or 30-minute massage and automatically powers off to provide a night of restful sleep. It is built of a comfort gel memory foam layer, the massaging layer, the GhostFlex Transition foam, and base foam.
"Cozzia's air cell technology allows us to incorporate our therapeutic full body massage into a mattress which is undetectable when the bed is powered off," says Cozzia CEO Mark Holmes. "This mattress offers the best of GhostBed comfort and quality combined with unrivaled Cozzia technology. It is truly the best of both worlds."
Hirschhorn adds, "We are constantly looking for new innovations to provide our consumers with quality comfort. While vibrating beds were popular decades ago, our mattress is completely different and offers the sleeper a massage with an incredible amount of control," said Hirschhorn, "We envision sleepers coming home from a stressful day or week, enjoying a spa-like massage in their home, and receiving an incomparable sleep."
The mattresses will retail for $2,999 in queen, with options in twin extra-long, queen, king and California king. Ghostbed will be hosting a private, invitation-only unveiling of the new mattress on January 28th, during Las Vegas Market.