A consumer survey hosted by UBS Evidence Labs shows that online mattress retailer GhostBed logged a 46% gain in brand awareness from 2021 to 2022 — the largest increase of any of its peers.
Bedding News Now reached out to the company's executive vice president, Alan Hirschhorn, to find out what the company did to get there.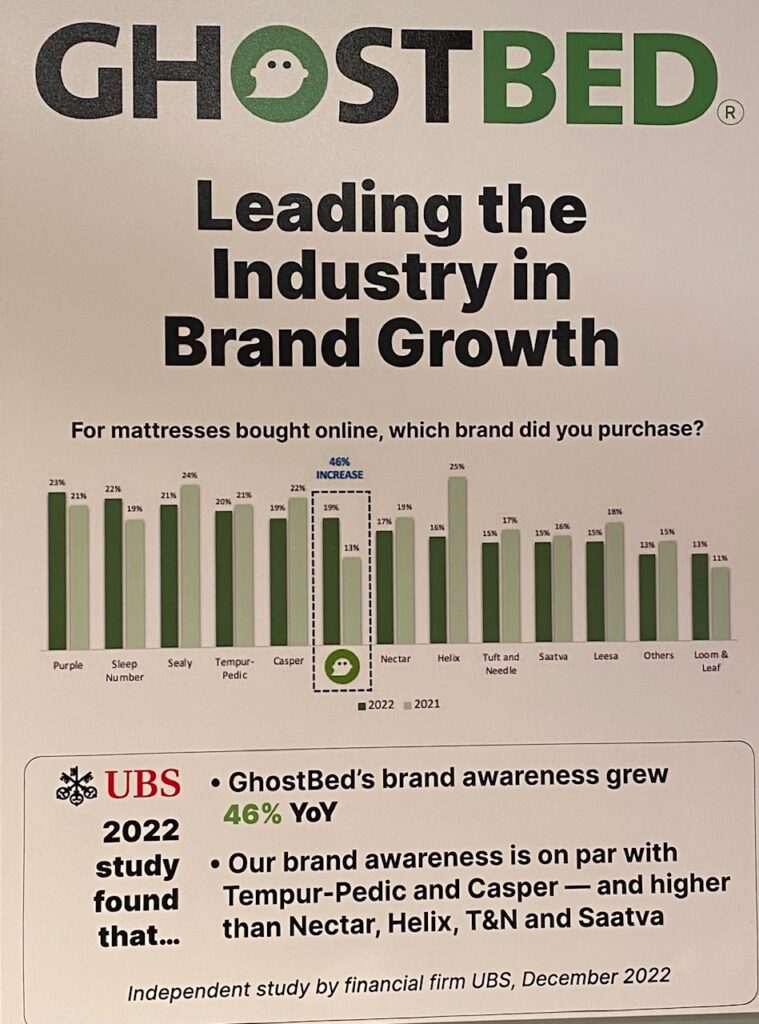 "Our goal when we started GhostBed was to become a brand that would be meaningful to people," he says. "We feel we have a legacy different than our other DTC competitors because we've been doing this longer than most. We wanted to take that experience and produce a real brand that had quality and not just put a cheap mattress up there and sell it directly."
He explains that the company had a system in place — with warehouses across the country stocked with inventory — so they could fulfill orders quickly.
"The goal was not to get big sales, raise venture capital, sell out, go public and then go away," Hirschhorn says. "We set out to start a company with legs and create a good, substantial brand that will give people a good night's sleep."
The UBS study was fielded earlier this year and was composed of 2,500 consumers, of which nearly 40% were actively shopping for mattresses. While GhostBed saw a dramatic increase, competitors like Tempur-Pedic and Casper had a decline in consumer brand awareness year over year. 
Hirschhorn says the company never aimed to be as well-known as Tempur-Pedic or Saatva, but that the people involved at GhostBed wanted it to simply be a good mattress company. 
"And it just so happened that in doing so we were able to be independently viewed as on par with those guys," Hirschhorn adds.
Power in partnerships
The company has also had success in places where others have traditionally failed: partnerships.
Working with Venus Williams on a line, as well as incorporating Cozzia's massaging technology into a new bed model, Hirschhorn says the company's philosophy is to build strong relationships where everyone can grow together.
"Others, in my opinion, are just looking for the next best thing that's going to make them some money," he says. "And that's not what we do."
He says when the company met with Williams' team, there was a personal relationship that got developed between GhostBed and Williams.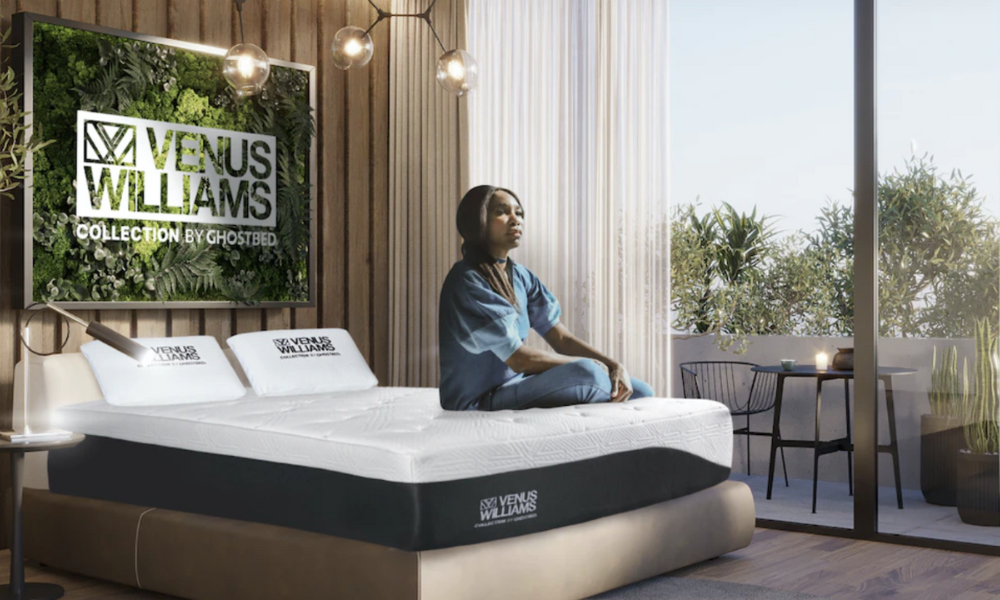 "We share the same values and we both understood that this was important to our partnerships," he says. "Based upon the fact that our values and our goals were aligned, we decided to become partners and create a line. My guess is Scott Brothers, Russell Wilson or Tom Brady, they just bought the name. We created a line that she's involved in — she oversees everything we do and has final approval. Everything is about building a mattress that really is good for you to sleep on and has features and benefits that are helpful to you and your body. And then the sales come."
He says the same thing goes for teaming up with Cozzia. They supply GhostBed with their massage components, but Hirschhorn says they also talk daily.
"And we're creating, again, a mattress that really works and is good for you, not just a sales opportunity," he explains.
The report also showed interesting trends, like the rise in popularity of the direct-to-consumer channel, but steadiness in the number of shoppers who still want the experience of a physical store. This works out to GhostBed's advantage as well, as Hirschhorn says the company has had rapid growth in its retail sector and the company is both online and in physical stores.
"The UBS study is validation that the millions of dollars we spend each year building our brand through numerous and innovative advertising channels, public relations and our collaboration with Venus William is resonating with consumers," Hirschhorn adds.