Mattress exhibitors at Las Vegas Market came ready to do business this year, with dozens of manufacturers releasing new and innovative solutions that focus on helping retailers sell more than just mattresses and sleep.
Beyond Sleep
One of the biggest trends around the market is the focus on health and wellness. While the industry has been focused on better sleep for decades, consumers are looking for more than that today. It now extends to the entire wellbeing of a person, from the way they sleep to the way their body recovers, to the energy they have throughout the day.
Dawn House Living, a division of Ergomotion, is one company capitalizing on that trend with products that offers an in-home alternative to sterile hospital beds.
The Dawn House bed is more of a sleep system than it is a mattress. With under-bed lighting, a soft, inset base, and voice activation, the bed is made for seniors who need different features when it comes to beds.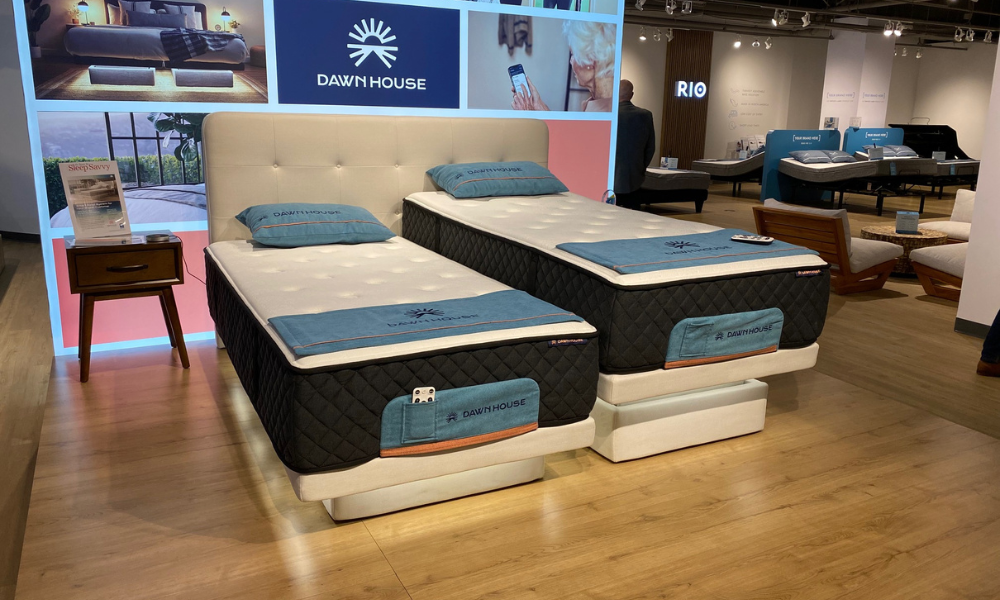 With different high-low height options, each side of the bed can be moved up and down independently through an easy-to-use remote.
And the product didn't come together overnight. Launching in late 2021, the company put the beds through extensive research and sent them out to key consumers to gather feedback. In addition, Ergomotion hired several experts in senior living to produce a product that meets seniors' needs.
The product is also unique in that it hits two types of customers, the seniors themselves, as well as their children or caretakers who need an in-home solution.
"10,000 people turn 65 every day, and our bed has been proven through research and test markets to help seniors get the energy they need to live full lives, even in old age," says Jennifer Hall, director of marketing.
Customatic also focused heavily on health and wellness with the introduction of its Independence line, a bed that both reclines, swivels to the side and helps lift users all the way up on their feet.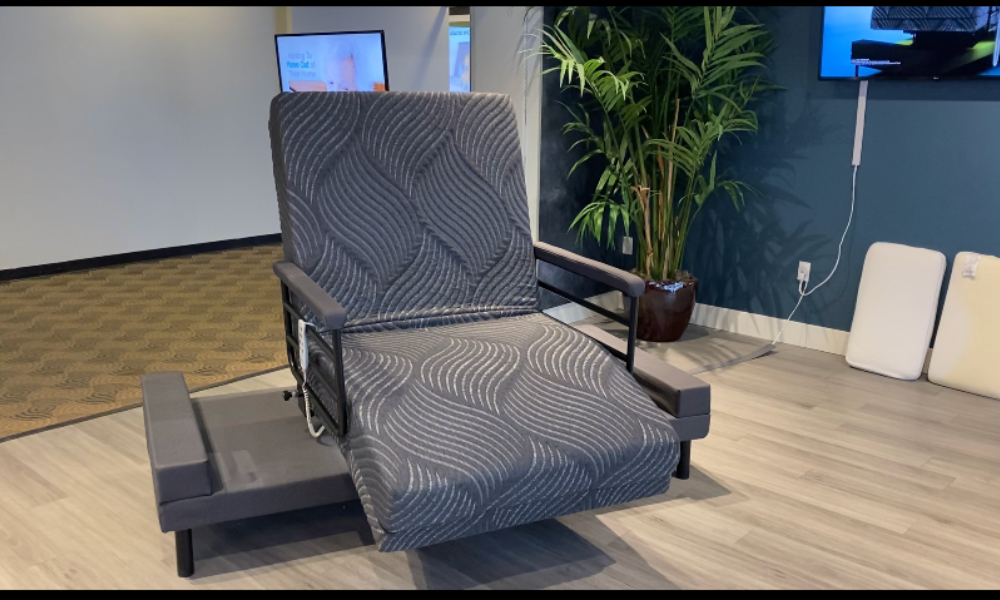 "It's a medical product but we made this line for brick-and-mortar retailers so that it was more aesthetically pleasing than a hospital bed, and the price of $3,999 makes it a great value," says Keith Burrell, senior VP of business development.
In addition, the company has attempted to make it easier for retailers to upsell by offering add-on sleep technology.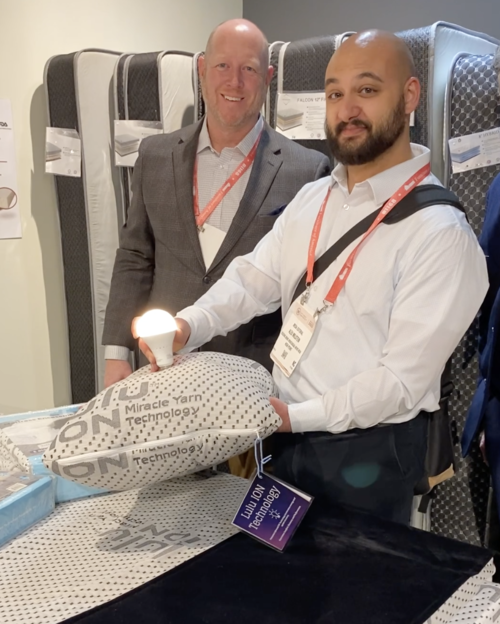 Snore Sense is a product that not only senses when a person is snoring but it will work with the bed to automatically change the position to prevent it. The bed will continue to move throughout the night based on a person's snoring pattern.
Voice Sense is another add-on piece of technology that allows users to make adjustments hands-free, and no WiFi is required.
Lulu Mattress, which recently announced that it's expanding into the wholesale business, had a bright idea to develop a fabric that converts body heat into infrared rays, which helps with circulation and quick recovery from soreness or injury.
The FDA-approved yarn of the fabric is infused with bioceramic that helps the body recharge, and its effects do not fade over time.
"We decided to bring the product to the wholesale market now because it will be helpful for retailers to have something unique on their floor this year, says founder and CEO Michael Flam. "In addition to mattresses, we also offer mattress toppers and pillows, so a consumer doesn't even necessarily need to buy a new mattress to enjoy the effects of the fabric."
Brick And Mortar Balance
Retailers have taken on a new importance when it comes to bed-in-a-box (BIAB) brands, and that was evident at this market. Countless brands that were once exclusively DTC companies are branching out and working with retailers to focus on new opportunities.
However, Chris Bradley, EVP of consumer products at NCFI and Bedinabox.com — the original inventor of beds in boxes — says the market is still oversaturated with BIAB brands and the category is suffering even more due to the state of the economy.
That's why these companies are working on new ways to differentiate themselves from the competition.
Ghostbed is one company making a strong effort, as a UBS study found that they lead the industry in brand growth in 2022. With partnerships with both Tennis star Venus Williams as well as Cozzia, the brand is showing that these partnerships can work in an industry where they have a history of failing.
The UBS study shows that their brand awareness is now on par with Tempur-Pedic and Casper, and higher than Nectar, Helix, Tuft & Needle and Saatva.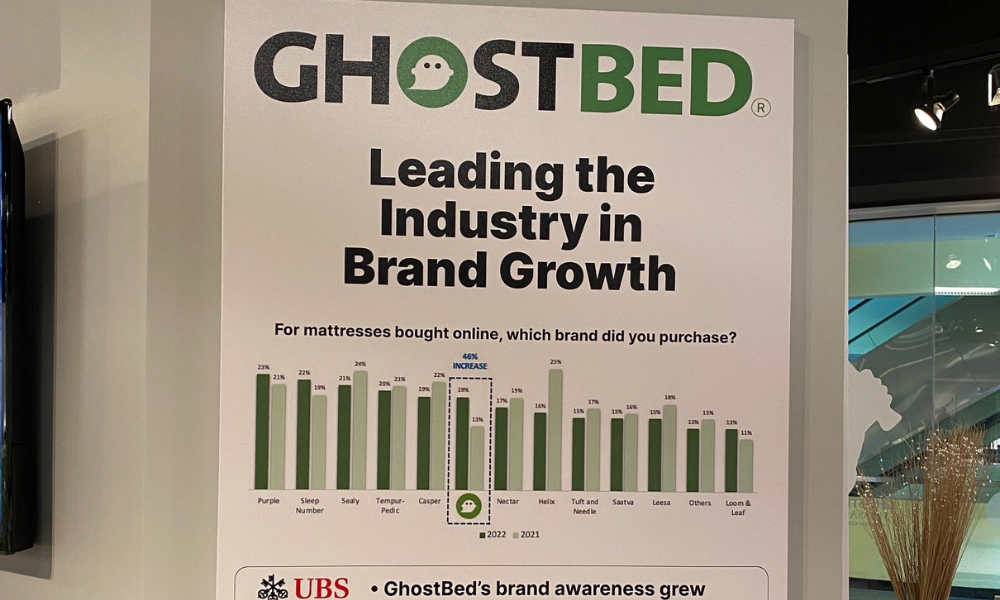 The big news this market is the company's recent partnership with Cozzia, which brings unique massage technology to mattresses.
The models have air-cell technology that targets and massages major pressure points with five zones for the neck, shoulders, upper and lower back, glutes and legs.
Each side moves independently, and the unit has multiple pre-programmed modes for various therapeutic benefits, such as full body massage and stretching, as well as a range of massage intensity.
One of the most common ways DTC companies are targeting retailers is by simplifying the product lineup with three tiers (good, better, best) to make it easier for the retailers to tell a consistent story with approachable price points
Emilie Arel, CEO of Casper, says they are trying to be where the customer is — which is often in retail stores — and that's one reason it now has 73 stores across North America. But they also want to branch out to well-established brick-and-mortar retailers.
"We're spending a lot of time thinking about distribution through the U.S. and Canada and how we can really represent our brand to people who want to see it," Arel says. "The word 'omnichannel' has been overused, but it's true that people don't just shop online or just shop at the mall, so you have to have a multi-pronged strategy."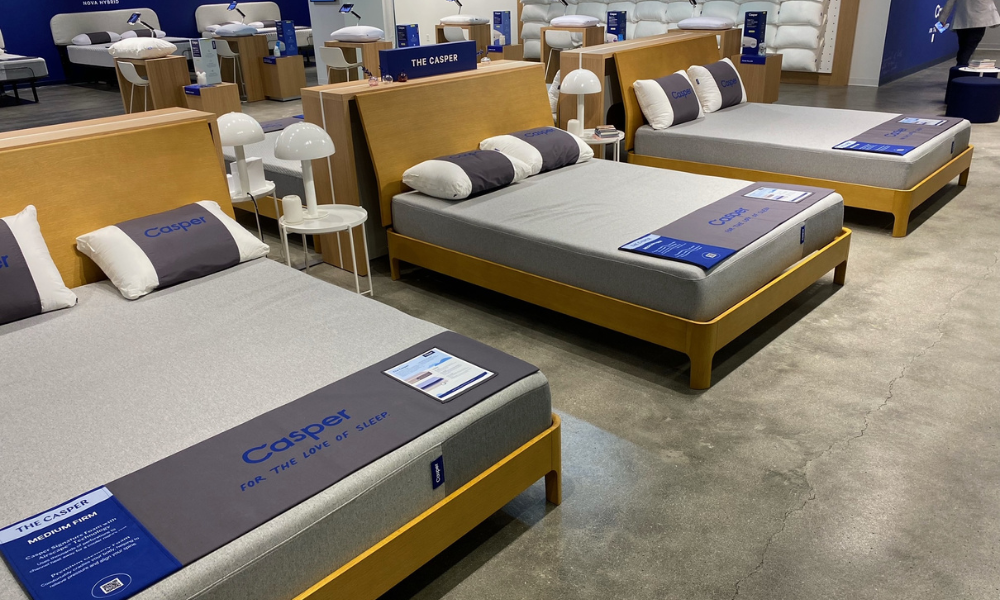 People still want to shop in stores, Arel adds, and the demise of brick-and-mortar is not what people made it out to be over the last few years.
"If we want to be where the consumer is and scale our brand, we have to increase our distribution," she says. "We are serious about starting meaningful retail partnerships," Arel says. "And we've developed three lines, with the lowest at $995, the middle at $1495, and the top at $1,995, to help retailers cover all their bases when it comes to price points."
Arel also says that having beds in boxes in physical stores helps consumers be more confident in their purchase, which reduces returns and helps save mattresses from being sent to landfills.
Purple is taking a similar approach to Casper by releasing three beds with two different feel options at three different price points: Essentials (Basic), Restore (Premium) and Rejuvenate (Luxe).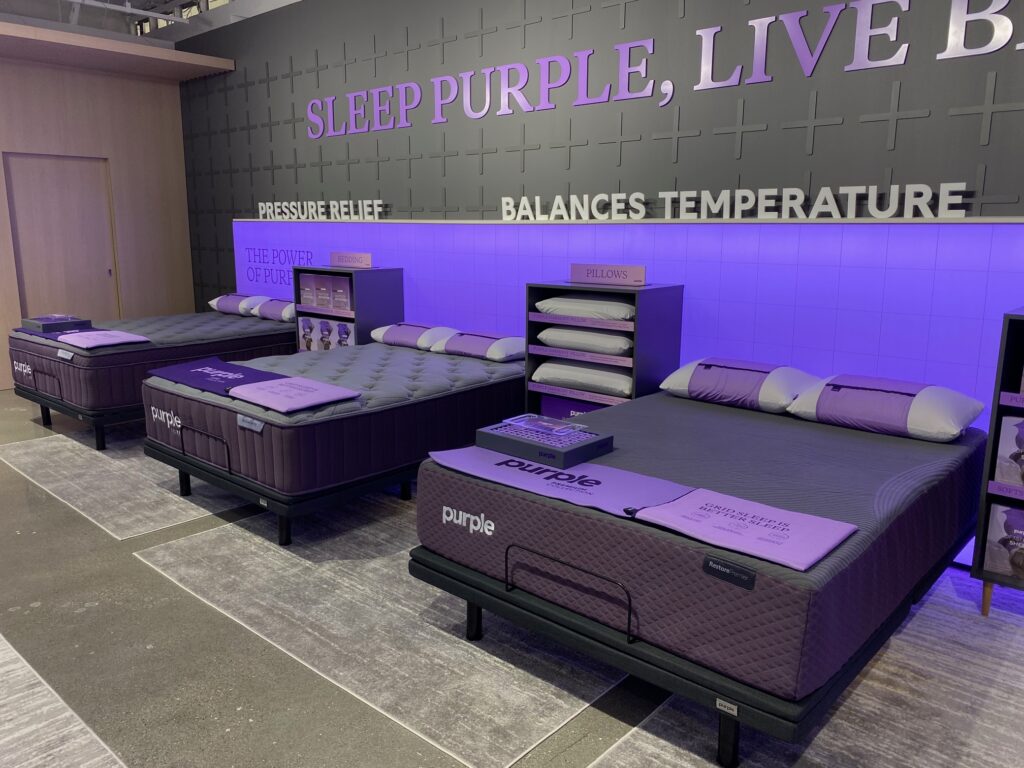 With a total of nine new beds Chief Innovation Officer Jeff Hutchings says they range from $1695-$8000 and aim to help retailers cover a variety of consumers.
Purple also recently merged with Intellibed and has since rebranded all products in the Purple name. The acquisition allows to company to consolidate its IP under one roof while also enhancing Purple's manufacturing capabilities and financial profile.
Brooklyn Bedding is also catering to retailers in a big way this market with the rollout of a brand-new retail program that makes Helix Sleep — one of the brands now under the 3Z umbrella — available on a wholesale level for the first time ever. Beginning in late January, all of Helix's lines including Helix Standard, Helix Luxe, Helix Plus, Helix Kids, and the entire Birch Naturals line, will be added to the Brooklyn-Helix wholesale portfolio.
"This is another milestone moment for Brooklyn-Helix as we continue to expand the presence of our brands within the sleep market," says John Merwin, CEO of Brooklyn Bedding. "Introducing Helix Sleep into our Brooklyn Bedding retail stores has proven to be extremely successful, both in sales and traffic."
With these two trends driving the industry this market, competition is going to heat up quickly. Manufacturers are doubling down on their commitment to retailers so they can bring them products that help differentiate them and bring in new customers when sales are expected to be flat this year.