From Bedgear to McRoskeyto Purecare, bedding exhibitors brought their best and brightest products to retailers at Las Vegas Market, with plenty of options to help retailers differentiate themselves from competitors.
Here are a few highlights from various companies and explanations about why these introductions matter to retailers.
Diamond Mattress
Diamond's CloudTech was the star of the show, as the medical-grade cooling TechnoGel helps drop a person's body heat through several innovative gel options.
The company also released two new drop-ship versions in the line.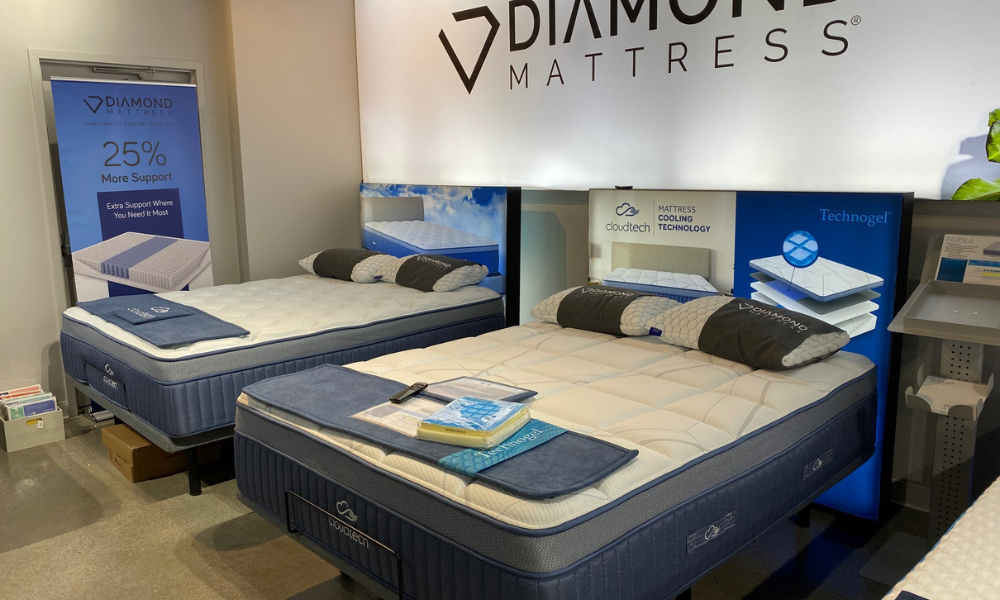 With fives models available in three distinct feels, Diamond has made the beds available to the entire industry — as it first launched exclusively with the 37-store chain Sit 'n Sleep.
Cloudtech's layers of cooling elements aim to offer sleep uninterrupted by heat build-up and tossing and turning.
Technogel's naturally high thermal conductivity disperses heat away from the body, and the grid design further promotes airflow and breathability.
"We're here to help retailers build their brand," says Marketing Director Trina Solomon. "We also work with retailers on custom orders, and private label is one of the biggest parts of our business."
Unrelated to mattresses but interesting to know: TechnogGel is also used in the medical field to help maintain the body temperature of premature infants to keep them and their mothers connected by sending the mother's heartbeat, breathing motion and voice in real-time to their babies.
MLily
MLily Executive Vice President Glenn Kobylarczyk says the company was in growth mode this market as the company offers "aggressive" pricing due to the fact that they pour their own foam, roll their own coils and produce vertically in the U.S.
The company's ChiroPro took center stage, as the product has been chosen as the International Chiropractors Association's official partner. The association chooses only one manufacturer per country to partner with.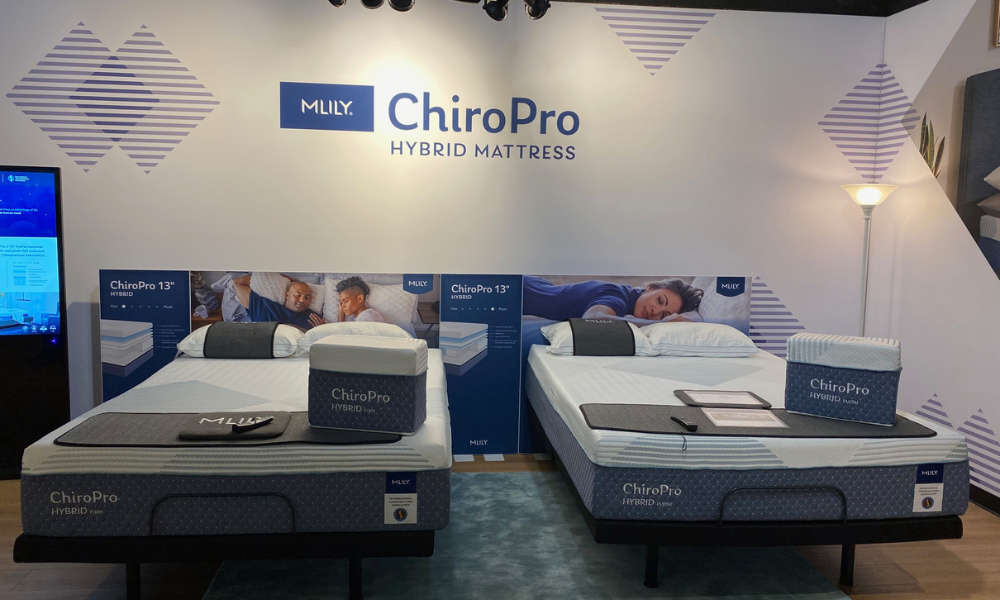 "The No. 1 issue people have when shopping for mattresses is lower back pain," Kobylarczyk says. "They need extra support, which is why our ChiroPro has a slightly elevated middle section that offers more spine support and doesn't sink in."
The company also released a new selection of good, better and best models at 12, 13 and 14 inches, respectively. They wholesale at $400, $450 and $500, respectively, and Kobylarczyk says the company encourages retailers to set their own retail prices based on what works for them.
Beyond mattresses, the company also developed an easy-to-assemble bed platform that can simply snap together without the need for any tools. It holds 2,000 to 3,000 pounds and has anti-skid rails as well as mounts for headboard positioning.
"We're conscious of what the consumer is looking for — especially with inflation — and this is an affordable and easy option to help retailers add on to a sale," Kobylarczyk says.
Therapedic International
The Sustaina line was the latest introduction on display at Therapedic; however, the V-Coil system used inside the mattresses stood out as the bright star.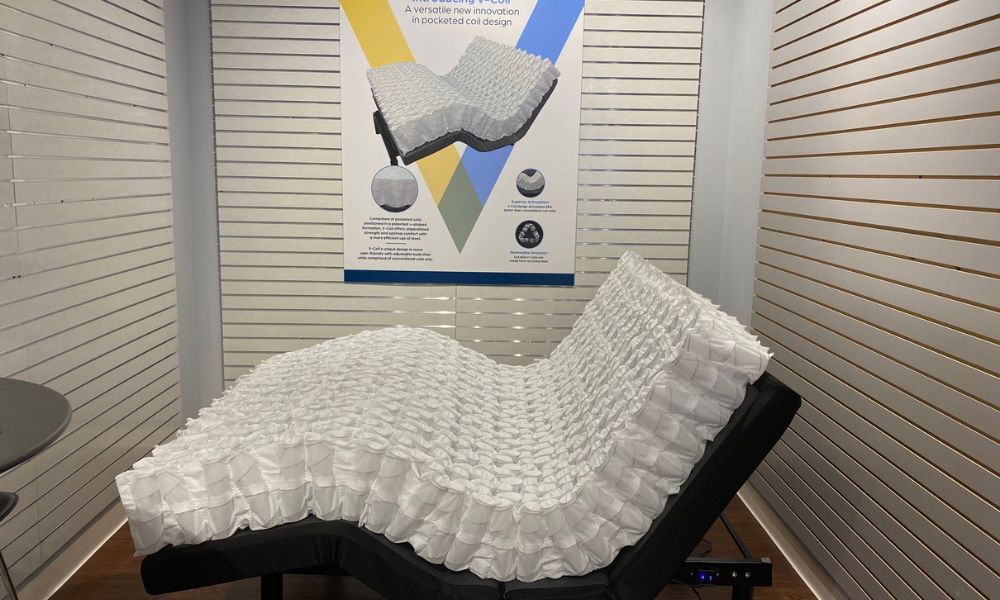 Instead of straight coils, the V-Coil system uses slightly bent coils that form a V shape. That means the coils not only bend easier and more smoothly when used with an adjustable base, but there are also fewer springs used — minimizing the amount of material needed.
"It has 38% better articulation than conventional coil units," says CEO Gerry Borregginne. "In the three-bed Sustaina line, we use renewable resources like cotton, latex and wool, but the coils also have a lower carbon footprint because fewer are used."
Models in the line range from $1,799 to $1,999 to $2,199.
Purecare
Top-of-bed products took on new importance in Vegas this year, as Purecare released products from its exclusive new partnership with the Dr. Weil brand.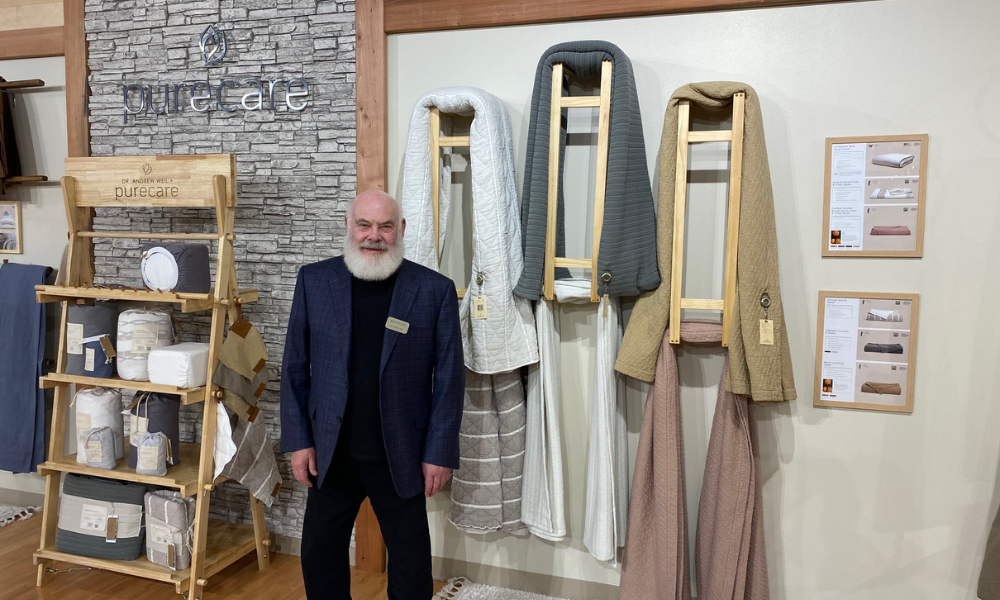 "The line is good for the earth, it's good for people and it can help offer better sleep," says Sarah Bergman, Purecare's chief marketing officer and senior vice president of product development. "When we first started talking about the partnership, Dr. Weil invited us to his home and we hit it off well. One of the things that was most important to him is that sustainable materials are used — like hemp, which we have now developed into a product."
With sustainability at the heart of the collection, the two partners worked together to find innovative ways to support that ethos. One of which is sourcing natural dyes from Portugal that are made from foods like beets, orange peels and avocados.
Fibers are made with either goose feather, Merino wool or Kapok, which comes from the Kapok tree and is naturally hypoallergenic.
Yatas Bedding
Yatas Bedding also capitalized on the importance of top-of-bedding with the release of several textiles made in its Turkey-based factory. Brand Manager Jason Kennedy says this helps the company offer retailers a complete look.
In addition, the company rolled out 10 new roll-pack options this market, including the DreamBox Lite, which has storage underneath that can easily be accessed by lifting two pulleys at the foot of the bed. The system is easy to assemble and the height it lifts up to takes the difficulty out of accessing items stored under the bed.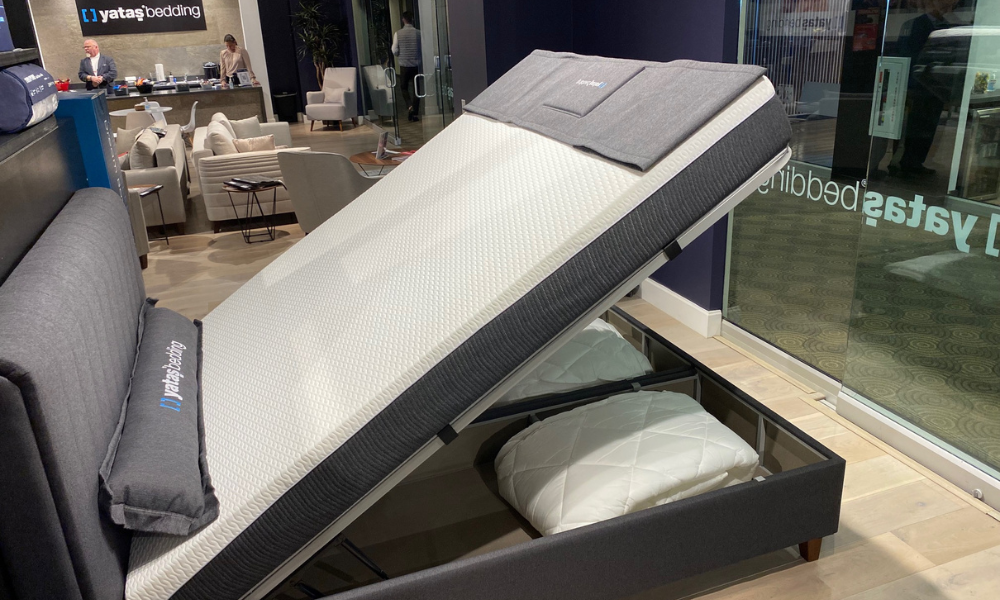 DreamBox is a hybrid collection with beds ranging from 8 inches to 14 inches that scale up in tier and price point.
Kennedy says the company is big on private label business, can mix and match containers, and is currently able to take on new OEM, hospitality and private label clients.
McRoskey
McRoskey came to market to share the story of its rich history, and it did that through several models — including a modular line — that have all-natural layers made from horse and alpaca hair, as well as Talalay and latex.
"We can ship nearly anywhere in the U.S. in about two weeks," says National Sales Director Jon Leonhard. "Prices range from $9,000 to $29,000, there are no minimums and retailers have on average reported 70% margins."
The company featured three models with three feels per level, one of which is the Presidio, which has ultra-conforming springs that are designed to perform on a platform bed with no box springs.
The carefully stacked layers, which include 5 inches of certified sustainably sourced Talalay latex, are hand-tufted by expert makers in the company's Fresno facility.
BedGear
BedGear's goal this market and beyond is to improve its carbon footprint by offering a complete sleep system that reduces waste.
The big introduction was the M3 modular split-head mattress that allows each sleeper to have their own sleep environment while not feeling separated. In addition to a king-sized option, the company is offering a queen-sized one because "making queen-sized split heads is rarely done."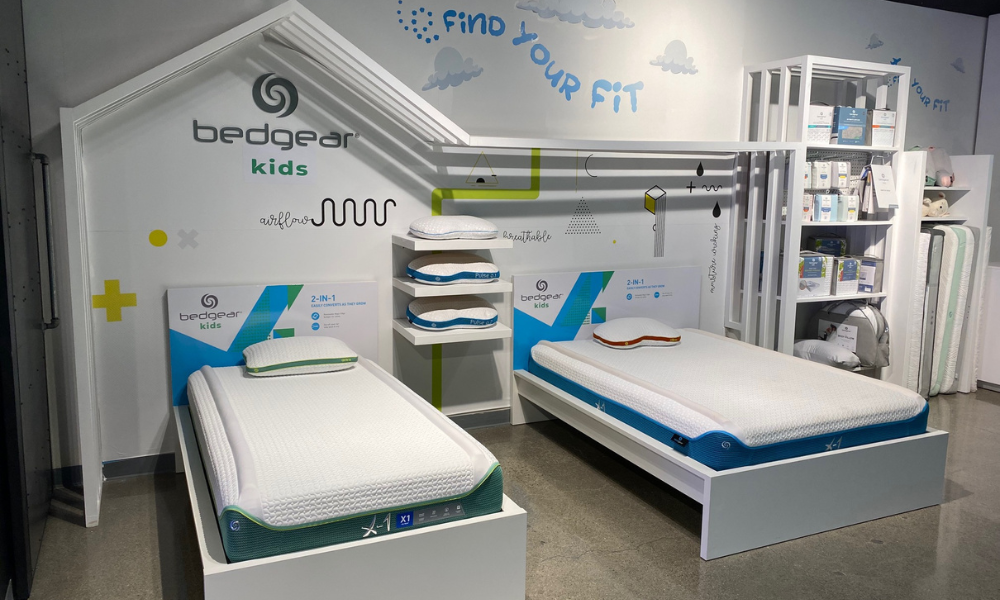 The company also capitalized on the cooling trend with the release of a pillow that allows for increased airflow. To demonstrate, the company put the pillow on top of a fan and had twirlers at each end of the pillow that moved when the air followed through the pillow and out of the air vent holes.
Among its new introductions was also its new kids sector, which helps offer the same benefits of Bedgear's adult product but for children. The company says this seems to be a void in the industry but one that can help retailers build tickets and create customers for life.
Bedding Industries of America
Bedding Industries of America's message to the industry in Vegas was affordable luxury. The company accomplished that through split-head innerspring models, which it claims is the first of its kind.
The company has brands including Eclipse and Eastman House, and a major focus in the showroom was a special bricks-to-clicks retail program with its sustainable Harvest collection.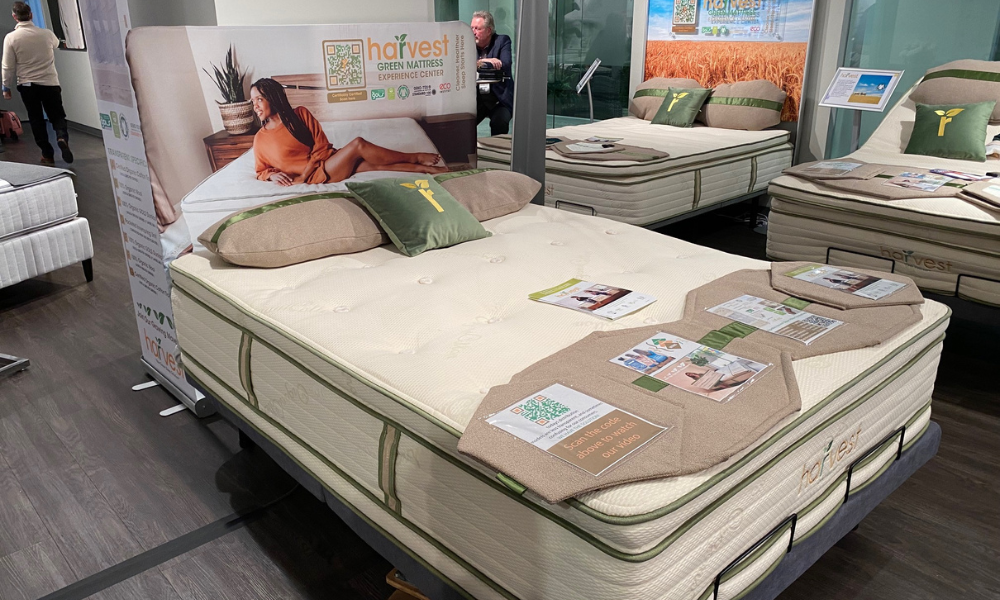 The program offers a revenue share option. If a customer goes into a store and looks at one of BIA's products but then goes home and buys it online, the retailer they visited gets a percentage of the sale.
"We are seeking a niche in the category: affordable luxury," says CEO Stuart Carlitz. "We have so many brands, and we offer private label, but we also offer retailers the name brands, and more importantly, the history behind them. To say that they offer a mattress from a company that started in 1866 like Eastman gives them an advantage with the consumer."