In an effort to stake a claim as a leader in the bedding industry's sustainability movement, King Koil has introduced Re-Spun, a collection of seven mattresses designed with recycled denim
According to the Mattress Recycling Council, around 50,000 mattresses per day – nearly 20 million mattresses every year – are filling up to 132,000 square miles of landfill each year.
At the same time, the average American throws away approximately 70 pounds of clothing and other textiles each year, contributing to the five percent of all landfill space that is made up of biodegradable cotton (textile waste) like denim.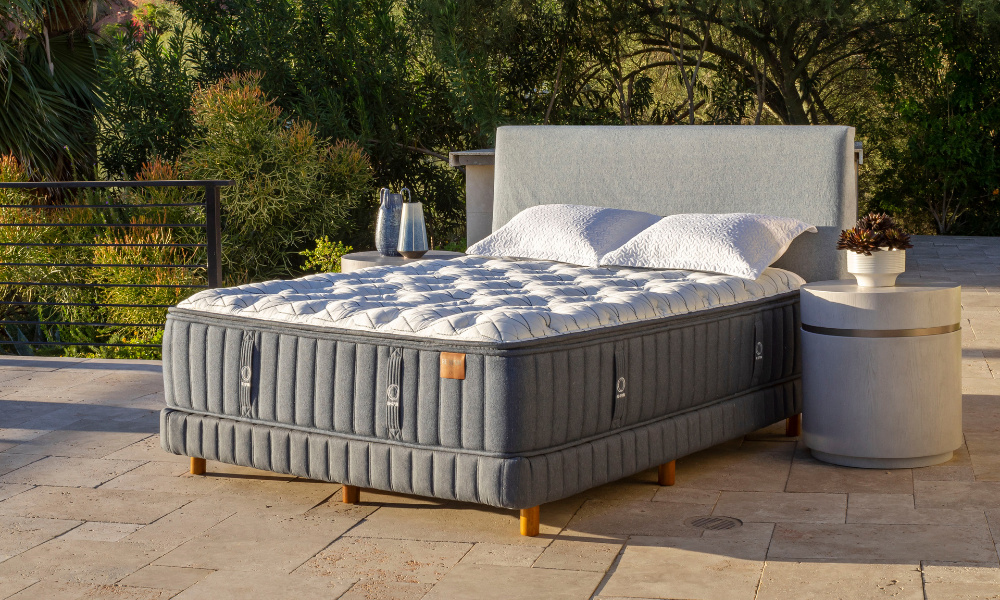 "Too often, the sustainable choice is the least exciting one, says David Binke, CEO of King Koil Mattress Co. "It is possible to create a mattress brand that makes being sustainable stylish and visually exciting. King Koil is committed to producing mattresses that consumers will be attracted to, while simultaneously lessening our carbon footprint. It is our hope that King Koil will inspire others to do the same."
To help bring Re-Spun to fruition, King Koil turned to EverJean fabrics, which are composed of up to 50% post-consumer recycled denim. Upcycling this waste product reduces both global waste production and the carbon footprint.
After shredding the recycled denim into fibers, the fibers are then cleaned and re-aligned in a "carding process" before being re-spun into new yarns. The yarns embrace the faded blue color of the jeans, so King Koil can skip the dyeing and save water, energy and chemicals.
The mattresses use recycled denim to help create durable elasticity, as well as New Zealand Joma Wool to ensure temperature regulation, and glue-free QuadCoil and FlexEcore coil systems to maintain pressure-relieving support. Every component in a Re-Spun mattress is chosen to enhance quality of sleep and help our current and future environment.
King Koil has received stringent third-party certifications for Re-Spun, including Greenguard, OEKO-TEX®, ESG, Global Recycled Standard and SABA. The queen models in the collection retail from $1,999 to $3,499, and the collection will be shown at King Koil's Las Vegas showroom, B1200, at the World Market Center.