Spring Air International is building on its best-selling Back Supporter line with the introduction of Back Supporter Hybrid Plus at the Winter Market in Las Vegas. The mattresses offer expanded temperature regulation and enhanced comfort options at price points from $999 to $1,599 in queen at retail.
The collection consists of eight new quilted, smooth and Euro Top models that are infused with a variety of foams and gels, offering different comfort levels and utilizing cool-to-the-touch fabrics designed to stand out on retail floors in stylish grey and black color schemes. The models echo the same blue hues on the handle, tape and label that is standard for the Back Supporter line.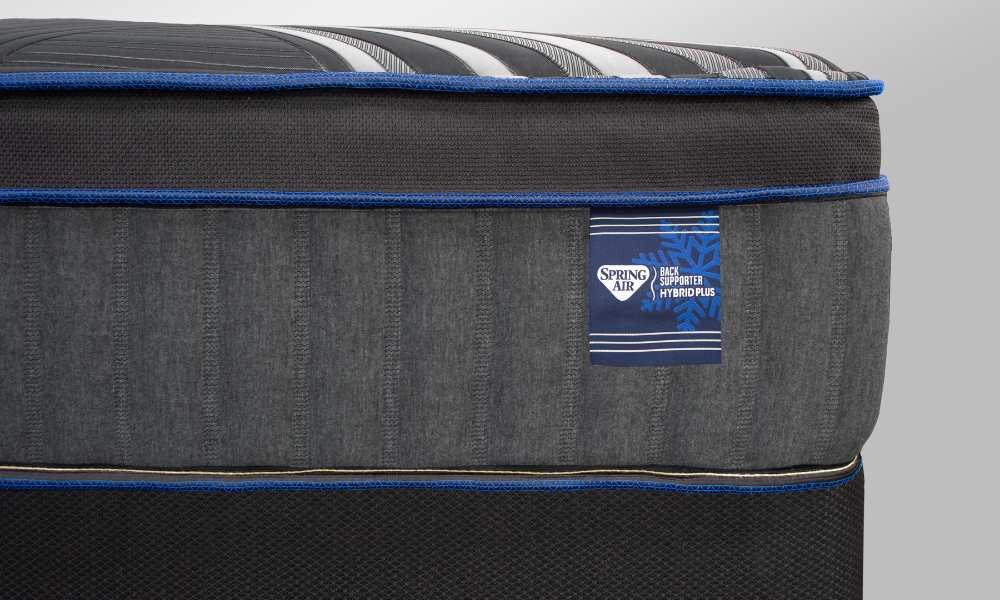 In the Spring Air's showroom at A701, buyers will be able to see the Aberdeen, Fairbanks, the Kodiak and the St. Cloud Euro Top Plush.
The Aberdeen is available in a choice of firm or plus, with layers of HD firm quilt foam, medium foam, medium comfort bridge, an 8-inch three-zone unit, and 1.5-inch medium base foam.
The Fairbanks is available in lux firm and lux plush, and features HD soft quilt foam, HD firm quilt foam, Aurora Foam, Serene Foam, medium comfort bridge, 8-inch three-zone unit, and medium base foam.
The Kodiak and St. Cloud Euro Top Plush are all available in Smooth Top Firm, Smooth Top Plush, and Smooth Euro Top Plush, with smooth top designs with gel-infused memory foam, serene, and HD firm foam.
"Back Supporter continues to have one of the widest name recognition indexes in the mattress category by consumers, so we felt that at a time when shoppers are flocking to established brands, we would offer a broader range of product that addresses their comfort needs at price points they will find appealing in the current economic climate," says Spring Air President Nick Bates.