About a year ago, an anonymous source told me that the ratio of interior designer attendees to retailers at High Point Market is about 80/20, respectively.
And while only a handful of mattress manufacturers exhibit in High Point, they have a unique opportunity to hit that higher-end customer through an interior designer.
The big question is, how do you make a big foam rectangle look attractive to designers who have just visited stimulating showrooms like Currey & Co. and Hooker?
One way that Shifman has done this is by heavily curating its upper-level showroom on MLK Jr. Drive in High Point to be not only designer-friendly, but also a relaxing place to socialize. The second floor of the building looks more like a traditional mattress showroom and offers more bedding options for both retailers and designers.
The company moved into the building in 2021, and President Bill Hammer says the response has been positive from current clients as well as new prospects.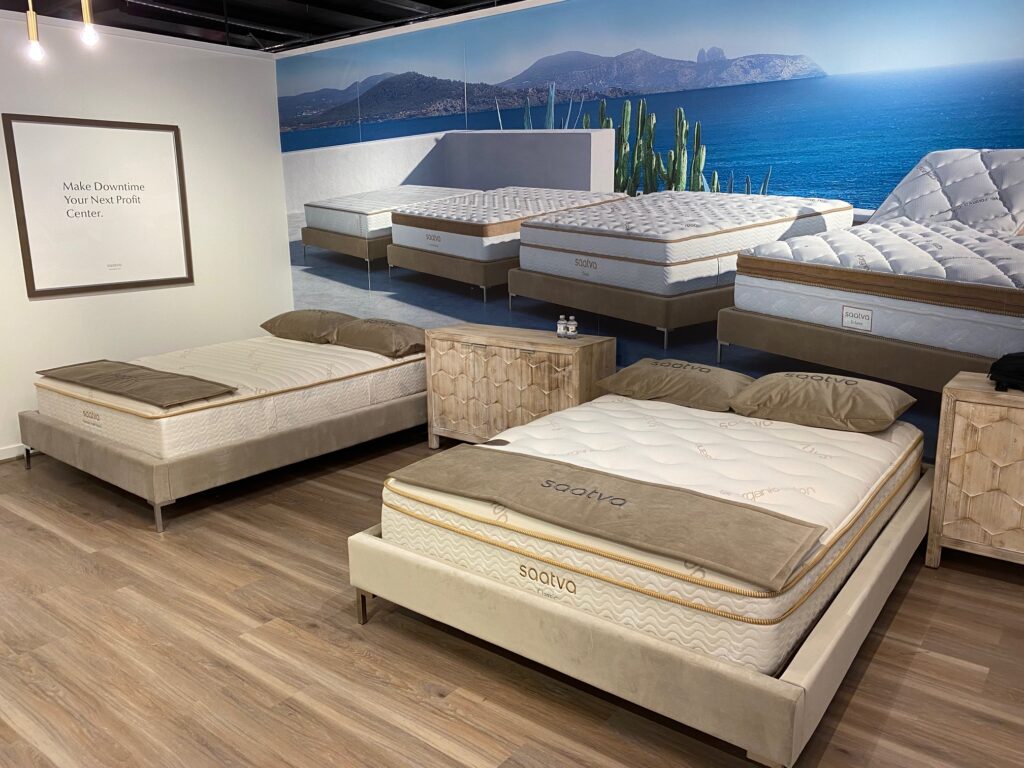 Saatva came to market for the first time this year after opening its first N.C. showroom in Charlotte on April 19. The company was laser-focused on interior design with four different lines, including its bestselling Classic collection. It also offered an exclusive deal to designers in which designers get a 14% rebate that they can use themselves or pass on to their clients.
The launch at High Point is part of the company's broader trade strategy in which it makes designers aware of the brand and uses technology to make the shopping experience more efficient.
In partnership with Samsung, Saatva showrooms have tablets that customers can use to find out about different beds. There's also a "bedding wall" that has touch screens offering information about each pillow.
"We modernized retail and now we are modernizing our trade program with designers, " says Shari Ajayi, director of public relations. "Saatva is aesthetic meets comfort, and we have eight stores open across the U.S. right now, with a goal to open 11 total."
Something for everyone
Let's not forget that, though in smaller numbers, retailers still shop High Point in a big way. That's why companies like Magniflex, Bedding Industries of America and SilentNight/Sleepwell show successfully.
Eclipse Mattress, one of Bedding Industries of America's various brands, brought a new program to market that aims to make it simpler for retailers to help customers find the right mattress.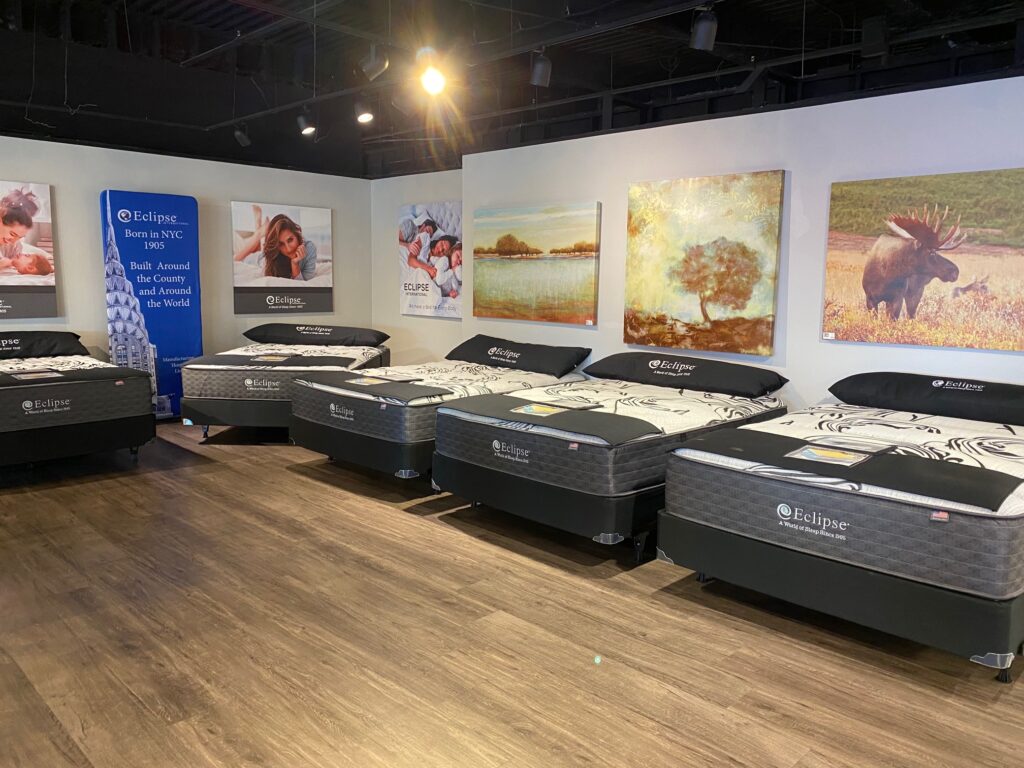 The idea is that Eclipse offers five beds of varying firmnesses, indicated by a number on the bed from 10 to 50, with 10 being the plushest and 50 being the most firm.
Officials say this not only creates value for both customers and retailers, but it offers speed in the shopping process, which mattress shoppers want.
Silent Night/Sleepwell had a few introductions this market, including its Geltech 2.0 bed, the Chesapeake Bay collection, and its Downton Abbey-inspired Highclere line.
Paul Kahl, vice president of sales, says Silentnight is a super brand in Europe, but to help spread the word into the U.S. and beyond, the company has launched a program it calls "Wake Up."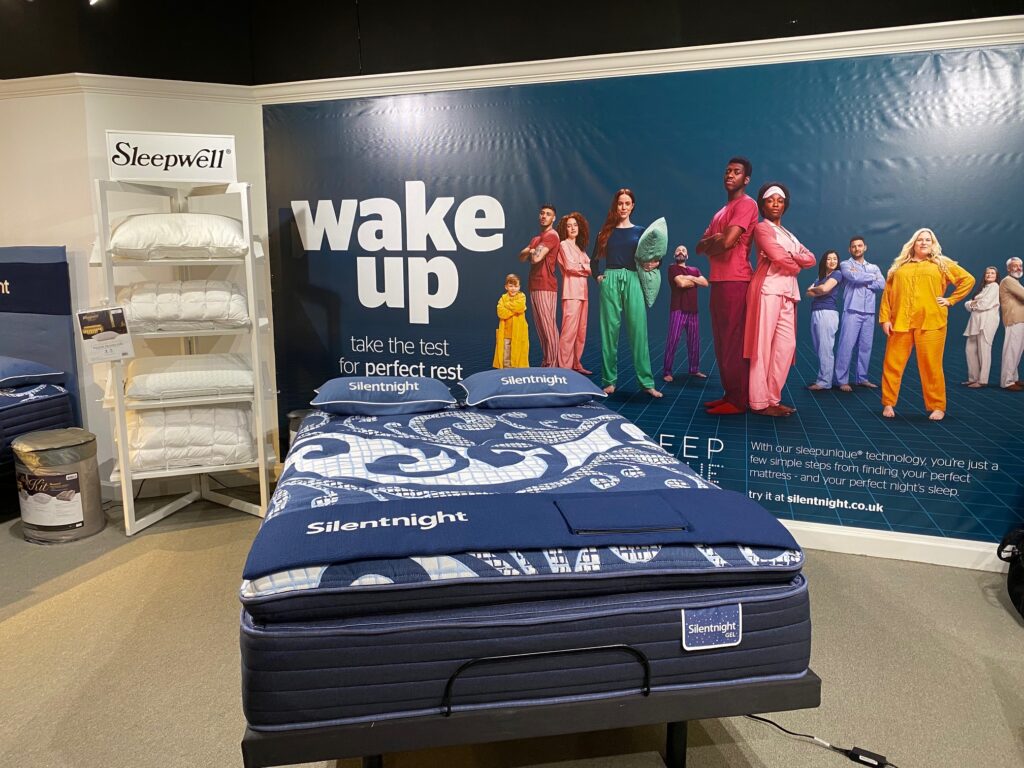 While inviting people to "wake up" and realize the brand exists, the marketing material shows several people in different colored pajamas, all of which signify a different type of bedding the company offers — from foam and eco-friendly pieces to beds in boxes.
The Gel Tech 2.0 line features Hybrid Theragel, which combines the properties of Silentnight's Serene, Isotonic and Theragel materials. The material is less temperature sensitive than typical memory foam and offers a reduction in motion transfer.
Hybrid Theragel is also treated for antimicrobial performance, featuring copper, silver and graphite additives, all in one foam material.
The Chesapeake Bay collection includes two-sided mattresses that are made in partnership with Repreve, a company that recycles plastic water bottles into usable material.
Unique to the line is Aurora foam, which provides high airflow, resilience and a soft touch. Combining durability with a springlike feel, the material can help ease pressure on sensitive areas. It's made with a wide-open cell structure, which the company says increases airflow by more than 50% compared to most high-airflow products on the market.
Finally, the Highclere collection takes inspiration from the famous Highclere castle featured in the TV show Downton Abbey and also used as a hospital and bomb shelter during World Wars I and II.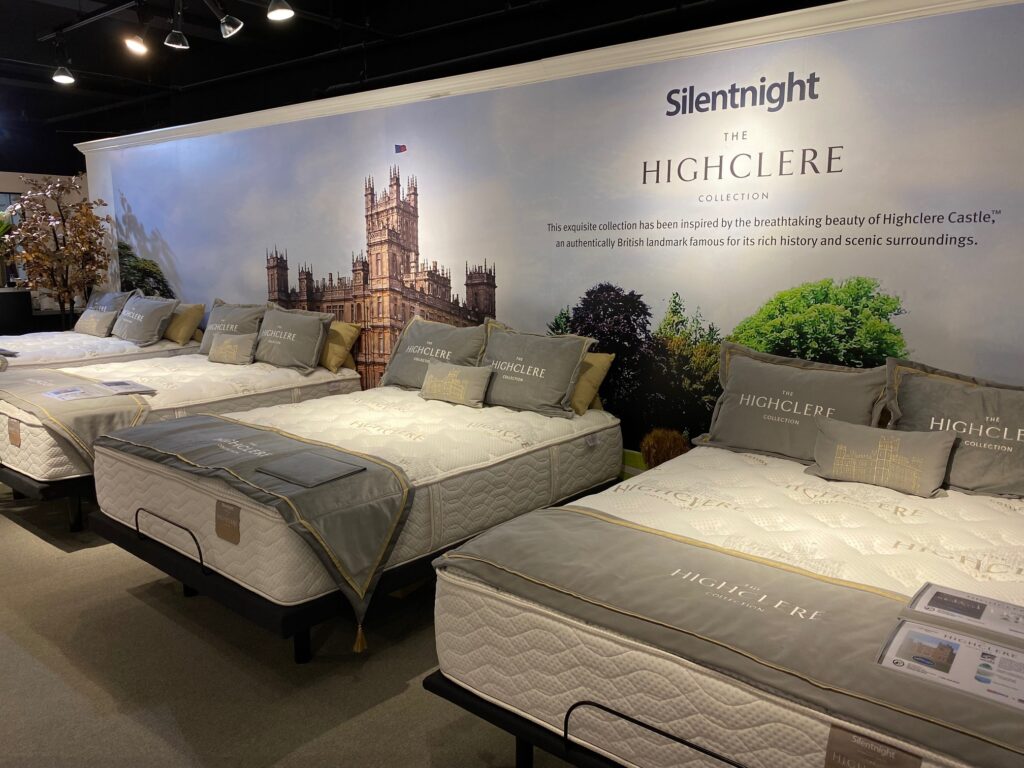 The line has a brand name that resonates with consumers and fans of the show, and the company unveiled a prototype for a new mattress in the collection this market that may be finished and released by the October High Point Market.
Magniflex showed its two-sided mattress that has a winter and summer side. The winter side is made with wool and cashmere to keep sleepers warm, while the summer side uses silk and linens. One bed can feature two different sides to cater to individual sleepers, and the piece comes roll-packed.
Also unique to Magniflex, the company shows its beds in Copeland's showrooms on its bedroom sets, which gives both companies a selling advantage.
"Most companies have fake beds on their bedroom furniture, so why not put a real mattress that has a story?" says Magniflex President Billy Curtright.
High Point Market is what you make it, and bedding exhibitors made it a successful market by offering new, interesting and different pieces that can help retailers and designers sell more mattresses.