When Mike Hammer purchased Shifman Mattresses from the Shifman family's third generation in 1985, he pledged to continue the legacy of excellence and integrity in quality materials and craftsmanship that the brand was known for since its founding in 1893.
And as Bill Hammer, Mike's son, stepped into the role of president in 2008 after growing up and working in the Hammer family business, he embarked on building the brand to new heights in new ways based on old-school values.
"Over the last five to 10 years we've been growing substantially," Bill says. "The High Point and Las Vegas markets have played a big role in that growth."
The company started showing in High Point in 2009 in a temporary showroom, and the next year moved to another location that attracted high-end retailers but was nearly hidden on the third floor of a standalone building.
That's why the company opened its own branded building in October 2021 on Martin Luther King Jr. Drive in High Point, right around the corner from Showplace. This gives them tremendous exposure to people coming into the city.
"We were able to build it out in a place that has visibility and make it in line with the branding and the look that Shifman really should be portraying," Bill explains. "Now it reflects what we stand for and what our retailers would view as a brand that they would want to carry and to display in their own stores."
While High Point has been successful for the company, Bill says Las Vegas is even more important for mattresses. Shifman has been there since 2018.
"If you're not there, you're not seeing major mattress buyers and retailers who, generally speaking, don't go to High Point to buy mattresses. If you want to be a significant part of this industry, you really have to be where the buyers are," says Bill.
As part of its branding strategy and investments, the company is building a new showroom at its headquarters in Newark, New Jersey. Bill says it will offer customers a place to learn about the company with displays explaining Shifman's product and brand. The showroom is expected to be completed in a few months.
Partnered for success
However, Shifman isn't in this alone. Bill recognizes that Shifman's success depends on its partners' success, which is why the company focuses heavily on continuous improvement.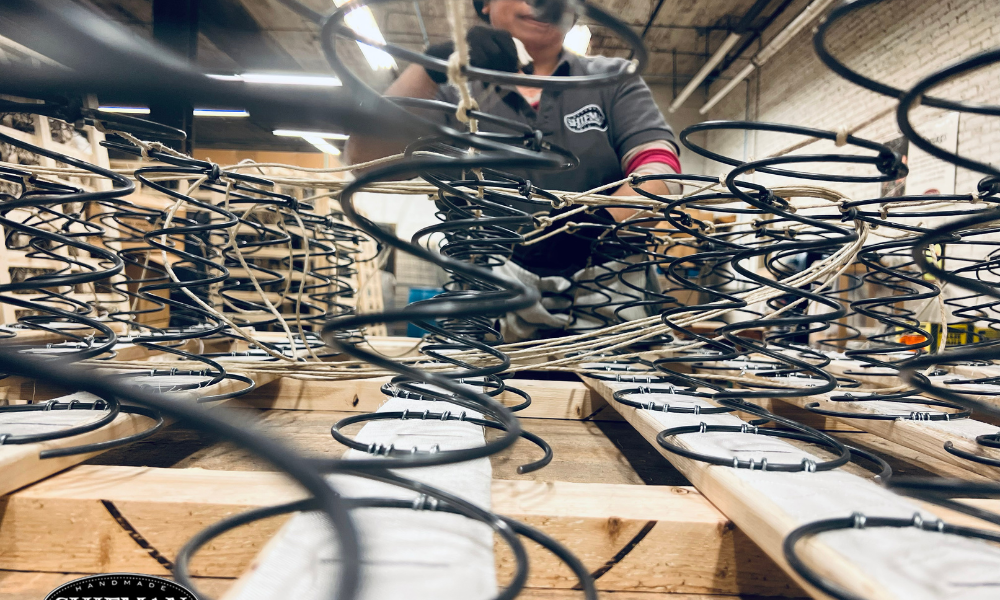 "While I think we do a great job in many areas, I'm also always thinking about how we can do better," Bill explains. "That's the challenge all the time — how do we continue this growth? And always challenging ourselves and our teams is what helps facilitate that growth."
Part of that process is providing retail partners with a comprehensive package of marketing materials to support sales, including customizable layouts for ads and in-store signage, video content, lifestyle imagery, product shots, training packages and more.
Shifman's website features a Dream Match questionnaire that drives consumers directly to their retail partners. Launched a couple of years ago, it has proven to be highly successful in supporting retailers and overall customer service.
"We don't sell directly to the consumer, so everything we do has to be done to support the retailer," Bill says. "What we do every day is make a great product and support that product with plenty of marketing materials, information and training. We go into those stores and we're an active participant in that success."
Bill's advice to retailers is something he says Shifman works on with its partners continuously: changing a need into a want. Advertising plays a key role in that.
"The past few years made a lot of retailers think they didn't have to try so hard because they had more business than they knew what to do with and they couldn't get product," he says. "But now you have to get more aggressive. People need mattresses all the time, and I don't believe you can advertise mattresses too often."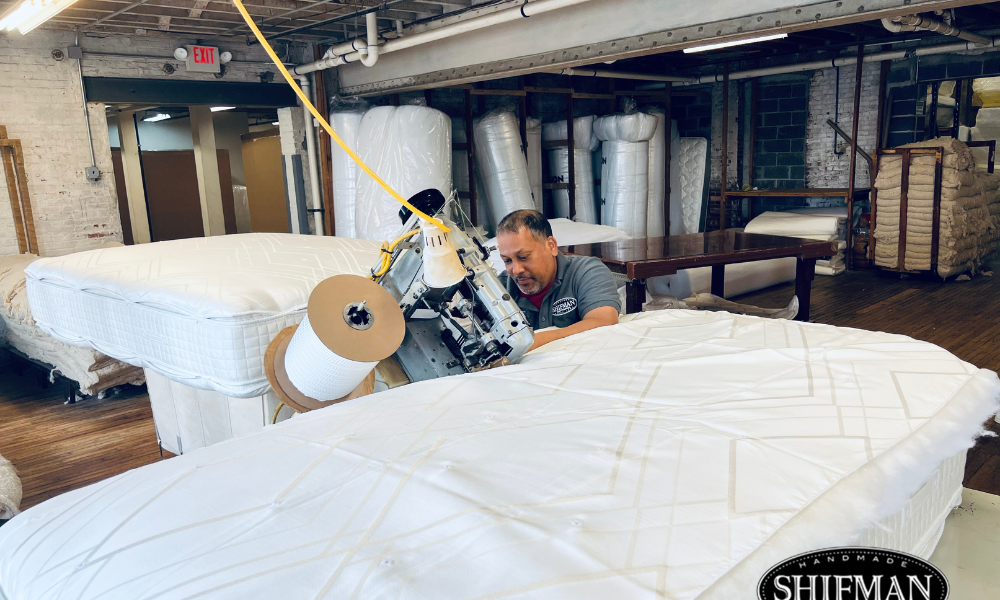 Selling the story
Bill explains that the power of the brand also lies in the story behind it, which is why they insist that every retail partner and its sales associates experience the factory tour — and why the new showroom is so important.
Three generations of the Shifman family ran the business from 1893 to 1985. Brothers Abraham and Samuel Shifman crafted the idea that not all sleep is created equal, and together they built a lifestyle business that was committed to manufacturing superior bedding.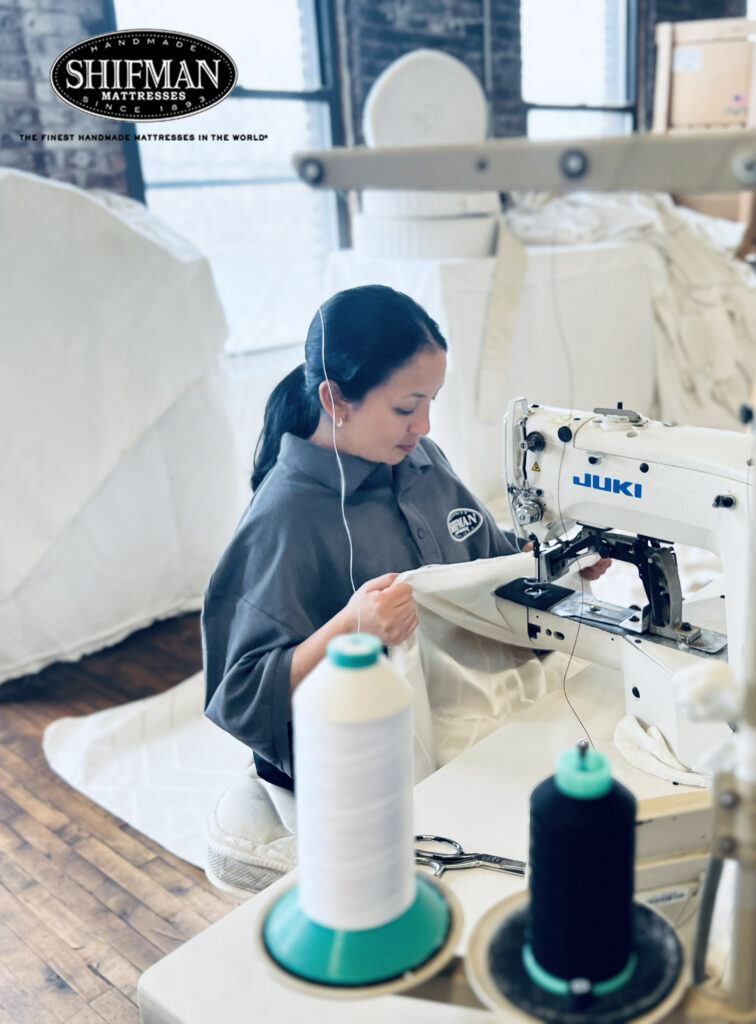 In 1985, Mike bought the Shifman brand and factory. His bedding career, shaped by his experiences with Simmons and then Stearns & Foster, taught important lessons about making high-quality products that you can be proud to sell.
When Bill took over the reins as president, Shifman had just completed a major factory expansion that enabled it to increase capacity and take on new business.
Bill recalls with a chuckle, "On the day of our ribbon-cutting ceremony, I was named president. It was 2008, the economy was falling apart. And this little manufacturing company out of Newark, New Jersey, was celebrating its expansion with a ribbon-cutting ceremony."
Despite the economic downturn, Shifman picked up many retailers in 2009. Bill says the company has been able to prosper during hard times because of its dedicated workforce of skilled artisans that spend hours handmaking the product.
Many of them have been with Shifman for over 30 years, and there are generational employees who come in and learn the trade from their parents.
"They take tremendous pride in the work that they do," Bill explains. "When we give tours of the factory, people tell us they couldn't believe what they saw, they're amazed by it. I'm proud to lead a company that's legitimate and that believes in integrity, relationships and keeping your word."