Furniture retailers big and small still shop the High Point Market, but the number of interior designer attendees has noticeably risen over the past several years and now makes up a majority of the buyers at the market.
While only a few bedding companies show product in High Point for market, the ones that came brought their A-game and focused on the opportunity interior designers offer.
One of the biggest changes at market was the location of Magniflex. The company, which previously shared a space with Copeland Furniture on the top floor of Showplace, moved into Casa Italia alongside several other Italian brands.
National Sales Manager Billy Curtright says this was a great move for the company, as they not only get to be around others who are shopping the high-end Italian brands housed in the boat-shaped building, but they also get to show their top eight mattresses in a warm and welcoming space.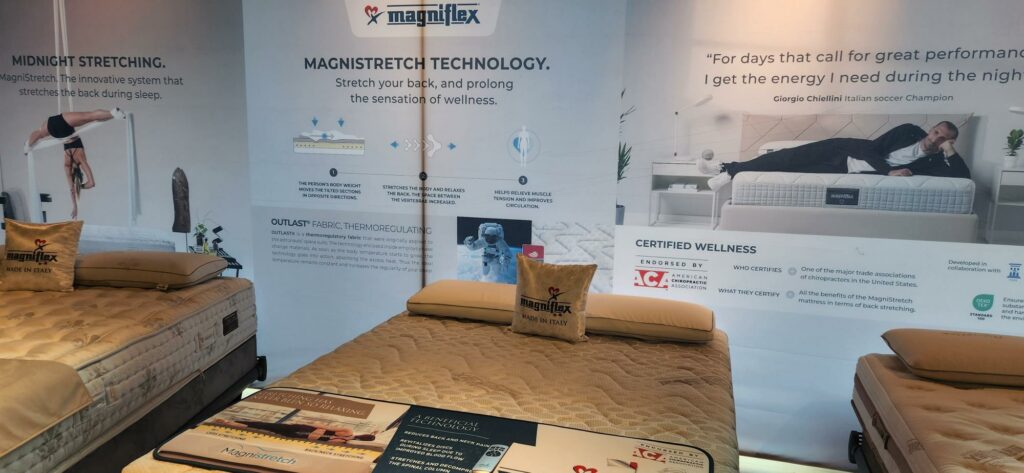 The company also took advantage of being able to pair its in-house branding with the mattresses on display, which was front and center and the first thing you see when you ascend to the second floor of the building.
The move makes them more visible to interior designers, and beyond the market, the company has hired a sales rep to work exclusively with designers out of the company's to-the-trade-only showroom in Miami. Price lists, collateral and more are encompassed in their designer program.
Curtright says that while the company strives to work with more independent retailers, interior designers are a growing channel that makes sense for the company.
Shifman Mattresses is another exhibitor that has a growing interior designer clientele, and while the company has an entire floor dedicated to these high-end buyers, they were also telling another story this market.
As the brand has become synonymous with upper-end, handmade mattresses, President Bill Hammer says the company now has more accessible options for a less affluent consumer.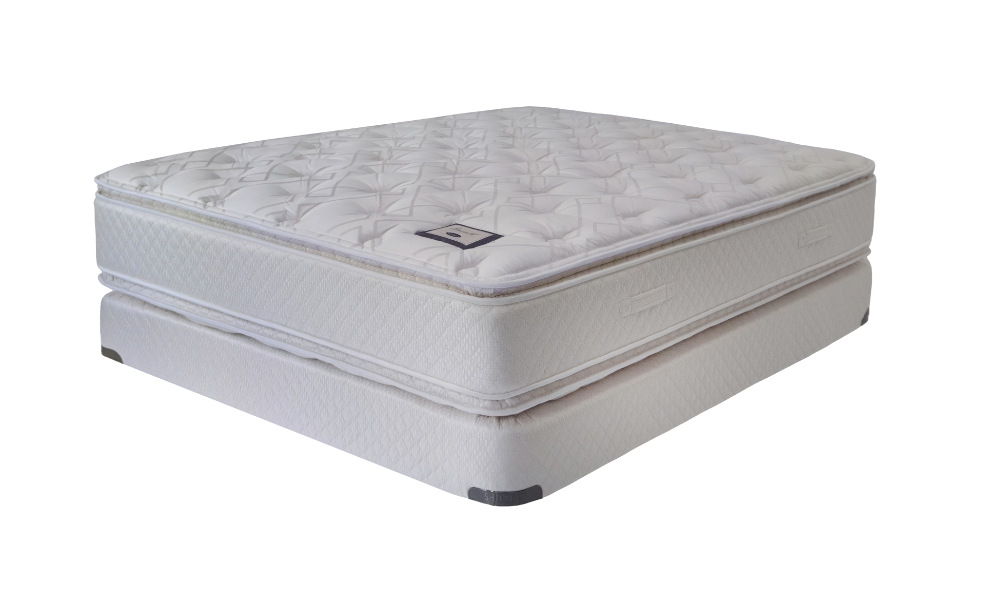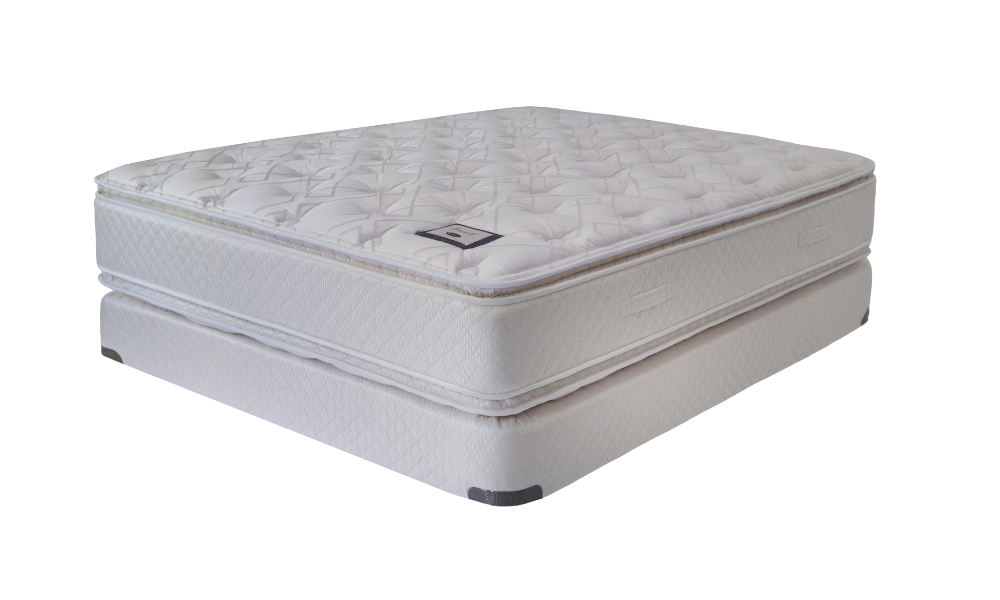 This has led to the refreshed Quilted collection, which offers six beds with four deluxe styles. He says they can be specifically merchandised for retail partners to aggressively advertise and drive in more consumers.
The two-sided mattress starts at $1,599 for a deluxe queen model and can create better step-up opportunities for retailers.
Bedding Industries of America was laser-focused on furniture and mattress retailers this market, showing its "Fab 5" lineup. The collection of five Eastman House mattresses in five comfort options gives the RSA an easy way to show and explain the bedding. It also gives the consumer an easier way to understand the options and choose based on their sleep preferences.
With an easy in-store display, RSAs can show customers all five comfort options that are designated with a number. Using these numbers around the store can even help RSAs sell other beds on the floor.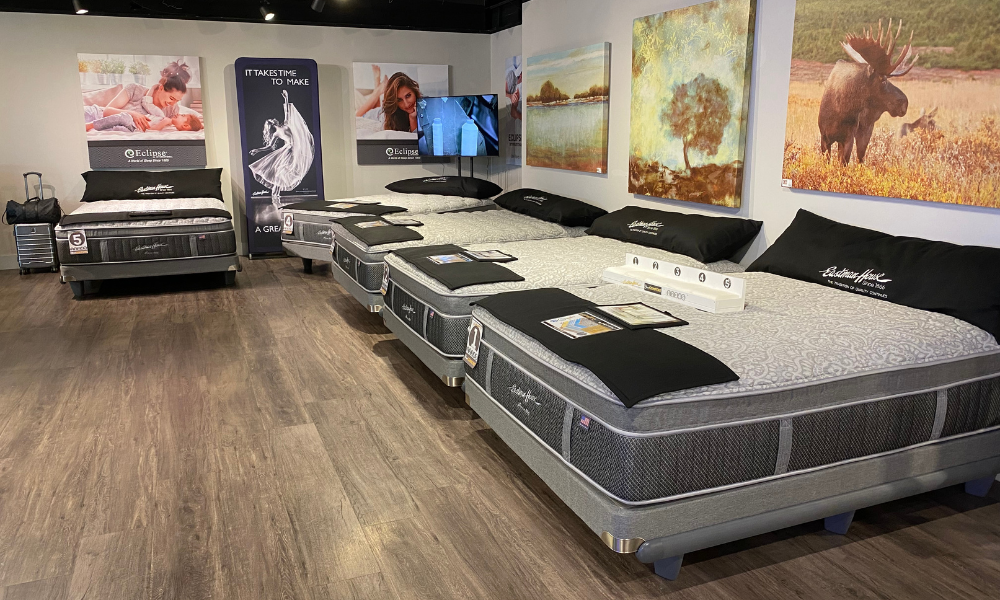 "We want to offer an affordable luxury story with the largest margins and best value and comfort," says BIA President and CEO Stuart Carlitz. "Dealers are looking for solutions and market share, and we want to help them make more off of every door swing."
The week of Labor Day was a record-breaking week for BIA in terms of sales, and one reason behind this is that retailers are looking for alternative brands to add to their floor because of the uncertainty of the Tempur Sealy/Mattress Firm deal.
"We've been taking on new and larger accounts as there is an attraction to the BIA brand, and we've added more people to our sales team," Carlitz says. "I think alternative brands will continue to become more meaningful while the legacy brands might take a hit."
Showing for the first time at High Point this year, Sleep Nerdzzz soft-launched its new smart bed in the Yatas Bedding showroom. Founders Keith Messenger and Andrew Carrington made a few changes since the July Las Vegas Market when the company displayed its first prototype.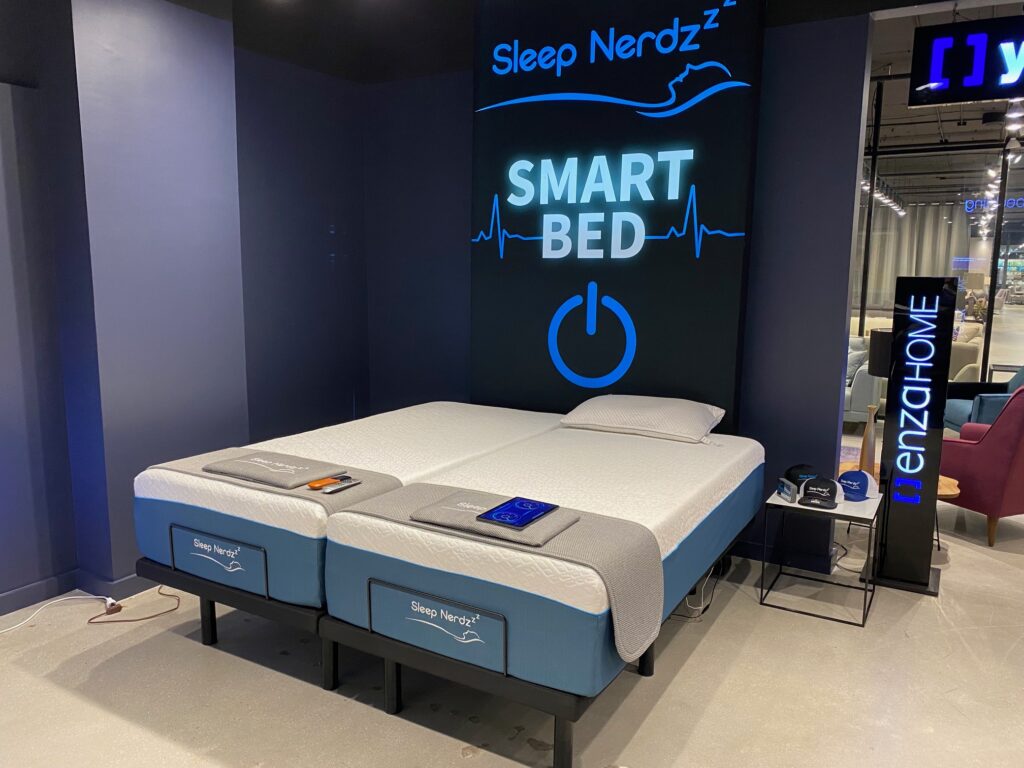 "Smart bases are attachments to attachments, not actual smart beds," said Harrington. "Our bed offers real-time data that can send live reports to the user or whoever is caring for them. Our sensors measure pressure — which can alert people if the user of the bed has fallen out of it — and biometric sensors to measure heart rate. Instead of simply offering sleep data, our bed offers stats people can use for recovery that's based on sleep data collected by our new sleep rings."
The Sleep Nerdzz Smart Bed will officially launch in January at the winter Las Vegas Market.
High Point Market has changed a lot over the last several years, but savvy bedding manufacturers have shown that they can keep up with the change, and it's paying off.