Gold Bond is partnering with Agren, Maine's top appliance and mattress retailer, for a promotion that will donate a mattress to Providence Recovery Resources, a recovery and rehabilitation charity, for every Coastal Haven Collection mattress sold.

Agren sells Gold Bond's six-step Private Reserve under the Coastal Haven flag in its five showrooms in Maine that sell mattresses. Under the program, for each mattress sold, Gold Bond will produce a twin-sized mattress that will be donated to the organization for its residential facility. The promotion will run through the end of December.
"We have had a long history of supporting our retailers and the local communities where they do business, so we were very happy to partner with Agren to help this worthy cause," says Gold Bond CEO Bob Naboicheck. "Agren is an important example of a strong independent retailer who cares about its customers and communities and we are happy to support them in this program."
The retailer approached Gold Bond, with whom it has had a relationship for the past five years, after one of its employees successfully completed a stay at the Providence Recovery Resource facility.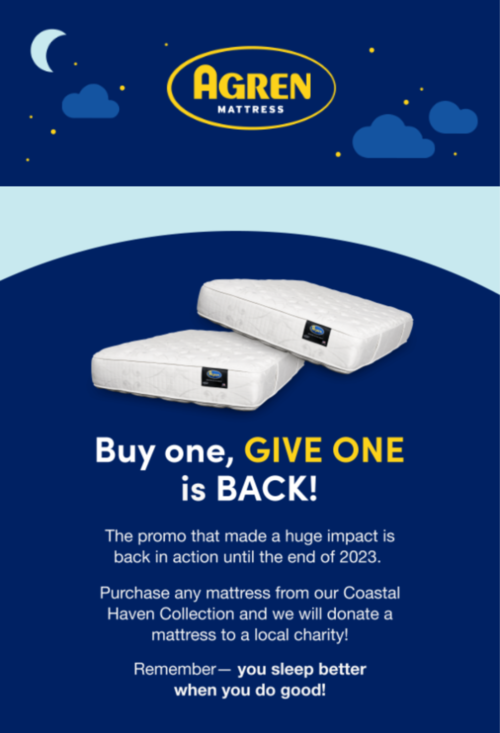 "When we experienced the amazing work that Providence is able to do, we wanted to help others in the community benefit from their program," says Stephen Taylor, Agren mattress department manager. "Gold Bond is a great partner for us, both in terms of the quality, training and service they provide with their product, but equally important is their commitment to our community. We are grateful for their support."
The luxurious and durable Private Reserve collection is set apart with premium spring, foam and latex options. Among these, the mattresses feature Leggett & Platt's 1950 Zoned Quantum Coil units with multiple layers of zoned nano coils combined with Carpenter's Aurora springlike foam to facilitate airflow. Higher-end models also feature Talalay organic latex. All mattresses in the six-model collection are two-sided, adjustable-base friendly and wrapped in  100% Belgium rayon damask covers.  
Providence Recovery Resources is a nonprofit scholarship foundation aimed at helping men and women through the doors of a safe, clean and loving sober living environment. It provides a wide range of recovery-based programs ranging from 28-day in-patient treatment to long-term sober living houses.