Naturepedic has implemented a new kraft paper roll-packing machine, which will prevent at least 55,000 pounds of plastic from entering landfills every year. 
Naturepedic's entire roll-packed product offering — all mattresses, EOS comfort layers and mattress toppers — will now be roll-packed in recyclable kraft paper instead of plastic. The new kraft paper is free of any additional coatings and is fully recyclable. 
Arin Shultz, the company's vice president of sales and marketing, told Bedding News Now that this upgrade is 18 months in the making and comes after the company did extensive research on how the new wrapping keeps mattresses pristine for the customer. 
More than 350 million metric tons of plastic waste are produced each year. Single-use plastic — including the kind used in packaging — releases harmful greenhouse gas emissions when produced and can take anywhere from 20 to 1,000+ years to decompose in a landfill, where space is already limited. With plastic production predicted to triple by 2060, reducing plastic is imperative to preserving the Earth and its wildlife, soil health and waters. 
"The mattress industry in general is a very wasteful industry," Shultz says. "With the advent of boxed mattresses that kind of took a fever pitch in 2017, there's 18.2 million mattresses that end up in a landfill every year. I think that's enough to cover about 50,000 square miles, which I think is about a quarter of the size of Kansas."
Naturepedic is a 1% for the Planet Partner and a Green America Certified Business and partners with the Environmental Working Group, Women's Voices for the Earth, Mattress Recycling Council, Toxic-Free Future and many others.
Since becoming a 1% for the Planet Partner in 2016, Naturepedic has donated over $1.6 million to organizations advocating for the removal of toxic chemicals from consumer products and protecting the environment.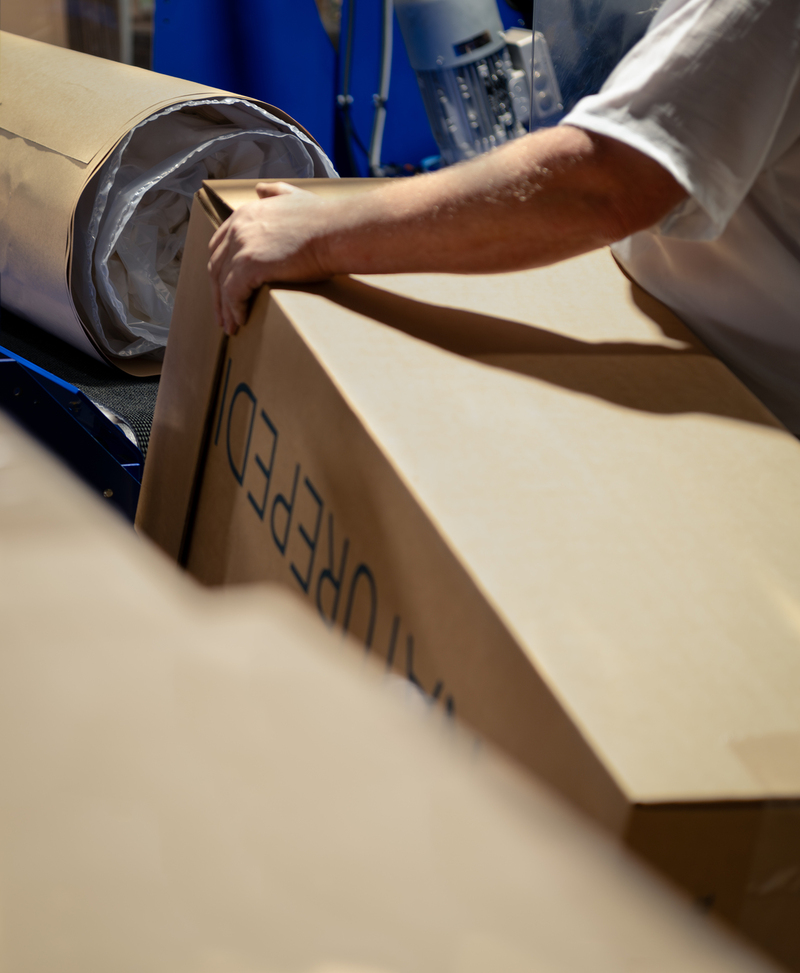 Shultz says he hopes the adoption of the new machine by Naturepedic inspires others in the industry to think about using a similar process.
"It isn't any more expensive, and if every company got on board with what we're doing right now, think of how much plastic we could save from landfills," Shultz explains. We hope to be kind of a launchpad for every company and show that it's possible, it's cost effective and this is what your consumers want to see. It's not even just about us being an organic company. We're all living in more of an aspirational generation now where you see what's going on in the environment and the world. They want their money to go to a company that's actually trying to make an impact."
Naturepedic also undertakes a variety of additional sustainable packaging initiatives including:

Printing primarily done with environmentally safe soy inks
Partnering with outside commercial printers that use FSC certified paper
Printing labels on FSC certified or recycled paper
Sourcing cardboard packaging with high amounts of recycled content
Printing locally as much as possible to reduce carbon footprint