Spring Air International is growing at a rapid pace — recently signing licensees in Vietnam, Malaysia and Ireland.
In fact, at the start of 2022, the company was in 35 countries and now it's 58, meaning it added 23 countries in less than two years.
Bedding News Now sat down with company President Nick Bates to learn more about Spring Air's growth strategy and what's in store for the future.
First, as with nearly every successful company, Spring Air is continuously focused on growing and looking for new opportunities in the form of international licensees.
The company's licensing program is also a bit different than others in the industry in that once they license an area, no one else can go in there. And licensees can take more than one country. Bates describes it as a sort of "geofence."
"We don't have an infinite number of licenses we can give away — only as many as how many countries are actually in the world," he says. "But we're looking to fill those up. The No. 1 thing that attracts everybody is a strong international presence."
Fortunately, when the industry tightened after Covid, Bates says the company didn't lose any international licensees.
However, licensees have been a focus of Spring Air for a long time, and the company has built up an international presence to the point that it's now focusing more on national retailers across the U.S.
"We're looking nationwide to see who we can help and who can partner with us to grow this network even more," Bates explains. "The market is poised for another player to jump in with us."
Part of this strategy is joining buying group BrandSource, which gives the company access to BrandSource's 1,500 retailers. This is the second buying group the company has joined.
"These are retailers who we now know vital information about," Bates says. "We can go knock on the door and offer them BrandSource rebates to help their business and to give them new fresh products that they've never seen before because most of them were not selling Spring Air."
As for the future, Bates says the company will keep looking at growth in both the retail and licensee sectors as a high priority.
"We're going to be going to India later this year for our Global Summit, to which we've invited all our licensees across 58 countries, and we're going to have a huge event there. Part of these events is that we bring in prospective licensees from international places to come see the group and see what we're doing. We want to make sure that once we give a territory to someone, we don't want to take it away — we want to know we chose the right person. Hopefully, we will work with them for the rest of our careers."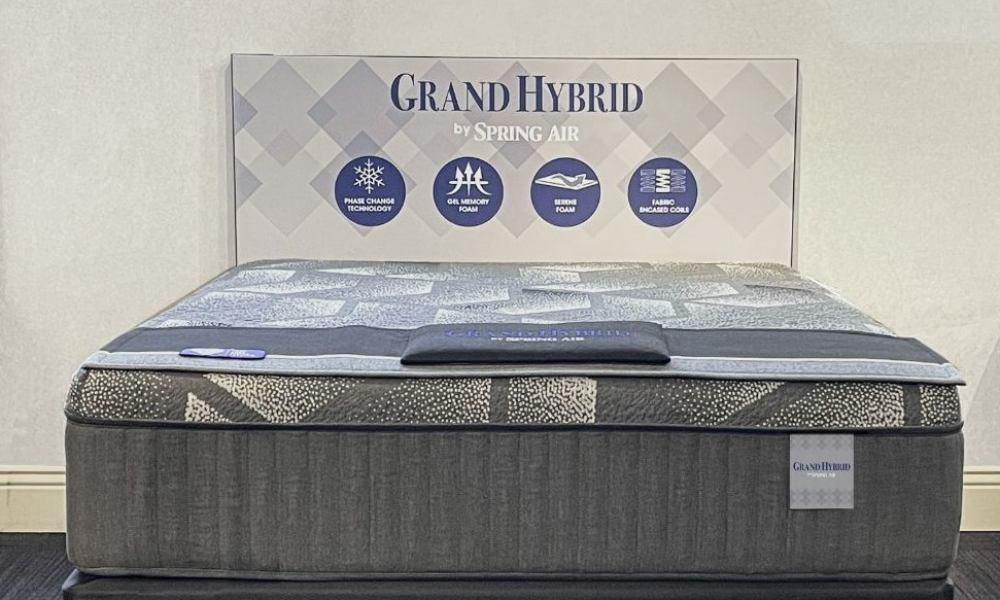 At the upcoming Las Vegas Market, the company is expanding its bestselling Grand Hybrid collection, adding five new beds.
With suggested retails from $999 to $2,199, mattresses in the Grand Hybrid collection feature modern waterfall cover designs, cooling benefits and five beds with 800-plus coil count units with tri-zone support and Hypersoft Visco foam mixed with Serene foam for superior comfort with a luxurious feel.
Among the new beds in the collection this summer are three foam beds that can be roll-packed for omnichannel dealers, the first ever all-foam product to carry the Spring Air brand name.