According to our exclusive Consumer Insights Now survey, 25% of consumers are looking to buy mattresses for the primary bedroom in the second half of this year.
With half of October left, and two months after that, this means over 30% of consumers surveyed plan to buy in November and December. This gives you two months to up your game and take advantage of the consumers who intend to buy.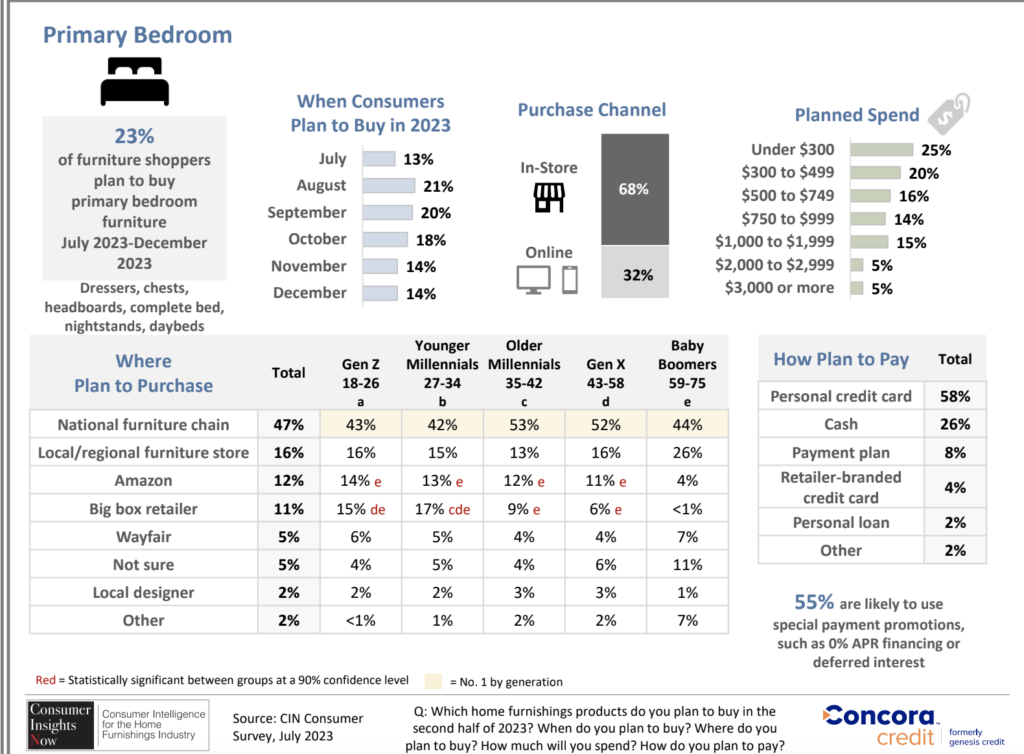 Here are some other key highlights from the research that can help you prepare to maximize sales over the next few months:
Most consumers intend to buy from national chains. Forty-one percent of all consumers surveyed said they plan to buy from a national furniture or mattress chain, and that number drops significantly to 19% for local/regional furniture or mattress stores.

National chains have far-reaching advertising through TV, radio, social media and more, so it's not a huge surprise that they're top of mind for consumers. But the opportunity here for local and regional stores to take market share is clear. Marketing should certainly be used to help bring people in, and ultimately it will come down to how your store differentiates itself.

Millennials are the largest generation looking to buy. Forty-five percent of both younger millennials, ages 27-34, and older millennials, ages 35-42, are in the market to buy in the second half. Gen Z and Gen X are close behind at 36% each.

More than anything, millennials want a pleasant shopping experience that engages them and helps them feel like they're getting the most bang for their buck. They value the knowledge sales experts can offer and can be upsold if properly educated. They also prefer to shop local, and you can use that to your advantage in your advertising.

Consumers want to shop in stores. Of those surveyed, 72% said they intend to buy in-store rather than online. That's a stark contrast to just five to 10 years ago when online sales were taking massive market share from both independent and chain stores.

In addition, popular online brands like Casper, Purple, Leesa and others are all now moving into the physical space by partnering with independent and national retailers to move their products. This shift is helping retailers by driving traffic to their stores with big online brand names, which has shifted the relationship to be more symbiotic.

There is a major disconnect when it comes to pricing. Thirty-two percent of respondents said they plan to pay over $1,000 for a mattress, which means a whopping 68% of consumers expect to pay $999 or less.

This discrepancy in what a quality mattress should cost and what consumers expect to pay is way off, which is another reason that education is so key to the sale. One of the best ways to break things down is by comparing the cost of a mattress to a cup of coffee. If a customer buys a $2,500 mattress that lasts for 10 years, that's $250 a year. Broken down by months, that's about $21 a month. Most people spend more than $21 a week buying coffee, so why can't they spend that much to get better sleep and feel better during the day?
With many consumers being influenced by the advertising of national chains and millennials moving in as the largest generation of buyers, one thing is clear: Independent stores have a huge opportunity to take market share. But they will have to continue to work harder to show the benefits that make them stand out.