In November 2008, Circuit City filed for bankruptcy, and just a few months later, in March 2009, the tech retailer shut its doors permanently.
For Nick "Tank" Recchia — Resident Mattress' new director of training who was working in sales at retailer Sleep Train during this time — that was a lightbulb moment.
"They transitioned from a commission-based professional staff model to a gutted training program and hourly employees who did not have the same kind of salesmanship or skills," he says. "And it dramatically changed what the consumer experience was there. I'd say within six months of them making that transition, they filed for bankruptcy."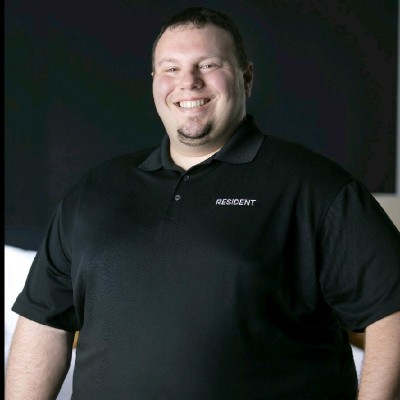 This experience, as well as over 15 (17) years in the mattress industry— which included a 12-week training course during his time at Sleep Train — has prepared Recchia for his new role.
He's been with Resident since 2020 and was officially promoted to director of sales training during the recent Las Vegas Market.
In his new role, Recchia says he plans to teach the groups to be facilitators.
"I love the saying, 'people support a world that they helped create,'" he says. "And if you are a facilitator, I'm helping you to create the idea and the actionable steps, but they're yours. And I empower you to be able to do that. Otherwise, a lot of times what we think of as training can be what I call 'sage from the stage.' I can tell you why this is the most amazing product and why you should sell this product. But how is that different from anybody else?"
Standing out, he explains, is key when it comes to sales training. And because he's been on the retail sales side before, he says he understands how great being part of a receptive and motivated team is.
"We're going to be empowering our audiences through many different platforms, too," he says. "If you're not using technology to make it more fun, interactive and engaging, you're missing the boat. The sales meetings of the last 20 years where we all just huddled around early morning and talk about stuff on a one sheet — those days are going to be few and far between."
He also says companies are realizing that their people are one of their biggest resources, and how they allocate them and their time matters.
"This is going to be more important going forward," he explains. "There is value to a personal relationship. We've all been a part of meetings in the past where the running joke is that this probably could have been an email. But there's a lot of value of connecting with somebody in a virtual format and not having to be there in person all the time."
Recchia says Resident was also recently awarded the No. 1 spot on the best remote business to work for in the U.S. by BuiltIn. Other companies on the list include Twitch, Cash App and Zendesk, to name a few.
Customer service and the in-store experience
Recchia explains that there's a tremendous amount of value in the commission salesperson, and if the job is done correctly, their goals are aligned with the customer's goals. The more they can connect with the customer the better.
"My wife likes to shop at Coach, but the thing she likes most is not the product, it's the in-store experience," Recchia says. "And they send a personal follow-up letter to every purchasing guest, which is memorable. I don't think people are more cautious about how they spend today; I just think they expect a better experience for their money."
The same goes specifically for millennials, who are labeled as frugal spenders. "They want a better value in the experience, not necessarily just the product," Recchia says.
However, because not all retailers and customers are the same, Resident customizes its training programs for each retailer.
Virtual training is the most popular, according to Recchia, and he says that's because the company makes it interactive and engaging. They use a web-based app that is integrated into Resident's Google Slides, so if an RSA has a phone that connects to the internet they can tune in and interact.
"Since we started virtual training, we've had over 10,000 RSAs interact," Recchia says. "We've had retail partners that said they were totally against virtual training until they were able to experience what we offer, and it's been a paradigm shift."
Part of that shift includes gamification of training, which Recchia says is making a friendly yet competitive game out of sales training.
"If we were playing a game of checkers, I would want to win," he explains. "So we're playing off of that, but also teaching and learning with fun formats that people like to engage with. It can't be boring and it can't be stale. If that is what you're putting out there, then the engagement from your audience is not going to be there and it's not going to be effective.
The company also focuses heavily on skill-based training, especially in person. Recchia says that if you cannot teach something in the morning that they can implement in the afternoon, and make money on that evening, he doesn't agree with the process.
"If you're doing that, you're increasing the skill level of the team," he says. "Everyone in these jobs shows up to work to make money — otherwise, it's a hobby. So if you want to make as much money as you can, let's talk about how we maximize your ticket."
One way is what Recchia calls "the perfect sale." This means that you sell the mattress as well as the adjustable base, pillows, sheets, headboard and whatever else you can add on to help them with the whole sleep system.
"Anytime we go into locations we candidly challenge our RSA partners and ask how many perfect sales they've done recently and what they learned from the experience" Recchia says. "If you're always striving for that, you're providing a better experience to the guests. We're promoting better behaviors by the RSA and if they are doing behaviors and actions that are benefiting the guests, the company and themselves, all parties win. We call that the Triangle of Coherence in sleep training.
"If it's good for the guests, if it's good for the company and if it's good for you, that's typically a pretty good barometer of decision-making," he adds. "If you follow along those lines you're going to be doing pretty well."