When Precision Textiles opened its 160,000-square-foot plant here in September 2021, it marked a major shift in the manufacturing model it had in place for the past 30 years.
During that time, the company's manufacturing was in Totowa, New Jersey, a facility that got its start producing apparel fabrics.
But as that business shifted overseas in the early 2000s, the company then shifted its manufacturing to the bedding segment, producing coated fabrics, nonwovens and laminates used in mattresses as well as the automotive and health care industries. Today this mix includes flame retardant-compliant materials designed for use in mattresses and sleep products.
"What was really important to me was to find an industry that I felt would stay domestic because we had built this great apparel business and then it went away," company CEO Scott Tesser told Home News Now. "So, at the time, the mattress business was heavily domestic and still is to a large degree. And we have been able to transition very well."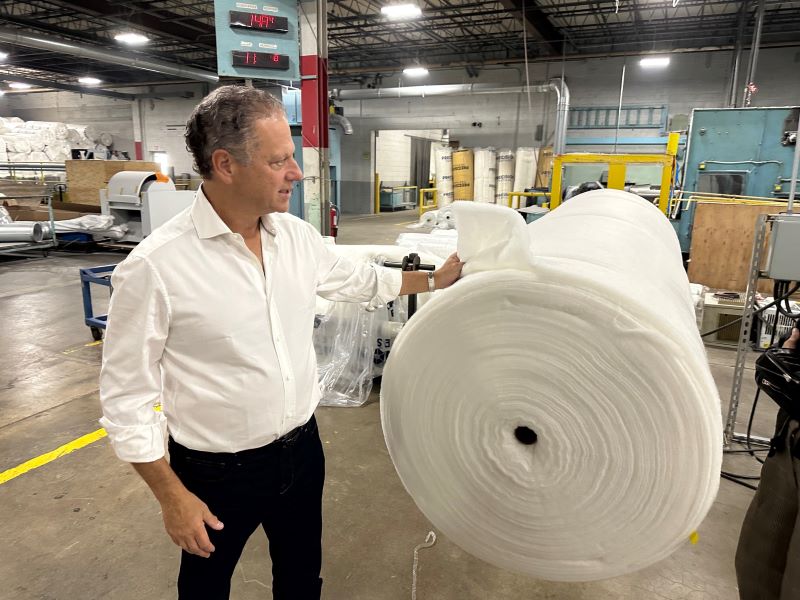 The company ended up selling its import apparel business in 2018, and today about 80% of its production is now for mattresses, with most of the balance being in automotive.
Because of the nature of the needle-punch-type materials used in both automotive and bedding, the company is able to perform both tasks using similar equipment.
But to better serve its customers with quicker turnaround and delivery times, the company decided to invest in the equipment of a company that produced similar materials for the automotive industry in Troy, a rural community about 50 miles south of High Point.
"We really needed to get down to what we considered the heart of the textile world, which is in North Carolina," Tesser said. "We were growing our business out of Totowa, but the majority of our customers were down south or out west. So freight became a big issue for us. But our important customers also are located down here, which is really the driver."
He said moving farther south allows it to ship bedding manufacturers in the southern part of its territory in a matter of days, versus a week or so it would take from New Jersey, including production and shipping times.
"If I were shipping out of New Jersey to Florida — depending on how we were doing it — freight could be two or three days," he said, of the actual shipping time, noting that might be just a day or two from North Carolina. "And that one or two days makes a big difference. I don't have the pressure of getting goods out the door as quickly as we did in Totowa."
Now, Totowa will focus from Virginia up into the mid-Atlantic and Northeast states. The facility there is also downsizing from about 210,000 square feet to a location that is 80,000 square feet about five minutes away.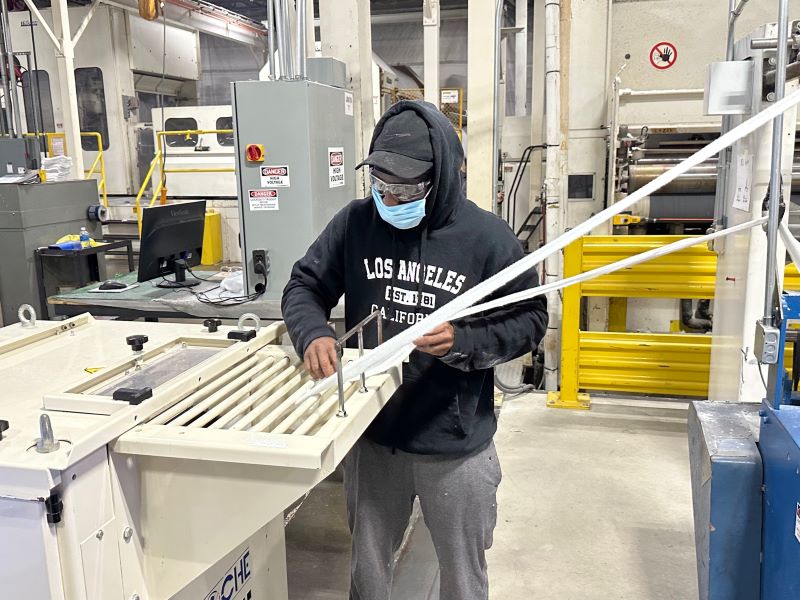 In turn, Troy will be expanding by about 70,000 square feet early this year, which will further boost its capacity.
"You will see this facility continuing to grow," Tesser said. "Over the past year, we have seen a 25% increase in capacity but the intent is to continue that growth."
The company, which had about 40 workers earlier last fall, also expects to grow to 100 over time. It also added a second shift and expects to have a third in place sometime this year.
Having the equipment in place allowed the operation to begin production pretty quickly last year, Tesser noted.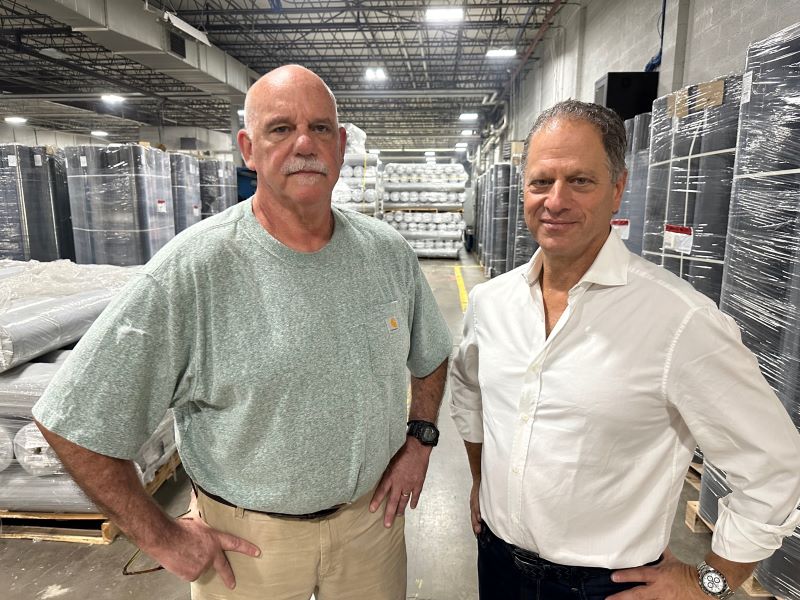 "It was never out of commission," he said of the automotive fabrics plant. "When we purchased it, it was still an active facility. Once we purchased it, they obviously stopped manufacturing the product they were making, but within four to six weeks we were making our own product."
However, finding additional workers was a challenge as only about 15 or so came over from the automotive materials plant. But one of the key people it kept on board was Jeff Smith, who heads up manufacturing.
"I had an advantage because I already had people who knew the machines," Smith said. "All we had to do was learn the product. And that's a quicker process than having to learn everything from scratch."
The biggest change in the product was that the automotive fabrics are darker black and charcoal tones, compared to the pristine white of the bedding fabrics.
"After you ran these machines for years with dark colors, it takes awhile to flush all that out, especially when you are going to a solid white," Smith said.
But overall, he described the change as a variation on a theme "because they (the workers) already knew how to run needle punch. Plus the machines in a way were designed to run heavier weights so we just had to learn the product."
He said as the company adds more equipment with the expansion, it will need to hire more people.
But here, too, officials expect a fairly simple transition.
"The fiber runs through the equipment and it is a finished style when it comes out," Tesser said, noting that additional finishing is not required as it is in other fabric production facilities. "So the learning curve is not as great. We put someone on the line right away and it is probably only six months before they would actually get to the point where they can run the line themselves and take the lead."
As the company continues to expand and recruit more workers to the fold, it expects to become even more important to its customers and their needs, providing an even higher volume of product within days of orders.
And given the company's location in North Carolina and proximity to other manufacturers, Precision eventually plans to expand its offerings to the upholstery segment.
Tesser also notes that these facilities, plus a new 50,000-square-foot operation in Phoenix, have another advantage in the marketplace in that the product they make is chemical and fiberglass free. The company also specializes in flame retardant-compliant materials for use in bedding and other products.
Most importantly, the materials it uses to achieve this level of product safety remain consistent throughout its manufacturing footprint — whether in New Jersey, North Carolina or Arizona.
"I want to supply them with consistent product wherever they are manufacturing product," Tesser said of its bedding customers. "I want to make sure you are getting the same product wherever you are making the bed. I firmly believe that consistency is important. … You should be using the same critical components."