HGTV's Dave and Jenny Marrs are special guests at the first-ever Sleep Summit event coming to Bentonville, Arkansas October 9-12, 2023. The stars of "Fixer to Fabulous" join a lineup of speakers including 9-figure business builders, sales leadership experts, sleep scientists, and a trained comedian. 
"Created for mattress retailers by mattress professionals, Sleep Summit serves as a launchpad for business breakthroughs, a hub for connecting with like-minded professionals, and a platform to stretch beyond conventional thinking," says Mark Kinsley, founder of Sleep Summit, The FAM, and CEO of Englander. 
The event promises engaging breakout sessions, dynamic keynotes, and innovative group activities designed to deliver business breakthroughs in a fun, collaborative atmosphere. The agenda focuses on building sales teams, expanding sleep knowledge, leveraging technology, optimizing business operations, and driving sales.
Sleep Summit speakers include:
HGTV Stars Dave and Jenny Marrs Confirmed as Special Guests 
Dave and Jenny will join Mark Kinsley for an intimate fireside chat to share their story of building their businesses, life lessons learned, and tips for revitalizing your own business. Plus, meet Dave and Jenny in person and get a photo! 
Jason Friedman: 9-Figure Business Builder, 3X Inc. 5000 Honoree 
Learn how Jason built multiple 7-9 figure brands, becoming New Jersey Entrepreneur of the Year working with Disney, Nike, Harvard, Foot Locker, Sleep Number and more.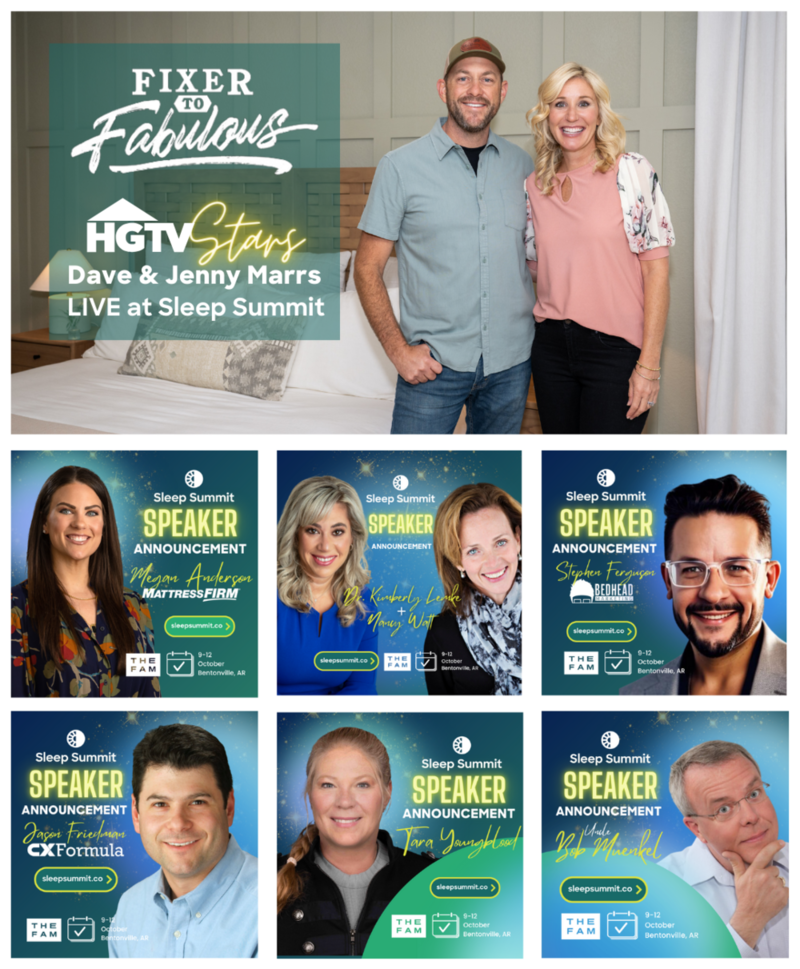 Mattress Marketing Expert Megan Anderson to Share Merchandising and Marketing Insights
With 12+ years at Mattress Firm, Megan launched 20+ product lines working with major brands. She'll share her expertise in marketing, merchandising, and more. 

AdTech Leader Eric Grindley Discusses Advanced Marketing Strategies
As CEO of award-winning Esquire Advertising, Eric reveals proprietary hyper-targeting techniques to amplify your mattress marketing. 

Sleep Scientist Tara Youngblood Highlights Must-Know Sleep Knowledge
This sleep expert, holder of 33 patents, and founder of Chili Sleep highlights what retailers need to know about sleep science to boost sales. 

Bob Muenkel Shares 35 Years of Mattress Sales Mastery 
Perfect your sales leadership skills and learn how to "Turn No Into Yes" with Bob's renowned training honed over 30+ years in bedding. 

Interactive Keynote Blends Humor and Science for Better Sleep 
Dr. Kimberly Lemke and improv expert Nancy Watt blend science and comedy for practical wisdom to reduce stress, improve sleep and performance. 

$10M Sales Innovator Stephen Ferguson 
Stephen grew mattress sales to $5M in 4 years, becoming #1 at Mattress Firm. He'll teach you to build all-star sales teams. 
Sleep Summit is taking place at 21c Museum Hotel in Bentonville, Arkansas. Event sponsors include Esquire Advertising, Englander, Koalafi, BedTech, Visit Bentonville, Ergomotion, Leggett & Platt, and Bike Rack Brewing Co. Registration is open at www.sleepsummit.co.