Suppliers and retailers merchandising, marketing and selling furniture targeted for younger consumers have been on the right path, at least according to our latest installment of Consumer Insights Now, which begins publishing Monday and runs for four successive weeks thereafter.
According to our latest research, Gen Z and millennials will make seven out of 10 furniture purchases in the second half of 2023, leaving their fellow Gen X and baby boomer counterparts as a much smaller part of the buying mix with a combined 29% of the market.
This should be of no surprise as the younger generation represents a wide mix of age groups, with Gen Z — ages 18-26 — making 24% of purchases; younger millennials — ages 27-34 — making 25% of the planned purchases; and older millennials — ages 35-42 — making 22% of purchases. This compares to Gen Xers — ages 42-57 — making 17% of furniture purchases and baby boomers making 12% of furniture purchases.
Sofas and sectionals, decorative accessories, area rugs and mattresses for the primary bedroom are the products of most interest to younger millennials. For older millennials, the products of most interest include sofas and sectionals, area rugs, decorative accessories, occasional tables and wall décor.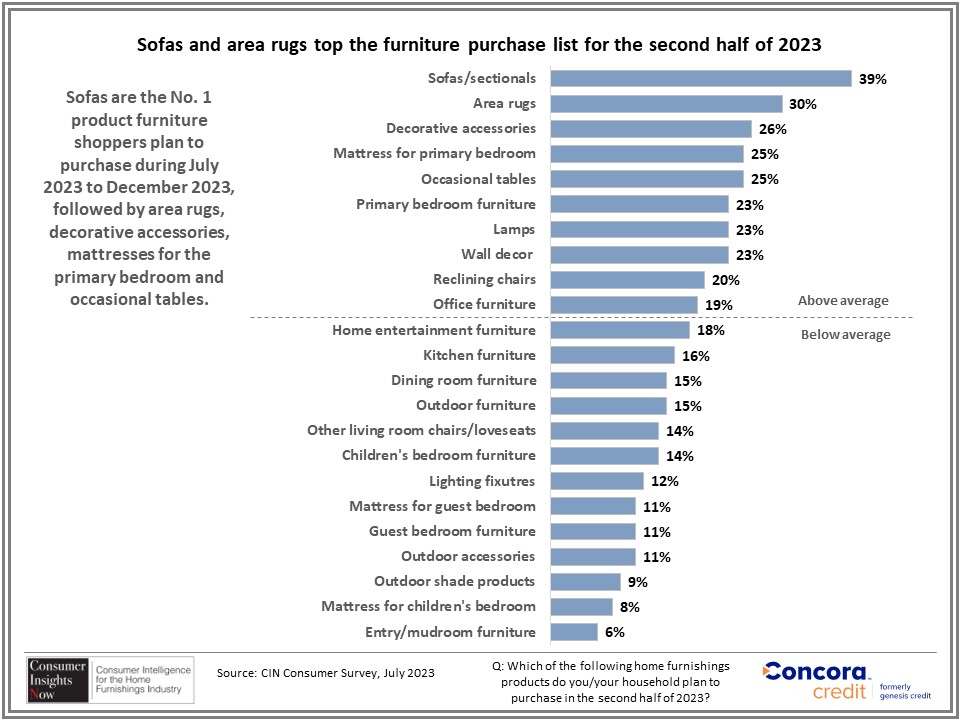 Fielded between June 28 and July 6, the survey polled 1,877 consumers between the ages of 18 and 75 about their plans to buy furniture and other decorative furnishings such as rugs, lamps and wall art from July through December. All respondents were either the primary or joint decision maker in the household with a mix of generations, ethnicities and income levels represented. The survey also included a mix of homeowners and renters.
The good news for brick-and-mortar retailers is that the majority of consumers plan to buy their furnishings in retail stores versus online. That includes younger consumers who apparently prefer the physical store experience for most categories as compared to shopping online. This is particularly prevalent in categories such upholstery — including stationary and motion furniture — along with mattresses where people want to test the product out before they decide what to buy.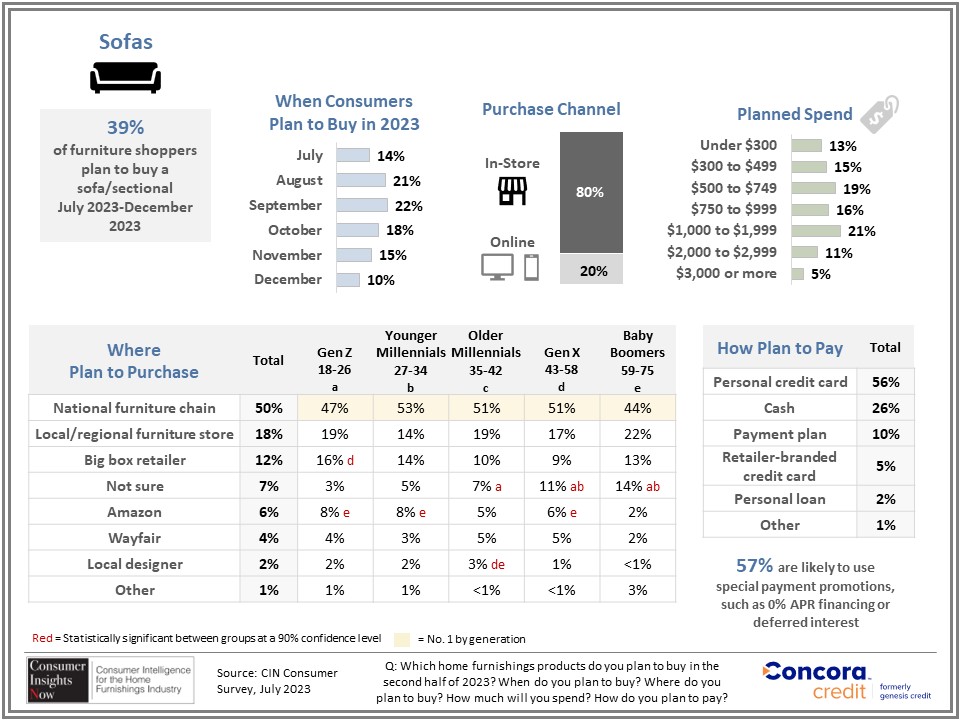 For example, 80% of consumers overall said they plan to buy a sofa from a physical store, compared to 20% who planned to make their purchase online. This compares to 72% who said they plan to buy a mattress in a physical store versus 28% who said they plan to buy online.
By comparison, 68% of those surveyed said they plan to buy primary bedroom furniture in-store versus online compared to 75% who said they plan to buy a recliner in-store versus online. Physical stores also were the preferred channel for office furniture (54%), home entertainment (57%) and dining room furniture (72%). Some 68% of those surveyed also plan to buy their outdoor furniture in a physical store location, although — in line with the seasonal nature of the business — only 15% plan to buy outdoor furniture in the second half.
Other key findings in the report were as follows:
+ Sofas and sectionals were the No. 1 product people plan to buy in the second half, with 39% of respondents identifying this as their most desired product. It was followed by area rugs (30%), decorative accessories (26%), mattress for the primary bedroom and occasional tables, (25%, respectively), primary bedroom furniture and lamps (23%, respectively), reclining chairs (20%) and office furniture (19%)
+ Sofas also have consistently been the No. 1 item of choice that people plan to purchase since Consumer Insights Now began its twice-a-year surveys in July 2022.
+ Areas of below-average interest included home entertainment furniture (18%), kitchen furniture (16%), dining room furniture and outdoor furniture (15% respectively), other living room upholstery and youth furniture (14%, respectively), lighting fixtures (12%), mattresses for the guest bedroom, guest bedroom furniture and outdoor accessories (11%, respectively), outdoor shade products (9%), mattresses for a child's bedroom (8%) and entry/mudroom furniture (6%).
+ With every category, more than 50%, or a majority, of consumers plan to purchase their items with a personal credit card. Cash was the next most popular vehicle of payment, but it was only the preferred option for between 22% and 38% of those surveyed, with the higher percentages leaning toward smaller items such as lighting (37%) and decorative accessories (35%), and the lower percentages leaning toward higher-ticket items such as sofas and bedroom furniture (26%, respectively). Retail branded credit cards ranked in the low- to mid-single digits as a preferred method of payment.
Also worth noting is that among all age groups, national furniture chains ranked the highest in terms of where consumers plan to shop for furniture. This fell significantly — in some cases half or less — for smaller regional or local furniture stores. This presents both an opportunity and a challenge for those smaller dealers to up their game and marketing to consumers in their marketplace. Obviously many are already doing a stellar job with this, including with digital and television marketing campaigns aimed at meeting consumers where they get their news and also where they shop for high-ticket items.
As always, we hope this information proves useful, particularly as you continue to merchandise your floors for the balance of the year. Grasping opportunity during tough times is of utmost importance and knowing what's top of mind for consumers will likely be a key pathway to success.
Below is our planned schedule with this next installment of Consumer Insights Now:
+ Sept. 11 — Purchase Plan Overview July 2023 to December 2023
+ Sept. 18 — Consumers Living at Home (A look at how and where people spend the most time at home)
+ Sept. 25 — Dining and Entertaining at Home (A look at where people dine in the home and to what extent they entertain at home)
+ Oct. 2 — Furniture Shopping and Buying Influences (what is driving consumers' desire to buy furniture and how retail plays a role in that process)
+ Oct. 9 — Home Design Report (a detailed look at consumers' preferred style preferences)