After Las Vegas Market, most news outlets report the same news: Traffic was down but sales were up.
Although buyers were there to buy and exhibitors whom I spoke with told me they saw big retailers and key customers, many told me this market did feel slightly slower than other summer markets.
That can largely be attributed to the state of the mattress industry right now, which is odd, to say the least, as well as the introduction cycle of many of these bedding manufacturers — which works better for many in January.
But despite how traffic seemed, manufacturers were in good spirits and ready to help retailers increase their margins and differentiate themselves with innovative products and point-of-purchase displays and sneak peeks at new 2024 product.
From DreamFit to Spring Air, BedGear and King Koil, POP displays were found all over the market.
At DreamFit, the company debuted two POP displays that both ship flat-pack and can be assembled by retailers in 15 minutes. The simple display, which doesn't have any lights or screens to cut out potential tech issues, is made from 100% post-consumer recycled cardboard.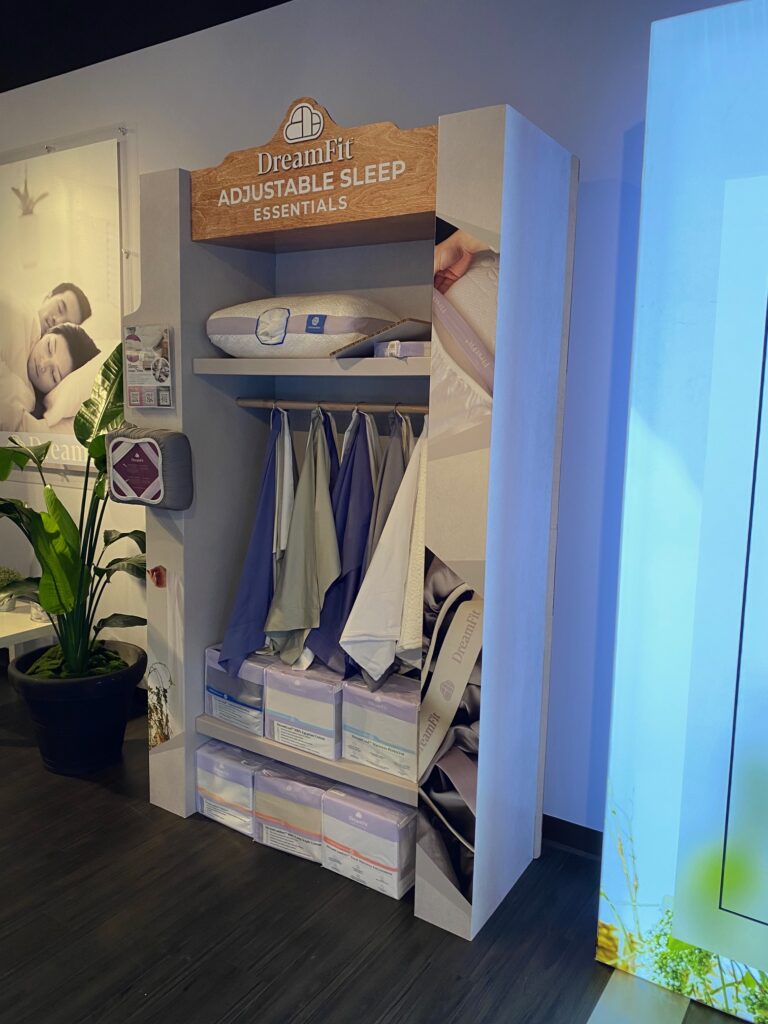 They feature a magnetic holder for the pillow sample, a poster with information and a QR code that can change monthly, and the company can print up to 200 per day.
On the displays, the company highlighted the simplicity of choice with five classic colors offered in all fabric types. This makes for an easy 30-second sale presentation by the RSA.
According to Rachel Gomez, vice president of marketing, these displays are offered as tools to give retailers a sense of ease and alleviate stress on the sales floor while also sending a sustainable message. Because it's a printed display, retailers can also co-brand them to promote their brand identity in combination with Dreamfit.
Simplicity was also the name of the game when it came to DreamFit's introduction of its Quilted Ensemble. While once discontinued and now back by popular demand, the versatile comforter is thinner than most and has a quilted side and a smooth side.
In a hidden show space labeled "Top Secret" behind the Spring Air showroom, there was a black tunnel lit by colored lights that led to a large POP displaying the company's refreshed Four Seasons collection.
The collection consists of double-sided mattresses that feature one side for fall and winter — with heating features — and one side for spring and summer with cooling features.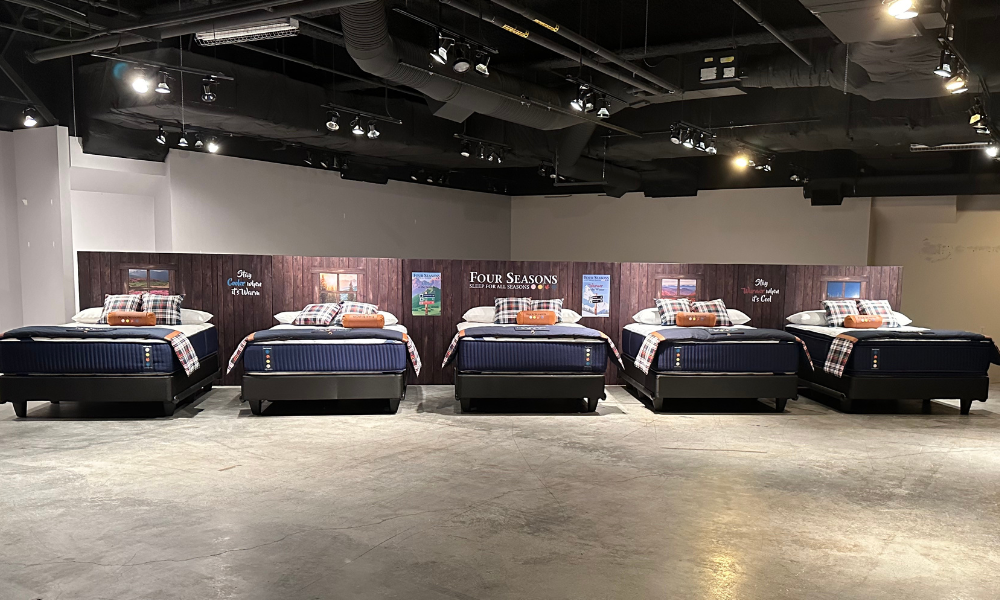 The sleep system — which features four models from ultra plush to firm — aims to keep sleepers comfortable in every season by having cooling yarns on one side for cooler weather, and natural wool fibers on the other to keep people warmer.
"Lots of beds have cooling features, but what happens when it's cold outside?" poses Nick Bates, Spring Air's president. "People need options for all four seasons."
The company's Grand Hybrid mattress, which recently won the Women's Choice Award, meaning nine out of 10 women recommend it, was introduced in all-foam options at the market. It offers retailers 60 points of margin, according to Bates.
"The industry is looking for new solutions, and our Grand Hybrid, available in firm, medium firm, and plush, has a super-dense, 2-pound core that sets it apart."
Known for its colorful POP displays, Bedgear didn't disappoint this market. Aside from the company's children's bedding category that it introduced last market — which has its own dedicated POP — the company also had displays showing airflow through new pillows it plans to launch in 2024. These pillows have holes in them so air flows easier.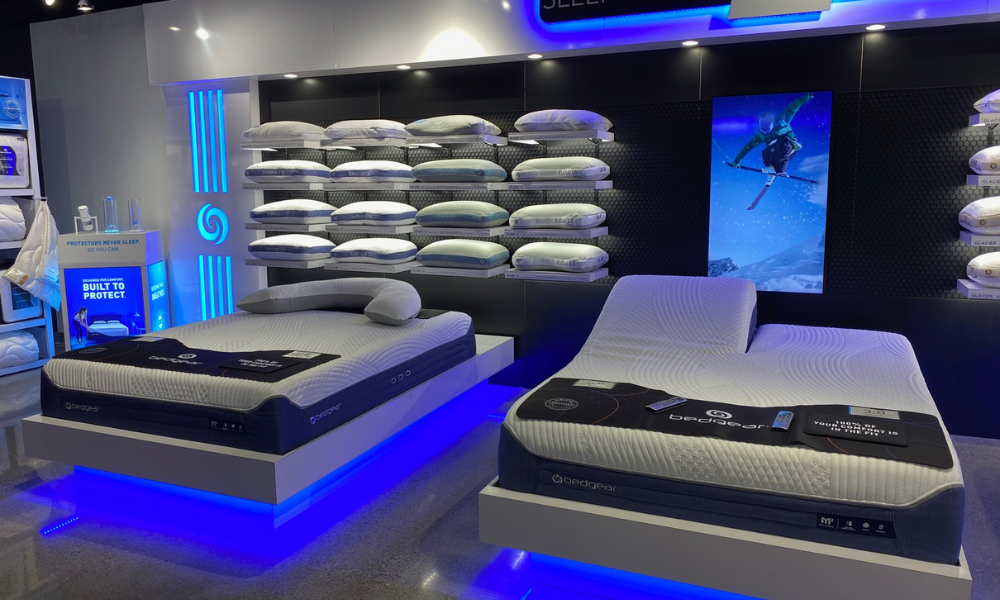 The brand also brought three free-with-purchase gift items that retailers can offer to customers — like leg pillows and pillow carrying cases — and proceeds from one item, a pillow that sits on a person's chest when they wear a seat belt, goes toward the American Cancer Society.
"We are telling a value proposition story and connecting retailers to better products," said Alec Alletto, international sales manager.
In terms of product, Bedgear brought its split-head M3 mattress back to market after introducing it in January. The models vary in coil count, from firm to plush, and users can choose the firmness of each side of the bed individually.
They can also change out the coil structure if needed by simply unzipping the mattress and replacing the coil unit. Coils that are taken out are 100% recyclable so they don't end up in a landfill.
Finally, the company teased its Ambient bed, which is a variation on the M3 that has six layers of active heating and cooling technology. Following the edginess that its brand is known for, the mattress was displayed in a glass tube. Pushing a button releases steam and shows how it moves through the mattress rather than sitting on top.
After five years in development, the company will officially roll it out in 2024.
King Koil introduced three lines last market — Pure Bliss, Natural and Respun — and this market they combined the beds into one collection called Wellness +.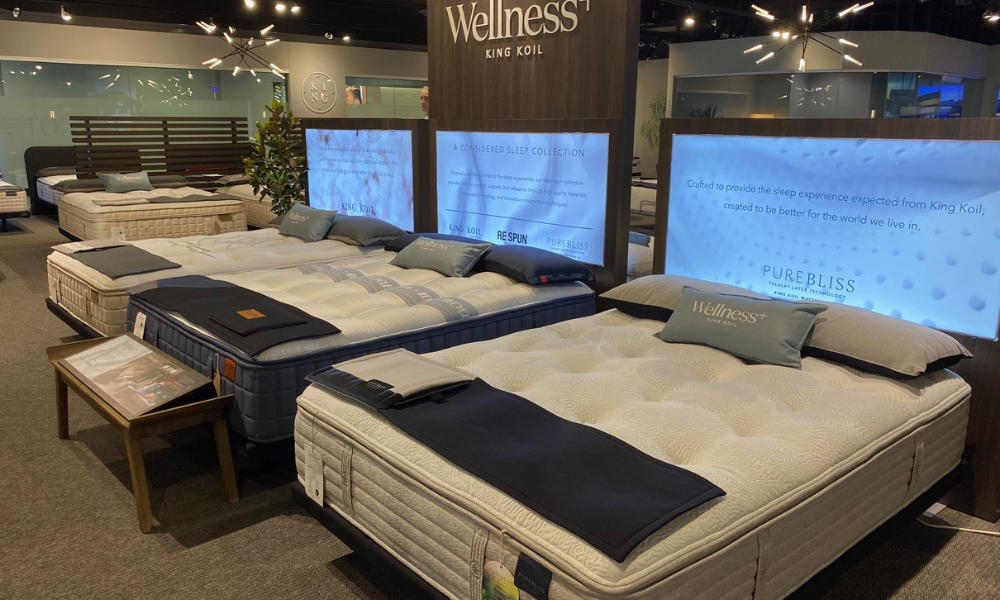 King Koil CEO David Binke said health and wellness is no longer a trend, it's a way of life, so that bringing all three lines under one umbrella helps tell that story.
"It's a solution for retailers," Binke explains. "It includes a suggested price structure to benefit margins with better pricing and an eye-catching POP display for retailers to gallerize as they choose in their stores."
The company also refreshed its Xtended Life collection, which has an industry-leading 25-year warranty. King Koil updated the look, but also suggests marketing it to people of all body sizes to promote inclusivity.
New and exciting
While some exhibitors chose to forgo new product this summer, many offered sneak peeks at what's to come.
Yatas Bedding partnered with Sleep Nerdz to create "the industry's first smart bed." With sensors built into the bed, it checks a person's heart rate and breathing rate every second to keep everything up to date.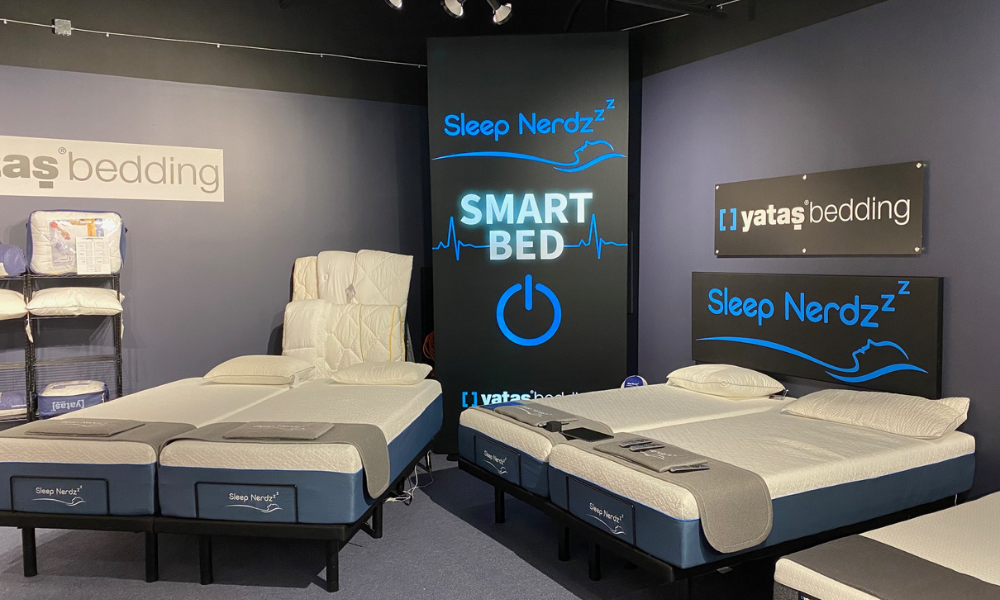 The sensors, which connect with the Sleep Space app — developed by Dr. Dan AKA Dr. Snooze — can also send an alert when a person's breathing slows down or stops.
While the final product will be launched in January, Sleep Nerdz's Andrew Carrington and Keith Messengers, said response to the product was overwhelmingly positive. And even in ways they didn't expect. For instance, a company that works with children's bedding suggested that "every mother in the world" would want this technology for their baby.
"We're only just getting started," Carrington said. "We have a sleep-tracking ring in the works for January as well."
In March, 3Z Brands acquired online DTC mattress brand Leesa and is bringing it into brick-and-mortar stores.
The company debuted the Leesa Chill collection, which features four models from its signature $999 bed to a premium $1,999 model, and these will only be available through brick-and-mortar stores and Leesa.com.
The mattresses feature cooling, quilted tops with the company's signature four stripes at the foot of the bed. While not officially launched, Leesa is gathering feedback about the line so it can perfect it for the January Vegas market.
Kingsdown launched its K2 collection this market, which it calls the "Koolest mattress in the world." Focused on hot sleepers, the eight foam models in the line offer two distinct looks.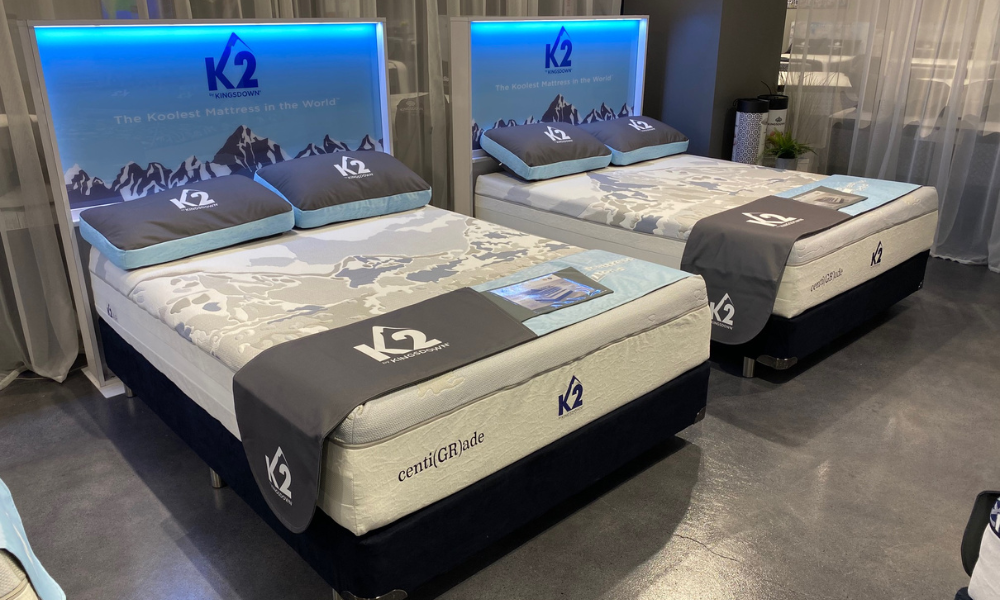 Rather than making a sleeper cold, the mattress provides superior airflow that moves heat away from the body and out of the bed. They feature heat-wicking centi(GR)ade technology, which uses graphene strips to dissipate heat from the body, and all of the core and upper foam layers are ventilated for cooling performance.
"The K2 was created to help drive retailers' average ticket price up while increasing margins," said Craig Wilson, Kingsdown's vice president of sales training and education. "It also gives them a beautiful, fashion-forward display with visual appeal that consumers can see from across a room."
Bedding Industries of America launched its Eclipse Curve mattress, which features the proprietary and patent-pending Curve Core. The innovative core is segmented, with cuts in it to allow the core to adapt to the curve of an adjustable base.
To show how it works, the company displayed the bed stripped of its cover and exemplified how the holes in the foam close and open depending on the position of the base.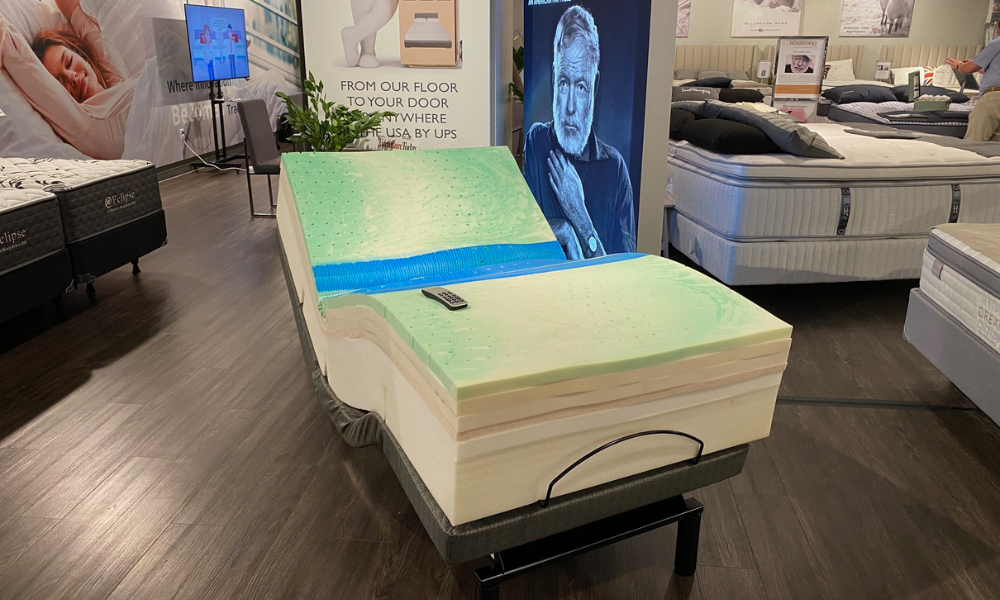 Jared Carlitz, chief operating officer of BIA, said the company studied adjustable bases to create the Curve Core and that the holes in the bottom foam layer actually extend the life of the mattress because it cuts down on friction.
The company also highlighted its My Comfort line, which has both Eclipse and Eastman House models.
"Retailers are looking for an alternative to typical mattresses, and that's what we offer, as well as increased margins of between 60-70%," Carlitz said. "We want to maximize traffic and close rates for our dealers, and they need great price points. They also need a solid sales methodology, and we offer a pre-written script for selling so that RSAs are more confident, which makes the consumer more confident."
While the market may not have felt as busy, there was a lot going on and exhibitors showed that they are dedicated to offering retailers new and unique product that sets them apart, drives foot traffic and increases margins.