Last week, Tempur Sealy reported that parts of its IT systems had to be shut down because of a cyberattack. CFO Bhaskar Rao reported to the U.S. Securities and Exchange Commission on Monday morning that Tempur Sealy's operations had first been hit on July 23.
Officials from the company declined to comment, but an anonymous source told Bedding News Now that the attack set back Tempur's operations an entire week.
According to news outlet The Record, the Wednesday after the attack the AlphV/Black Cat ransomware group took credit and claims to have sensitive documents from senior officials.
However, Tempur Sealy is not the only company dealing with hackers and ransomware.
SonicWall, a publisher of cyberattack intelligence and leader of ransomware data, recently released a report that uncovers evolving tactical behaviors from digital threat actors as they opt for different types of malicious attacks compared to years past.
Overall intrusion attempts were up, led by the highest year on record for global cryptojacking volume recorded by SonicWall, as threat actors shifted away from traditional ransomware attacks in favor of stealthier means of malicious activities. The data suggests increased law enforcement activity, heavy sanctions and victims' refusal to pay ransom demands have altered criminal conduct, and threat actors are targeting other means of revenue.
"The seemingly endless digital assault on enterprises, governments and global citizens is intensifying, and the threat landscape continues to expand," says SonicWall President and CEO Bob VanKirk. "Threat actors are relentless, and our data indicates they are more opportunistic than ever, targeting schools, state and local governments, and retail organizations at unprecedented rates. The 2023 SonicWall Mid-Year Cyber Threat Report helps us better understand the mindset and criminal behavior that will in turn help SonicWall create the right countermeasures and help organizations protect themselves by being better prepared and build stronger defenses against malicious activities."
Rise of cryptojacking, evolution of ransomware
Cybercriminals are diversifying and expanding their skill sets to attack critical infrastructure, making the threat landscape even more complex and forcing organizations to reconsider their security needs. Despite the decline in global ransomware attempts (-41%), a variety of other attacks have trended up globally, including cryptojacking (+399%), IoT malware (+37%) and encrypted threats (+22%).
"SonicWall intelligence suggests that bad actors are pivoting to lower-cost, less-risky attack methods with potentially high returns, like cryptojacking," says Bobby Cornwell, SonicWall's vice president of product security. "It also explains the reason we're seeing higher levels of cybercrime in regions like Latin America and Asia. Hackers search for the weakest points of entry, with the lightest possible repercussions, limiting their risk and maximizing their potential profits."
Financially motivated threat actors continue to be successful despite challenges. They have pivoted to crimes with greater certainty of success, but they will not abandon proven tactics like ransomware; they are simply shifting strategy by target rather than exiting altogether.
Prominent attacks continued to plague enterprises, cities, airlines and even K-12 schools, causing widespread system downtime, economic loss and reputational damage. While several industries followed the global trend of ransomware volume decline, they saw a huge growth in cryptojacking attacks: education (+320X), government (+89X) and health care (+69X).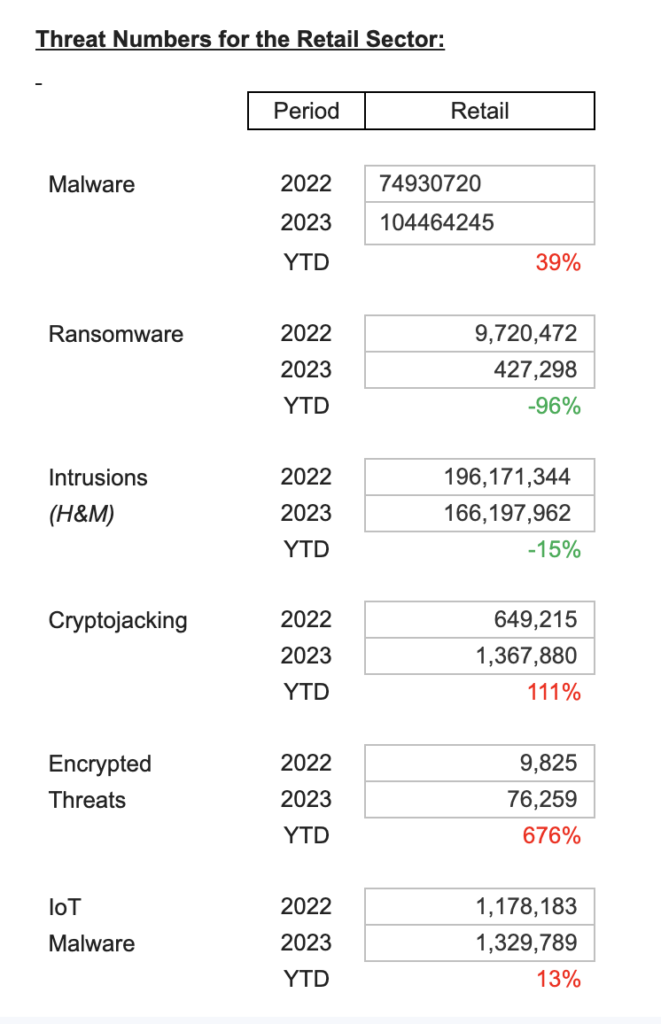 Threat actors diversify cyberattack strategies
Cybercriminals are using increasingly advanced tools and tactics to exploit and extort victims. While ransomware continues to be a threat, SonicWall Capture Labs threat researchers expect more state-sponsored activity targeting a broader set of victims in 2023, including SMBs, government entities and enterprises.
The 2023 Mid-Year SonicWall Cyber Threat Report provides insight on a range of cyber threats, including:
Malware — Total global malware volume dipped slightly (-2%) in the first half of 2023, with the U.S. and U.K. logging the biggest dips — (-14%) and (-7%) respectively. Surprisingly, malware numbers climbed in every other tracked region. Europe saw an (+11%) increase, while Latin America malware jumped (+19%) — suggesting a geo-migration of threat actor behavior as they move from targeting traditional hot spots to more opportunistic locations.
Ransomware — Although overall ransomware numbers saw a -41% decline globally, Q2 suggests a potential rebound, as it spiked 73.7% when compared to Q1. Some countries still felt the sting of ransomware attacks as Germany increased (+52%) and India spiked a whopping (+133%).
IoT malware — Global volume rose 37%, totaling almost 78 million hits by the end of June. As connected devices continue to rapidly multiply, bad actors are targeting weak points of entry as potential attack vectors into organizations.
Encrypted threats — Yet another quieter approach embraced by bad actors in the past six months was encrypted threats, which climbed (+22%) globally.
"Every year we see cybercrime increase at a staggering and unprecedented rate, and our customers depend on us to protect their most valuable digital assets," says Michael Goldstein, president and CEO of LAN Infotech. "That is why we have partnered with SonicWall for the past 15 years, knowing that they will always deliver cutting-edge products and timely research to provide us with the support we need to keep our customers safe. Reports like the 2023 SonicWall Mid-Year Cyber Threat Report arms the channel with the latest cyber trends and helps us become trusted advisers to provide sound security measures to our customers."
SonicWall's patented Real-Time Deep Memory Inspection technology identified a total of 172,146 never-before-seen malware variants in the first half of 2023, which is down (-36%) year over year, suggesting bad actors are spending less time on research and development and more time on volume-based attacks — utilizing open-source tools that may be less likely to be intercepted. In addition, threat actors appear to be leveraging existing tools — leaning on tools they know will help them be successful.
Despite the dip in never-before-seen malware variants, the threat landscape remains complex, with almost 1,000 strains of new variants discovered each day.
To learn more about SonicWall and get the complete 2023 SonicWall Mid-Year Cyber Threat Report, visit www.sonicwall.com/threatreport.