Mattress World Northwest has been honored by the Portland Business Journal as one of the top 10 midsize companies ($10 million-$50 million in revenue) for its outstanding philanthropic contributions in the fiscal or calendar year 2022. 
Through the retailer's commitment to community impact, the company has demonstrated remarkable generosity through various channels. In 2022, the company made cash contributions totaling $65,724 to charitable nonprofit organizations headquartered in Oregon or Clark and Skamania counties, Washington.
In addition to cash donations, Mattress World Northwest extended its support through in-kind contributions valued at $73,588.96 to charitable nonprofit organizations in the same regions. The company believes in going beyond monetary assistance to make a tangible difference in the lives of those in our community.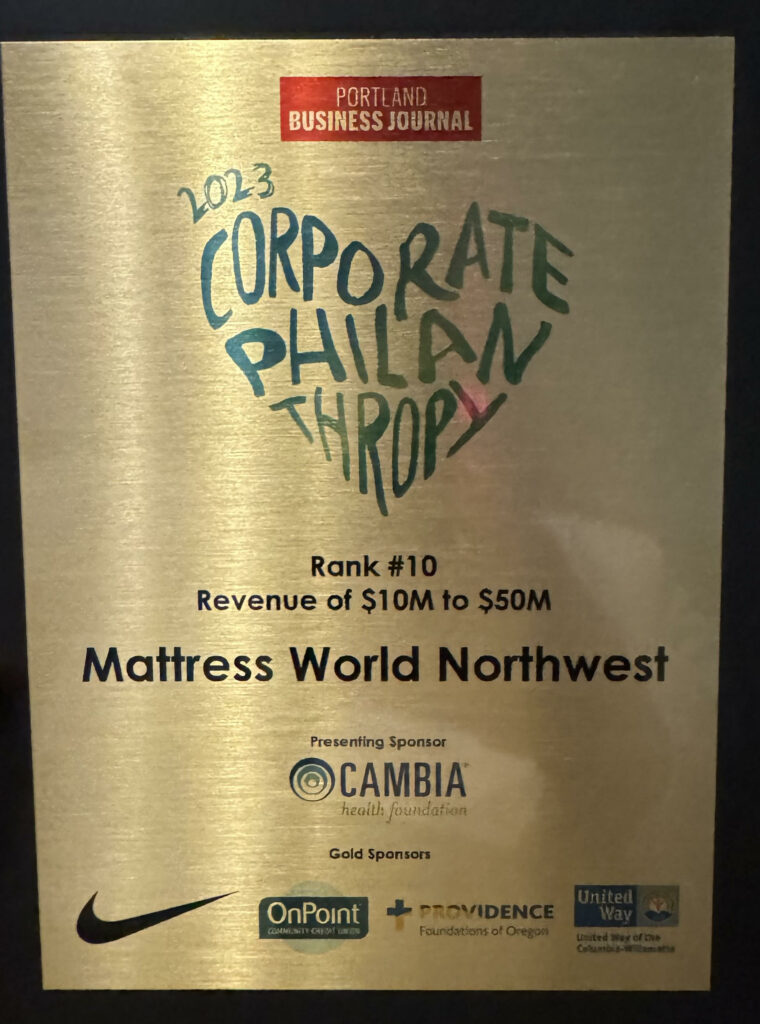 What truly sets Mattress World Northwest apart is its dedication to employee volunteerism and pro bono work. Last year, the company's employees devoted 412 hours to charitable nonprofit organizations headquartered in Oregon or Clark County, Washington. This commitment reflects Mattress World Northwest's belief in actively participating in the betterment of the community.
The total global value of Mattress World Northwest's combined cash, in-kind, and volunteer contributions to charitable nonprofit organizations in 2022 amounted to $172,222.96. 
Mattress World Northwest takes pride in supporting various charitable foundations, including the Cystic Fibrosis Foundation, to which the company contributed $8,770. Additionally, the Senior Citizen Council received a donation of $6,213, while Special Olympics benefited from a $5,460 contribution. 
The company told Bedding News Now that it looks forward to continuing its philanthropic efforts and collaborating with local communities to create a positive and lasting impact.