Last week's news that Klaussner was ceasing operations caught many in the industry by surprise to say the least — that is unless you are a vendor owed money from the now-shuttered company.
On the surface, the company appeared to be doing as well as could be expected during tough times — including a successful response to its latest Trisha Yearwood case goods collections at the April market, which reps reportedly described as one of the company's most successful introductions in years based on orders and commitments.
The two collections have reportedly begun to ship with several containers on the water. A source also noted that orders in general throughout the line have been up, and reps have communicated at least internally that the line has maintained slots at retail, which is perhaps the best one can expect during such a period of slow consumer demand. Backlogs also have appeared to be healthy of late, meaning there's been plenty in the pipeline to fulfill demand.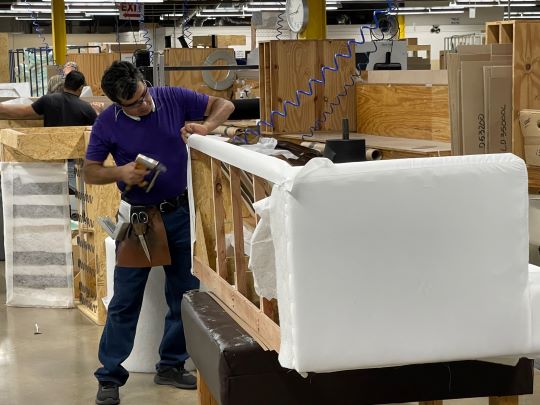 Thus there was obviously a disconnect between what was being communicated internally and externally on the sales and marketing side and on the finance side of the business.
In its online statement, the company said that its lending source unexpectedly refused to fund company operations, a move that is putting nearly 850 associates out of work. As such, this is causing a significant blow to the community of Asheboro, which has been home to the company for roughly 60 years, and cites Klaussner as one of its largest employers.
Company owner Monomoy Capital has declined comment to Home News Now about the shutdown. But for many observers, the situation is indicative of pitfalls of private equity's involvement in the furniture industry.
As one source noted, the anticipated failure rate of companies purchased by private equity is as much as eight out of 10. That means a company like Klaussner, which Monomoy has tried to sell unsuccessfully in recent years, apparently doesn't stand much of a chance from the start under this model.
Thus, as the wind-down takes place between now and a Sept. 15 target date, a lot of questions remain. For one, retailers in particular will want to know when and if their orders will be filled. Then there's the question of who steps in to fill the void for a business with an estimated $320 million in furniture and bedding sales through its Enso Sleep Systems bedding segment.
The news of the closing comes just nine months after United and Lane also suddenly ceased operations, which also had many retailers scrambling to fill key voids that were mostly in upholstery, but also in case goods. Combined with Klaussner, these businesses represented nearly $1 billion in sales, one source estimated, creating opportunity for many in the industry to help pick up the pieces.
And with its Trisha Yearwood Home segment, there's also an opportunity to pick up a popular license that grew to nine collections over nine years.
"We have experienced calls from retailers who are very dependent on Klaussner and now looking for alternative solutions," one industry source noted.
For those seeking clues into where those opportunities lie, the source recently revealed information about the company's Top 10 retail accounts in 2021 and the estimated amount of volume in various categories at those major players. Combined they represent nearly $170 million in business, or roughly 53% of estimated sales.
Mattress Firm: $50.8 million in bed frames and mattresses
Wayfair: $40.5 million in domestic upholstery and case goods
Burrow: $30.4 million in domestic upholstery
Jordans: $13.9 million in domestic upholstery and case goods
Bernie & Phyls: $8.8 million in domestic upholstery
Nectar: $8.3 million in case goods
Macy's: $7.5 million in domestic upholstery and case goods
Havertys: $3.5 million in case goods
RC Willey: $3 million in domestic upholstery, bed frames and mattresses and case goods
Nebraska Furniture Mart: $1.9 million in domestic upholstery and bed frames and mattresses
Obviously, there are many others out there that have done business with Klaussner, too, accounting for the remaining half of its sales. They also will need voids filled on their floors in the coming weeks and months.
But for those suppliers looking to help replace the bulk of that business, these Top 10 accounts are likely a key starting point. In serving those retailers and their customers, Klaussner's unfortunate demise could be their gain.
Home News Now Executive Editor Clint Engel contributed to this report.