Kingsdown is set to be the "Koolest" place to be at the Las Vegas Market, with the introduction of its much-anticipated new foam collection, K2 by Kingsdown, as well as a dynamic display of Vintage Couture beds dressed in a fresh round of high-fashion fabrics designed to stop buyers in their tracks. 
Showcased in the showroom's front window, K2 — designed to turn heads both at the market and on retail floors — features eight models with two distinct looks on the beds' uniquely "Kool" knitted covers. A snow-capped mountain range indicative of the world's second-highest peak stretches across the surface of the collection's premium models, while a snowflake pattern on a darker background drifts across the opening price point beds.
All eight are backed by custom-made, back-lit headboards picturing the mountain range and the tagline "Koolest Mattress in the World."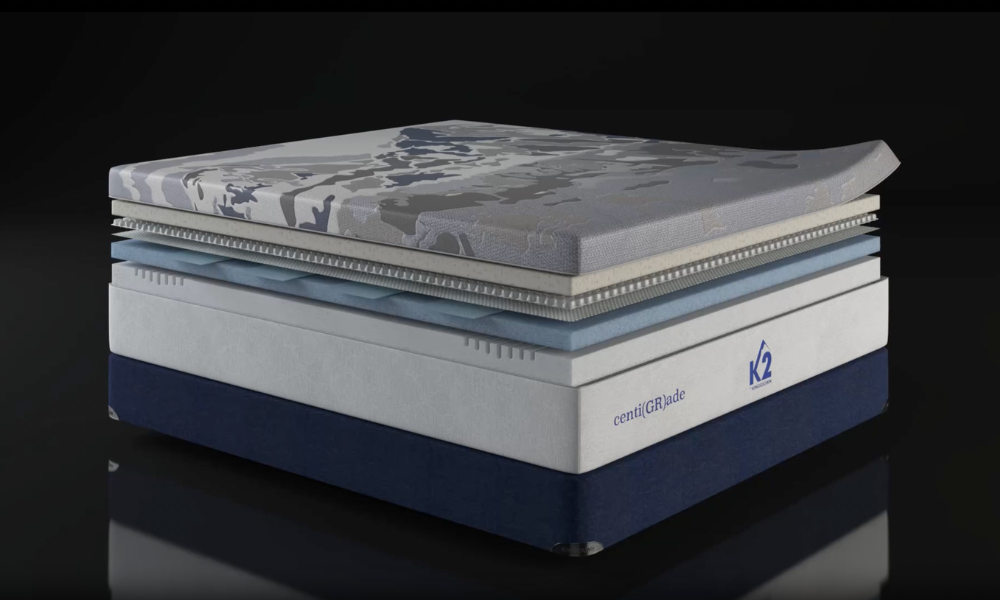 With suggested retails ranging from $1,799 to $2,799, K2 offers a unique cooling story with a focus on heat removal and marks a significant expansion into the all-foam category by Kingsdown. "We believe there is plenty of room in the marketplace for a great foam line to do extremely well," says Kingsdown Chairman Mike James, "and we know that retailers are looking for alternatives."
Drawing on the learning from the success of Kingsdown's regional Zedbed brand, James says, "We knew that to be successful across the U.S., the product has to have a great story and a great feel, so the design team really tore the engine apart and started from the ground up in creating the K2 collection." The team began by experimenting with softer cores and railroaded components to innovate the ideal core structure.
"While coolness and heat removal are vital for sleeping well, and we address that at every level in these beds, comfort is paramount, and the feel has to be right. Given the increasing popularity of adjustable bases, we also looked at bendability."
Inspired by the articulation of Zedbed, "which bends wonderfully on a motion base," James says, "we have incorporated a flex-stretch bottom to allow for smooth transitions on motion bases. We then visited suppliers to find foams that would offer a really wonderful, cuddly feel on the surface with a cooling story, along with something that would be a bit firmer. The result is that we're bringing to market two great feels, a firm and a plush, at every price level, with the most premium version incorporating micro coils."
Additionally, although James noted that the collection's knit covers do incorporate PCM, the team found ways to avoid the slick and slippery feeling that cooling yarns tend to impart to create "a much better hand."
All of the models feature heat-wicking centi(GR)ade technology (which uses graphene strips to dissipate heat from the body) and all of the core and upper foam layers are ventilated for cooling performance. Covers are also ventilated to allow heat to escape.
Finally, the K2 collection is supported with a full slate of engaging marketing materials for what James calls "a total package that we expect to really stir up the dust in the marketplace this summer."
"Runway-ready" vintage couture looks
To emphasize the couture nature of its flagship Vintage Couture brand that carries retail price points of $10,000, three queen-size beds share the newly revamped window space with a wall of antique Singer sewing machines.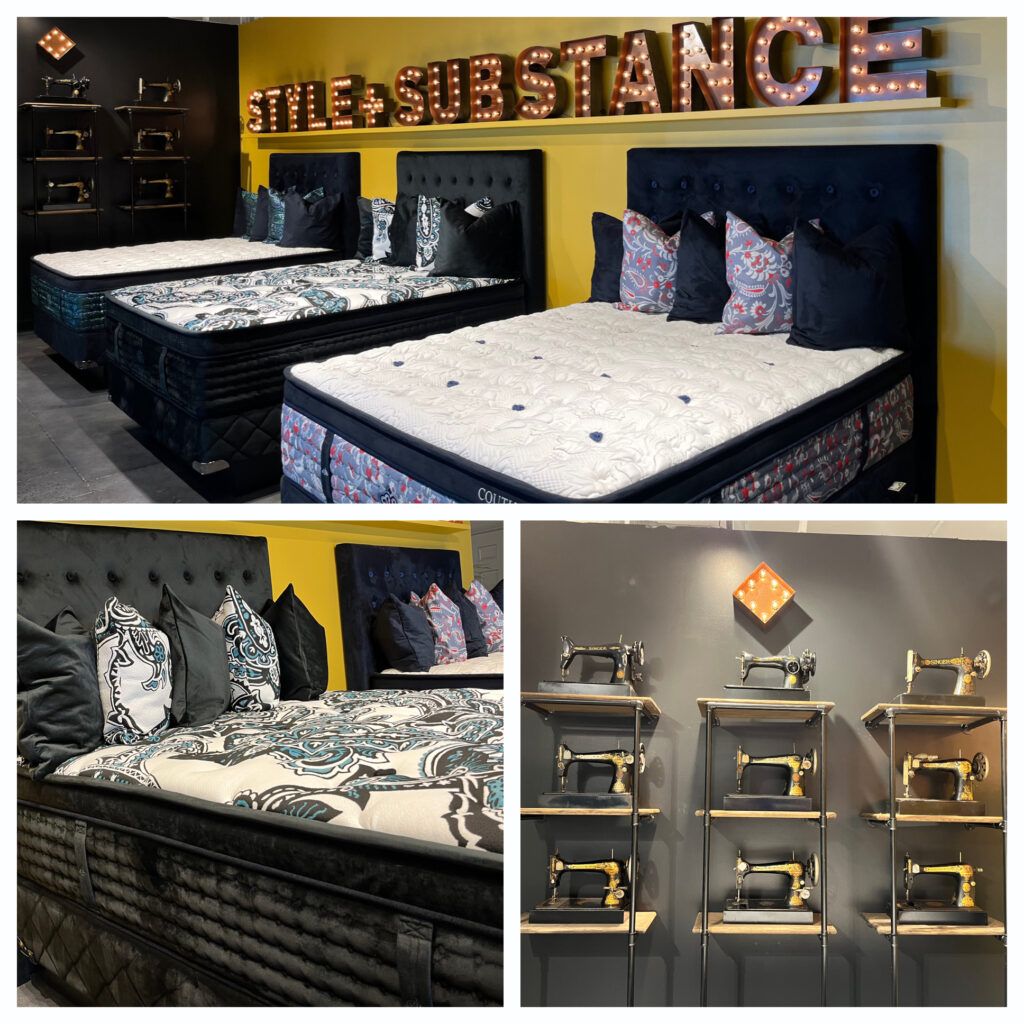 Each bed is set off by custom tufted headboards upholstered in the accent ticking of the bed below it, and the now familiar Kingsdown tagline "Style and Substance" is spelled out across the wall above in custom-made, three-dimensional marquee lettering crafted in steel with a copper finish.
"We believe our job is to create excitement for retailers and their customers," says James. "And to keep pushing the envelope in terms of the importance of connecting apparel fashion with the mattress business. Ultimately, our goal is to capture the attention and imagination of shoppers on store floors with dramatic looks that are very different from everything else they see, and to help our dealers stand out in their marketplaces with fashion-forward designs that can't be found anywhere else."
Inspiration for the new high-style fabric selections was drawn from a variety of sources. One — aptly named "Royal Flush" — was designed from a photograph of a lush carpet pattern in a well-known Las Vegas casino. Another cover was drawn from a stunning woman's scarf and rendered in "a decadent navy, light blue and green," accented by a blue suede border. The third, which James describes as "the most unbelievable panel that I've ever seen from BekaertDeslee was so colorful and beautiful that we decided to use a black velvet border for sheer drama."
Inside the showroom, mannequins dressed in the new fabric selections are posed near each of the beds.
"The couture part of our business is where we have the most fun because we get to be our most creative," James notes, adding that dealers are already taking notice. "We think the most important thing is to look different because everybody else looks the same and we're using that window at market as a vehicle to try and bring buyers in that we don't presently do business with, or at the very least, get people talking about our brand. And while you might say that all three of the beds in the window are way outside the box, we've actually already sold all three."
Kingdown is located in World Market Center Showroom C-1401.