While many companies give back to their communities by holding fundraisers or donating products to those in need, Compass Sleep Products is focusing on creating brighter futures for foster children.
Created four months ago in partnership with Twin Oaks Juvenile Development, Inc., a not-for-profit committed to providing a continuum of care to youth and their families, the program trains participants in various aspects of the mattress-making process, providing them with new skills, a renewed sense of confidence, and financial support to get them started comfortably as they enter their adult lives.
For the inaugural cohort, the program employed seven, 16- and 17-year-old young adults in Florida's foster care system and trained them on how to run a roll-packing machine, help build mattress foundations, and how to properly load delivery trucks. They work alongside a Compass employee for 12-to-15-hours a week. The foster children are able to determine how long they would like to participate in the program or until they age out of the foster care system.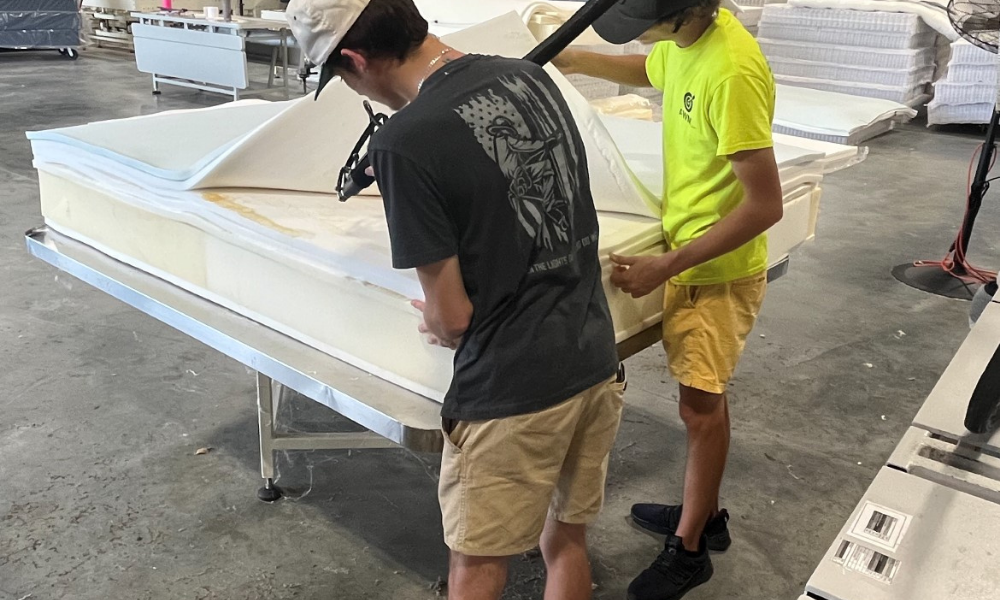 "Our corporate mission has always been to help the community wherever and whenever we can. We are located in Madison County, an economically depressed area with both children and families struggling. There were a lot of unknowns when Twin Oaks approached me with this idea because, to my knowledge, a program like this hadn't existed before," says Compass Sleep Products CEO Ricky Riley, who also oversees the program. "We weren't sure how the kids would respond to our invitation, nor were we certain how it would affect our current team at the plant. Four months into the program, I can say with complete certainty that the kids, and my team, are benefitting greatly and learning a great deal from each other."
All seven of the program participants grew up in tumultuous home environments that, for different reasons, resulted in their being placed into foster care. The instability from their youth led them to minor interactions with law enforcement, causing them to bounce from home to home, and putting them on a downward path.
"Many kids in the program have similar stories. They would act out because they, unfortunately, never received one-on-one attention. Through the work they do at Compass, we are all able to spend time with the teens and build their skill set. The kids go home with a sense of gratification, purpose, and (hopefully) the belief that they are worthy of developing," Riley adds
The program is built into the student's academic curriculum as a hands-on class where they receive school credit. Additionally, Compass pays the participants a salary above minimum wage for the work they do. The money is deposited into trust accounts managed by the State and are then turned over to the children when they turn 18 and age out of the foster care system.
Riley says the goal of the funds was designed to give the students a nest egg to begin their new lives when they transition out of the state custody system.
"What really surprised me was the way my team rallied around the program. It's not every day that you see a group of thirty-year-old adults willingly take on more responsibilities at work in order to foster the growth of children," he adds. "I think this really shows a wonderfully heartwarming side of humanity."