Sleep Number Corporation has launched its next-gen Sleep Number smart beds, which evolved from the original Sleep Number 360 smart beds and are based on learnings from over "19 billion hours of proprietary, longitudinal sleep data from the 360 smart beds."
The beds use embedded, research-grade sensors and artificial intelligence (AI) to learn the unique biometrics and sleep patterns of each sleeper, and automatically adjust to meet a person's changing needs, whether they're pregnant, recovering from injury, aging or simply living day-to-day. These effortless adjustments cater to each individual with no action required by the sleeper and deliver Sleep Number's signature firmness adjustability for highly personalized sleep.
Additionally, Sleep Number's new Lifestyle Furniture – an upholstered bed surround with an adjustable table and support bar – provides accessories to support varying life stages, including aging and recovery.
Announced at CES 2022, the next gen Sleep Number smart bed optimizes the combination of Sleep Number's longitudinal data, one's own personal sleep data and the latest in sleep science to:
Monitor vital personal health data, including average heart rate, average breathing rate and motion, and sleep trends using research-grade sensors. These data, delivered daily to the sleeper's smartphone, are key to understanding one's sleep quality and are designed to inform changes, such as a consistent bedtime and wake time, that continuously help improve sleep over time.
Balance temperature and automatically adjust to a person's individual shape, sleeping positions and movement on each side of the bed based on their unique sleep needs, since science shows sleep needs change day-to-day with different activities and over time by life stage. For the first time, all smart beds will feature cooling properties thanks to a breathable layer to detract heat.
Continuously analyze and personalize sleep insights in partnership with leading sleep health experts, which individuals can use for preventative and proactive health care. The smart and effortless nature of the next-gen smart bed means sleepers can simply go to sleep, with easy-to-understand, actionable insights into their sleep health ready for them each morning.
"Our mission to improve lives by individualizing sleep experiences is fully realized with next-gen smart beds," says Shelly Ibach, Chair, President and CEO, Sleep Number. "Sleep Number was founded on individuality: Science tells us no two people are alike, and no two nights' sleep are the same. We are setting the precedent that what you sleep on is vitally important, and beds should evolve with a sleeper's changing life and health needs. We're proud to build upon our legacy of award-winning wellness technologies and make next level sleep more attainable for every sleeper, during every life stage."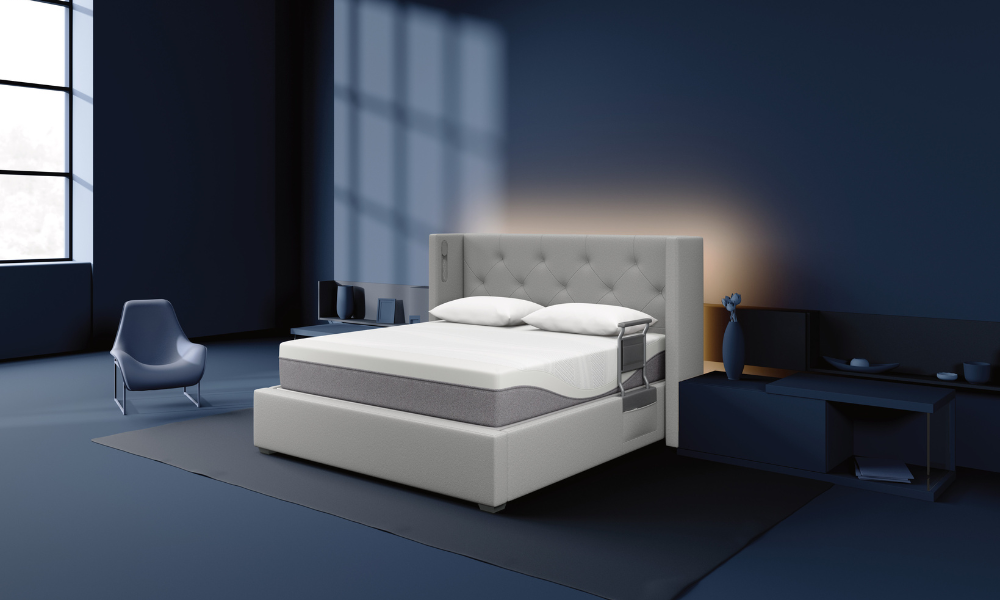 The smart bed ecosystem benefits from an advanced, connected health platform that was introduced with the launch of the Sleep Number Climate360® smart bed in October 2022. The platform combines advancements in embedded software capabilities, AI and machine learning algorithms, as well as newer chip technology.
Over time, the smart beds may be able to identify out-of-norm events and alert sleepers to pattern changes. In the future, the beds may also detect illness and alert sleepers to potential health conditions including insomnia, sleep apnea or cardiac events.
"The next-gen Sleep Number smart bed is the only science-backed, fully adjustable and effortless smart bed that uses physical and digital experiences designed to improve sleep quality for each sleeper," said Annie Bloomquist, Executive Vice President and Chief Innovation Officer, Sleep Number. "Our advanced sensing capabilities, which deliver highly accurate data nightly, help provide a more holistic picture of sleep and health. In the future, because of the smart bed's advanced analytics, we intend to connect sleep data with health care providers for monitoring, diagnoses and potential interventions in a way that this occurs easily and reliably. The future of Sleep Number delivers real-time, connected sleep health and wellness solutions."
Sleep Number Lifestyle Furniture offers smart solutions designed to help each individual sleep and wake with ease, providing comfort, convenience and mobility aids to help maintain independence at home. The new furniture is designed to complement and enhance health and wellness benefits of the Sleep Number smart bed and FlexFit™ smart adjustable bases.
While it works optimally with Sleep Number smart beds, Lifestyle Furniture may also be used with non-Sleep Number mattresses and bases. Combined with the next-gen smart beds, these innovations are paving the way for a future in which Sleep Number delivers simplified, preventative health care through every phase of life, from home.
Lifestyle Furniture features include ambient lighting on the back of the headboard to support one's circadian rhythm; individual reading lights that adjust in color and intensity and rotate; built-in, individual speakers that mask in-bed and environmental noise; and an optional support bar designed to provide extra support when entering or exiting the bed.
It also features integrated charging and storage pockets offering a place for books, tablets and other items you need close at hand on each side of the bed, and an optional side table with an integrated storage pocket for bedside convenience. Sleek remotes on each side control the ambient lighting and speakers.