Seeking to reverse the financial course of bedding resource Purple Innovation, the company's largest shareholder aims to nominate five new directors for its seven-member board during the company's 2023 annual meeting.
Coliseum Capital, which owns nearly 47 million shares, or roughly 45% of Purple's common stock, also confirmed it is no longer pursuing a September 2022 proposal to acquire the remaining shares of the company. This follows a decision four months later by a special committee of Purple's independent directors to reject the proposal.
Coliseum also said it intends to support the reelection of company CEO Rob DeMartini and said if he is not reelected it intends to recommend that he be immediately appointed as a director.
"Our view — that Purple has a terrific opportunity to create and unlock substantial value for its shareholders — has been bolstered by the strength of Rob DeMartini, by the team he is building and by the clarity with which Rob has outlined and actioned key strategic and operating priorities," Coliseum said in its Feb. 13 letter to fellow shareholders. "That said, Purple faces a tough macroeconomic environment, strong industry headwinds and aggressive competitive activity."
But the company said that Purple's shareholders "deserve a nimbler, more engaged board with a heightened sense of urgency and bias for action to help management navigate challenges ahead."
"While we — Coliseum Capital Partners LP, together with our affiliates "Coliseum" — are enthusiastic about the company's longer-term prospects, and are strongly supportive of its existing management team, we also recognize that the road ahead — particularly over the next 12-24 months — will be neither straight nor smooth," Coliseum Capital said in its letter to fellow shareholders. "Purple needs, and shareholders deserve, a far nimbler board with a heightened sense of urgency to help management navigate these challenges and halt further deterioration of shareholder value. As the company's largest shareholder, our interests are squarely aligned with yours.
"To be clear, we believe that the current non-executive directors are good people with good intentions. Nevertheless, we believe that after five years of disappointing returns it is time for shareholders to demand change. Absent significant change, we no longer have confidence in this board's ability to help steward the company through current headwinds and to unlock the value creation that we believe is achievable. Accordingly, and in the absence of agreement with the company for an overhaul in the non-executive composition of its board, we have decided to pursue this public nomination process. Further, given our conviction that such an overhaul is necessary, we are funding this initiative on behalf of all shareholders without a customary request that the company reimburse such costs if our slate is elected."
Coliseum's request comes as the company has experienced a significant drop in its stock price over the past two years. In its letter, it said that Purple's common stock closed at $40.05 per share on Feb. 19, 2021, and as of Feb. 10, 2023, was $4.56, which is also less than half its value of its IPO price in February 2019 of $10 per share.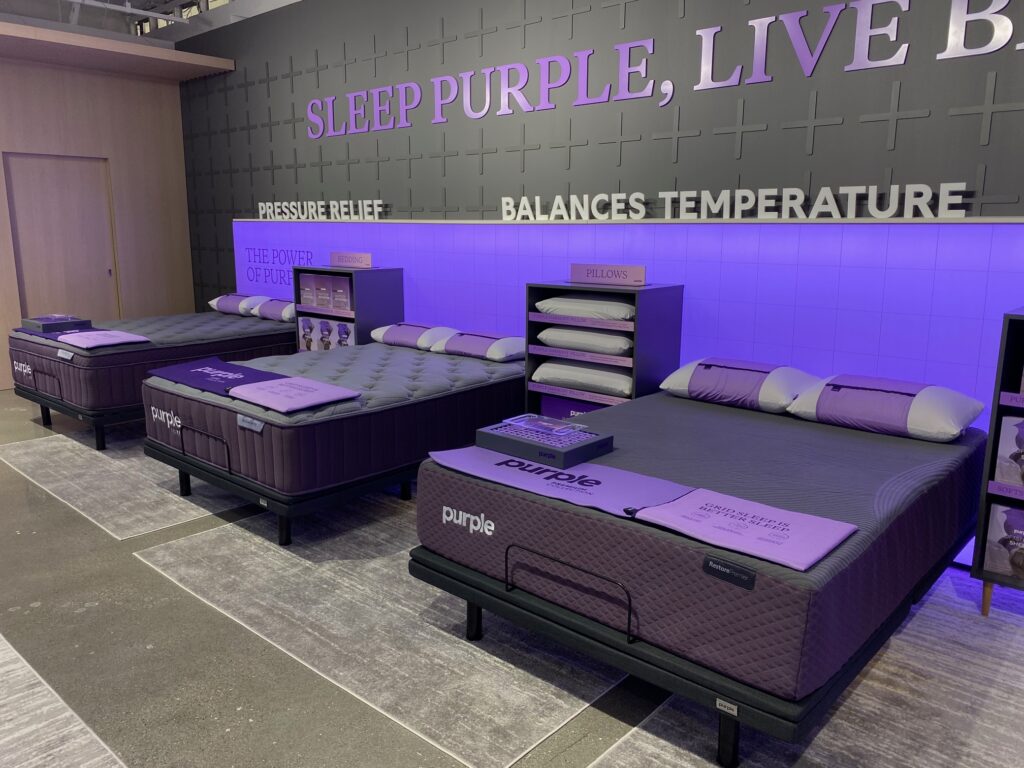 According to preliminary financial results for its year ended Dec. 31, 2022, the company said it anticipates net sales of about $574 million, compared to guidance of $570 million to $590 million and a net loss between $83.7 million and $95.7 million.
In addition to supporting the reelection of current director and Coliseum co-founder Adam Gray, the company said it is nominating four new directors, "all of whom are known by us largely through their service as executives and/or board members at other companies in which Coliseum is or was invested where they helped navigate headwinds, transformation and growth, ultimately protecting and driving substantial value for shareholders."
The nominees it is suggesting include:
S. Hoby Darling, who has held several executive roles at Logitech International, including head of its sports and human performance advisory business. He also was previously CEO at Skull Candy and before that held several management roles at Nike.
Erika Serow, who is chief marketing officer of Bain & Company and a member of Bain's Global Operating Council where she serves on the investment and risk committees. Before this, she was global president and U.S. CEO for athletic apparel company Sweaty Betty.
R. Carter Pate has been chairman of BioScrip and also served as a board member of its successor company OptionCare Health and was chairman of Red Lion Hotels.
Robert DeVincenzi is chairman of Universal Technical Institute and lead independent director of Lazydays Holdings Inc., where he also was interim CEO. He also was president and CEO and a board member of Redflex Holdings Ltd. and held other senior executive roles at various technology and service companies "spanning sales, marketing, strategy and more."
Adam Gray is a managing partner and co-founder of Coliseum, which was launched in 2005. In this role, the company said, he has served on the boards of directors of multiple public and private companies. Coliseum said he also worked for nearly 20 years "with and on behalf of top-tier private equity firms."
"Coliseum is squarely aligned with you in seeking long-term success for Purple," Coliseum added in its letter to shareholders. "We believe that success is attainable, but it is not assured; without substantial change, we lack confidence in the current board's ability to help navigate these challenging times."
Purple said that it is extremely disappointed that Coliseum has launched a proxy fight seeking to replace a majority of the board.
"As Coliseum notes in its letter, Purple has an opportunity to unlock substantial shareholder value," the company said in its response. "The current board has recruited an exceptional management team, led by Rob DeMartini, that is executing a clearly defined strategy and operational plan. It is unfortunate as we approach the sixth month of Coliseum's efforts to gain control of Purple without paying shareholders a suitable premium, Coliseum's campaign continues to be a distraction for this outstanding team and our employees."
The company said it is interested in working cooperatively with Coliseum and that it will continue to do so while protecting the interest of all shareholders.
Also read: